Why do my breasts spill out of my bra?
Breast spillage is a very common wardrobe malfunction that often goes unnoticed. It occurs when your breasts cannot fit inside your bra, taking several forms such as side spillage, upper breast spillage, and under breast spillage. Continue reading to learn about the causes of breast spillage and solutions to prevent it.
Causes of breast spillage
Below are some of the corresponding reasons behind breast spillage.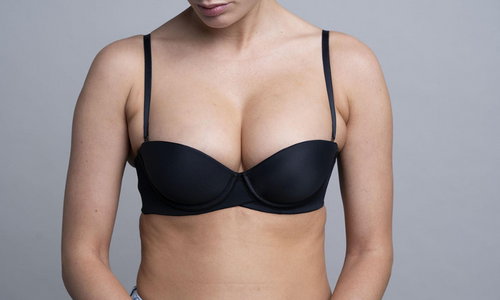 Wearing the wrong cup size is one of the foremost causes of breast spillage. Cup size is nothing but the size of your breasts. When you are wearing the wrong cup size, your breasts will not comfortably rest inside your bra. So it is always necessary to measure your cup size accurately. Apart from breast spillage, small cups can cause bad posture and breathing difficulties.
You may now wonder what band size has to do with breast spillage. A small band would stretch the cups, which eventually leads to breast spillage. A band that is too small will dig into your skin, causing rashes and skin irritation.
Not every bra style is appropriate for every woman. This is due to the possibility that certain women's breasts are uneven, making every bra style unsuitable for them. Bras with more padding are required for women with significant breast unevenness.
Solutions for breast spillage
As mentioned before, the shape of the breast differs from one woman to another, and the only option is to choose the right bra to avoid spillage problems. There are about eleven common breast shapes, such as asymmetrical, athletic, bell-shaped, closed set, conical, easy-west, relaxed, round, side set, slender, and teardrop. But there are a few bra styles that can fit all breast shapes. Below listed are the bras that prevent spillage.
A full-coverage bra has a high neckline and offers complete coverage and ultimate support for your breasts. Shyaway's full coverage bras come in different styles, patterns, and prints. Shyaway's purple mesh neckline, non-padded everyday bra is one of the best sellers of all time. The wirefree bra provides ample support and coverage and comes in various tints.
T-shirt bras are the go-to option for every outfit. Its seamless feature provides a stunningly smooth finish and provides enough support. Shyaway's ballet pink floral lace bra is everyone's favourite. The seamless cups are designed beautifully with floral prints, and the laces add extra glamour and beauty to the bra.
These types of bras are specially designed to provide all types of support and full coverage, which avoids breast spillage. Shyaway's deep blue wirefree full coverage no sag M-frame bra is the best everyday bra option. They have encircled seams that prevent sagging and are a wirefree wonder. They come in a variety of shades and styles as well.
It's crucial to accurately measure your bra size. If your bra size is incorrect, no bra will serve its purpose effectively, and you'll merely find wearing bras annoying. To measure your bra size accurately, use Shyaway's bra size calculator.