Grab the right lingerie to pull off the vibrant and spectacular look!
Bura Na Mano Holi Hai! The festival of colours is around the corner. Carefree Holi is what you desire, isn't it? Whatever stylish outfit you pick and the haircare, skincare regime you opt to protect yourself from colours. 
As your pre-Holi plan seems perfect, somehow you missed the main thing i.e. your lingerie. You haven't settled on what you'll be wearing underneath your Holi attire. We are here to assist you because choosing the right lingerie for Holi is very important. 
Want to enjoy the festival of colours without worrying about anything? Firstly, You don't need to be conscious of the bra lines or its visibility. Shyaway has launched brand new bras which are perfect for Holi no matter how much you get wet. They are elegantly designed to provide the snug fit, ample support and ultra comfort throughout the Holi celebration. 
Festival of Colours-How to Pick the Right Lingerie for Holi!
Here are the amazing tips to pick the right Lingerie this Holi 2022.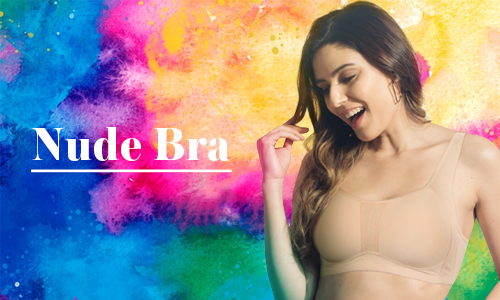 If you are opting to wear a white t-shirt with denim shorts or jeans, you can blindly pick the seamless t-shirt bra. Choose this bra for form-fitted and thin clothes. It will cleverly hide bra lines. You can play with colour splashes without worrying.
Cotton Bra and Panty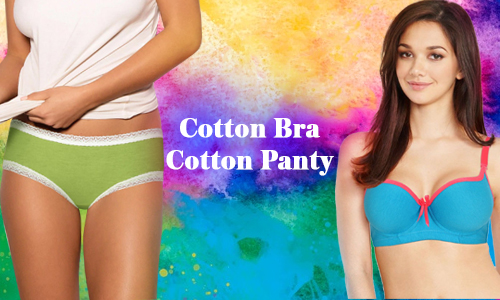 Cotton bras and panties are life-saviours when you are splashed with water. Wondering how? If you wear cotton bras it will absorb water swiftly, very lightweight and offers comfort and won't give irritation, clingy, choked feeling.
Buy Nude Camisole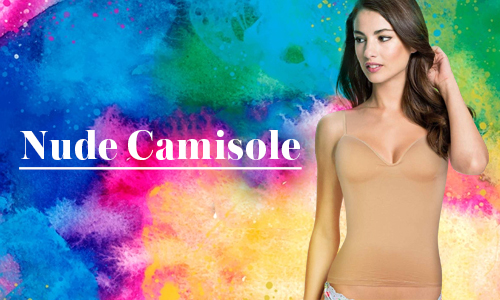 If your Holi fashion includes plain Kurtis, white attires or white t-shirt then pick the nude cami bra or camisole to layer up under your dress to win the stunning look. You will not be bothered about the visibility of your bra.
Padded Bra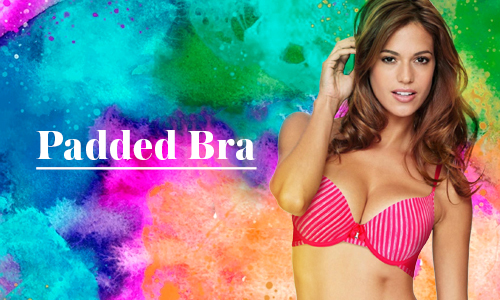 Festival of colour not only talks about colours it involves water too. It is always better opting padded bras to cover the nibble no matter how many colourful water balloons will hit and you get wet. It completely avoids nipples showing.
Seamless Nude Panty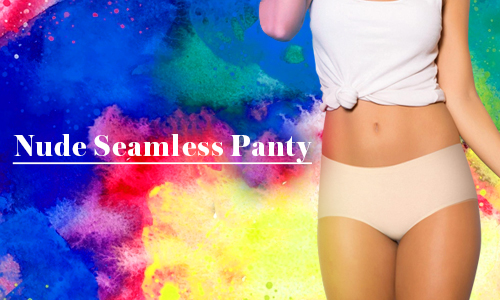 Seamless nude panties are must in the Holi festival. It goes invisible under any clothes even you get wet. You can even choose cotton panties according to your outfit colours to pair with.
Holi Lingerie Tips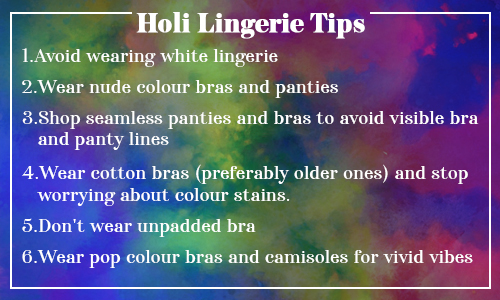 Shyaway comes up with amazing Holi lingerie tips and inspiration to celebrate the festival of colours. 
You must avoid wearing white lingerie such as bra and panty underneath white outfits. Your bra will be visible through your dress.

It is always better to buy nude colour bras and panties to style your Holi Look.

Shop seamless panties and bras to avoid showing bra and panty lines.

You can choose your old cotton bras to wear under Holi outfits. So that you won't feel bad if your bra has colour stains. 

Do not opt for an unpadded bra.

Seamless panty and bra are the best choices you can ever make for Holi.

Go Bold- choose pop-up colour cami bra or camisole under your white or thin t-shirt to get a vivid vibe.
We hope these tips help you celebrate the festival of colours in style.  Don't forget to read our blog on how to remove Holi colors from your skin, hair, clothes, and shoes. You'll find handy tips to remove color stains easily.