Before planning a winter trip, there are many things to consider, especially your choice of a travel bra. What is a travel bra? It is a bra that gives you essential support and strength while ensuring your comfort during travel. Choosing the right bra for winter travel depends on various factors, such as comfort, support, size, fabric, and smoothness. So, what are the best winter travel bras? Padded bras, sports bras, full-coverage bras, moulded bras, t-shirt bras, and cotton bras are the best bras to pack for your next winter adventure.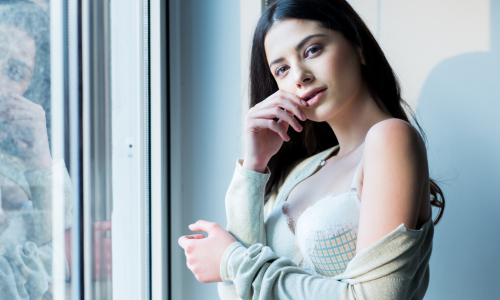 Top Best Winter Travel Bras
Seasons should not hinder your travel plans, and winter, in particular, opens up opportunities to visit many amazing destinations. Having a travel bra that offers support and a breathable fit is necessary for winter trips. Welcome to the world of the best winter travel bra guide.
Sports Bra 
If you're planning to indulge in winter activities, a sports bra has got your back. It is one of the best bras for cold-weather travel. Shyaway's low-impact sports bra with removable padding is an ideal choice for winter. The moisture-wicking material keeps your sweat away, ensuring you feel relaxed at the end of the day. It provides high protection during outdoor activities such as trekking, hiking, and paragliding. The removable padding option gives you more flexibility when wearing it.
Padded Bra 
Which is the best bra that offers lift and side support during travel? We recommend trying padded bras, which are the best warm bras for travel, providing enhanced support, unmatched comfort, and warmth during your cold winter travels. The padding in the bra provides good coverage for your breasts, making them appear full. You can try a cotton-padded everyday bra that gives a perfect shape to all your winter outfits.
Seamless Bra 
Another cosy travel bra for winter trips that give you an ultra-smooth look and a comfy touch. The seamless bra will be quick to dry due to its non-padded feature and lightweight fabric, and it is suitable for daily use on your next winter trip.
Pushup Bra 
Do not worry about wearing your sweaters and woollen jackets during your winter trip. You can wear a push-up bra that supports your breast muscles, shapes your breasts, and provides a good lift even under layers of clothes.
Full-Coverage Bra
Which is the best winter travel bra for large breasts? A full-coverage bra is the best travel bra for large breasts, as it offers better support and shape. Try an encircled wire-free full-coverage bra with multiway straps that are ideal for outdoor activities.
All these are the bra laundry bag is created. Secure your bras safely in a bra bag during travel to extend the life of your bras.