Washing your favourite lingerie safely is no longer a nightmare with a bra laundry bag. We've answered the "how to wash bras in a washing machine" question, so "why do you need a bra laundry bag?" should be easy. If you notice frequent zipper snags, tangles, rips, stains, and tears on your clothing, it is time to buy a laundry bag.
What is a Bra Laundry Bag?
It is an inexpensive little mesh bag made of nylon or other similar material. People use a laundry bag to wash their delicate clothing, undergarments, sportswear, and lingerie, in the washing machine. It prevents damage from twisting, turning, rolling, and snagging.
How Do Laundry Bags Work?
Bra laundry bags have a durable mesh that is porous and allows water and soap from the washing machine to pass through. You can add the required clothing and close it with a zipper. The zipper prevents clothing from mixing during the washing process.
Laundry bags provide a protective layer between the items inside and the other items in the washing machine. They keep the clothing safely and separately during the complete washing and drying cycle.
What Are the Benefits of Using Bra Laundry Bags? 
Wash your lingerie safely and efficiently.
Prevents damages (lace, mesh, satin, and other embellishments on lingerie).
Keeps the elastic of the bra straps intact.
Saves the foam of padded cups.
Protects the underwires from causing damage.
Prevents bra hooks from damaging other clothes in the washing machine.
Extend the life of your bra.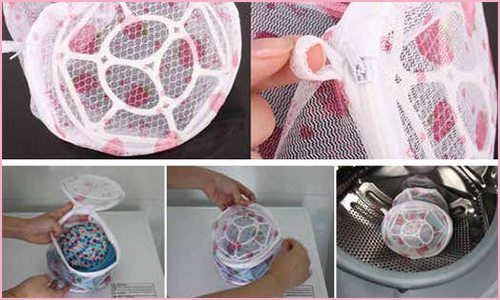 What are the features of the Shyle Laundry Bag?
Lightweight and easy to use.
Convenient to transport dirty laundry.
Easy to fold and store when not in use.
Simple, easy-to-use design.
Nylon mesh gives a brushing effect to the clothes.
Prolongs the lifespan of the lingerie.
Durable and versatile.
When Should You Use a Mesh Laundry Bag? 
You can use a laundry bag when a piece of cloth requires a high level of protection in the washing machine.
For instance, the primary use of the mesh bag is to protect delicate fabric in the machine. It prevents delicate clothing from getting damaged when you have a mixed laundry load.
Secondly, you can use a mesh bag to separate clothing from the rest of the laundry. For example, Velcro straps from a baby cloth could pull threads on other garments. So, it is nice to use a laundry bag.
How to Protect Delicate Lingerie and Clothes with a Bra Laundry Bag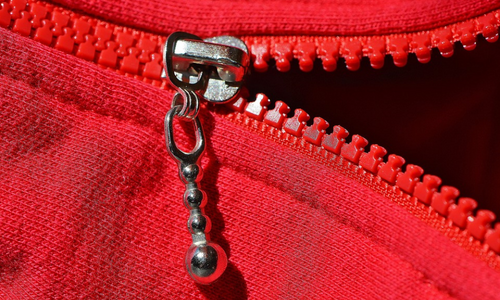 Prevent Delicate Fabric
Use a mesh bag to wash fabrics such as wool, silk, lace, and nylon, which are prone to pilling, snagging, and stretching. You can avoid zipper snags on your workout leggings by using washable bra bags. Run the machine on a delicate cycle when using the above-mentioned fabrics.
Protect Embellishments
Decorative lacework, sequins, mesh, and satin need extra care during the washing process. Putting them in a laundry bag gives them an additional layer of protection. You don't have to worry about the embellishments ripping apart.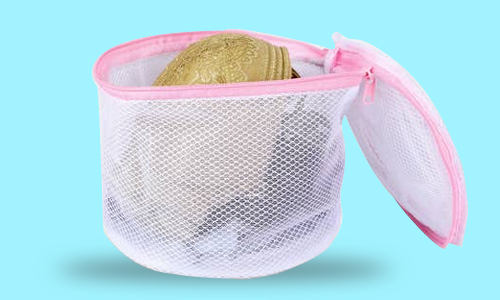 Wash Lingerie
Bras are delicate and can be easily damaged. The hooks are dangerous for other clothes in the machine. Securing them in a laundry bag protects both the bra and other clothes. It will also keep the bra straps and band from getting stretched out.
Care for Hosiery
Mesh bags protect your leggings, tights, and pants from getting stretched, tangled, and torn.
Keep Sportswear in Shape
Stretchy sportswear is prone to losing shape over time. A laundry bag keeps them in better condition for a longer period.
How Do You Use a Mesh Bag?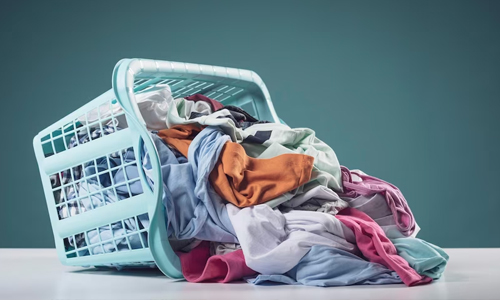 Sort the items (for example, do not put delicate and rough material together).
Do not combine other fabrics with embellishments.
Check for stains and colour bleeds.
Keep all the hooks, clasps, zippers, and buttons closed.
Do not lump different colours.
Do turn garments inside out.
Do not overload the laundry bag.
Follow the wash care label on the product for better care.
How to Clean a Bra Laundry Bag?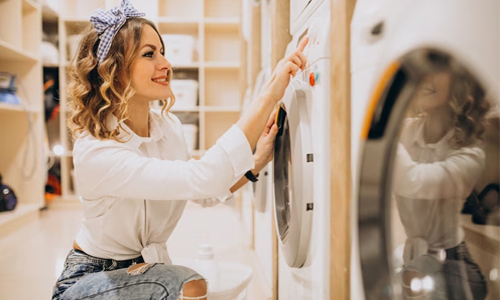 It is easy to maintain a bra laundry bag. You need to remove the contents after washing your delicates. Add some detergent and run a regular or quick cycle in your washing machine. It's clean and ready for use. You must clean it routinely to maintain its pristine state.
Buy Shyaway's lingerie laundry bag to protect your delicate clothing from wear and tear. For all these interesting uses, you are going to need one or more of them. Have you bought yours yet?
Want to know some more interesting products? Read up on useful bra accessories your breasts will love.