For women, workout will be challenging and discomforting without a sports bra. Don't imagine exercising without a sports bra because it will do a lot more than providing comfort. Read on to the brief history of sports bras and their evolution.
The purpose of a sports bra is to provide ample support to breasts during exercise. Unlike normal bras, they help minimise breast movement and prevent discomfort. Have you ever wondered how they thought of inventing a sports bra? Sports bras have come a long way in a very short period. 
An ordinary runner invented an undergarment 40 years ago by what we call a sports bra today. Since then sports bras have continued to evolve in order to meet better designs, models and covering all body shapes. The first bra wasn't commercialised for exercise. Nowadays, sports bras come in many styles to meet women's requirements. Many women wear sports bras to avoid physical discomfort caused by breasts during physical activities.
Brief History of the Sports Bra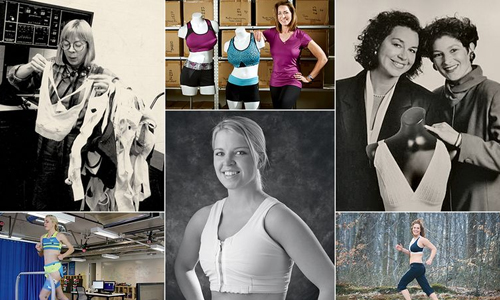 Let's learn more about the history of the sports bra and the evolution of sports bra's designs.
In 1975, Free Swing Tennis Bra was known as the first commercially launched sports bra by Glamorise Foundations, Inc. This bra wasn't marketed and designed for only smaller busted women.
Did you know? The first exercise bra was originally known as "jockbra". It was introduced in 1977 by Lisa Lindahl and Polly Smith (theatre costume designer) along with Smith's assistant, Hinda Schreiber. 
The first common sports bra for exercise was created by Lisa Lindahl, Hinda Miller, and Polly Smith.
Lindahl and her sister Vitoria Woodrow discussed their terrible experience of wearing regular bras during exercise. They experienced runaway straps, sore breasts and chafing.
Over time, Lindahl and Smith's experiment helped to come up with a better alternative.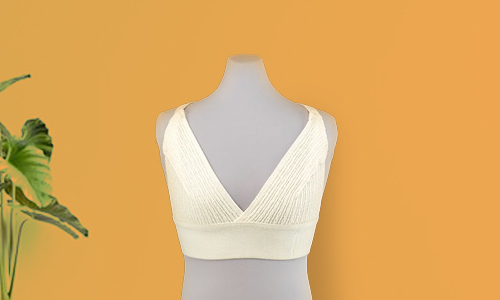 Their suggestion was a jockstrap for women's bust. Lindahl and Smith invented a bra with two jock straps together in the costume shop of Royall Tyler Theatre at the University of Vermont and nicknamed it a "jockbra." Later, it was changed into "jogbra."
Playtex bought a jog bra from Lindahl and her partners in 1990. As a result, one research was performed by Christine Haycock who was an associate professor at the University of Medicine and Dentistry of New Jersey. She noted the breasts movement of women while running on treadmills. She advised a wide band for additional support and firm straps to minimize breasts from bouncing.
Renelle Braaten, a Montana hairdresser (her size –DD) had a bad experience playing volleyball and racquetball. She collaborated with freelancing clothing designer Heidi Fisk who invented Enell Incorporated. Later, she asked Oprah Winfrey to try her bra in 2001. This gave positive results in O: The Oprah Magazine. In 2001 the bra's appearance was witnessed on The Oprah Winfrey Show.
During the 1999 FIFA Women's World Cup Final, Brandi Chastain expressed her victory by taking off her jersey and falling to her knees, wearing a sports bra. This image became popular. It was the first time a woman footballer showed off her sports bra in an international game.
Evolution of Sports Bra Designs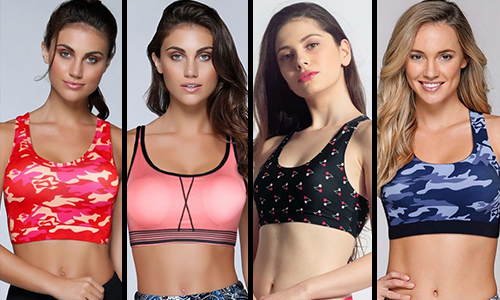 Find the evolution of the sports bra and its unique design gives you the freedom to stretch or move comfortably.
Sports bras are designed for two main reasons such as encapsulate and compress breasts. Encapsulate sports bras come with moulded cups, crafted to fit around the maximum area of the bust. Compression sports bras are tailored to restrict movement and help to hold the breasts firmly against the body.
Encapsulation sports bras are best for reducing discomfort whereas compression sports bras are best for high-intensity workouts.
The most common sports bras may resemble tank tops with the bottom half cut off.
Other designs of sports bras are equipped with water pads, gel, airbags and silver fibres.
A stitchless bra was first designed by Wacoal, It was made with processes of compressed, and moulded.
A compressed bra is crafted to push the breasts against the body to minimize movement and bounce.
Other bras are tailored in round patterns that may differ in stretch and support. The most common design of sports bra is sweat-absorbent, stretchable like Lycra. This brand's sports bras help reduce skin irritation.
Women wear sports bras after some surgical procedures. In such conditions, a front-closure sports bra comes with compression and a seamless cup. This bra is suggested for healing and comfort.
Some sports bras help even out a bustline and reduce swelling.
Sports bras are also equipped for men with large breasts to use during exercise.
The major problem occurs because of the shoulder straps of standard bras.
The standard and well-equipped bras come with a square frame. When women lift their arms above the shoulders, the frame is stretched as it is attached by the chest band, which also puts pressure on the shoulder which leads to shoulder and neck pain, numbness in the arms and causes headaches.
To avoid these issues the bra shoulder straps should cross at the back. Hence, sports bras adopted halter and criss-cross styles.
Through every incident and experience, sports bras design, pattern and style are changed and will change to meet every woman's needs.