Is it difficult for you to find a bra that fits right? Have you tried different cup and band sizes? If none of them work, it's time to buying lingerie according to your shape will help you highlight your features in the right way. In this blog, we will help you find the perfect bras and panties for your apple body shape.
Know Your Apple Body Shape
An apple body shape is characterised by a distinctive roundness in the midsection, a prominent upper body, and minimal waist definition. The ribcage and back appear somewhat wide. To balance out the fullness of the upper body, you need to highlight the bust area and keep the attention away from the midsection. Additionally, the breasts tend to be average to full in size. This particular body shape is also referred to as round or oval.
What are the Characteristics of the Apple Body Shape? 
Broad shoulder
Large bust
Narrow hips
Less defined waist
Slender legs
Flat bottoms
How Do You Know You Have an Apple Body Shape? 
You can easily find your body shape with a quick calculation. Take a measuring tape, a pen, and paper to measure your sizes.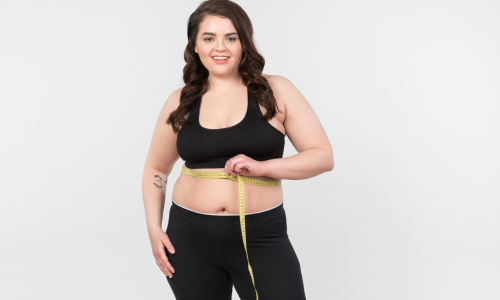 How to Measure? 
You must measure 4 points along your body and write down the measurements.
Shoulder (widest part)
Bust (apex of the chest)
Waist (above the belly button)
Hips (widest part)
How to Calculate?
If your waist measurement is equal to or greater than your bust and hips by about 2 inches, you have an apple body shape. Or simply, if Waist ÷ Shoulders and Bust ≥ 1.05, you are apple-shaped. Keep the measurement handy and read on to find out the best bras and panties for apple body shape.
How to Buy Bras for an Apple Body Shape? 
The fullest part of an apple-shaped body is always around the stomach and waistline, where your body carries most of the fat tissue. A commonplus-size.
What are the Best Bras for an Apple Body Shape? 
Underwired bras and full-coverage bras are the best bras for an apple body shape. Here's a quick guide to choosing the little details that make the biggest difference to your oval-shaped body.
| | | |
| --- | --- | --- |
| Bra Type | Image | Description |
| Underwired Bra | | It provides subtle support and lift. It is flattering and functional if you have a full bust and broad shoulders. |
| Full Coverage Minimizer Bra | | This bra helps prevent embarrassing breast spills. |
| Bra with Side Boning/Sling/Support | | You will need this type of bra for the extra support that large breasts need. |
| Cotton Bra | | Avoid unnecessary bulk around the bust with a soft and simple cotton bra that hugs your curves elegantly. |
| Balconette Bra | | It flatters average cup sizes and wide-set breasts. |
| V-Shaped Plunge Bras | | Wear a plunge bra if your breasts look saggy and deflated. |
| Ruffled Bra | | The ruffle detailing serves as an eye-catching element, providing a delightful distraction. |
| Lace Bra | | A lot of decorations and lacework make a visible distinction between the bust and the tummy area. |
| Bra with Decorative Strap | | Interesting strap designs are an amazing option for an apple-shaped body. |
| Bra with Scalloped Neckline | | Make the most of your cleavage with a scalloped lace neckline bra. |
What Bras Should You Avoid if You Have an Apple Body Shape? 
You can avoid strapless bras, pushup bras, and padded bras since they accentuate the heavy appearance of the upper part of the body.
Panty Guide for Apple Body Shape
What is the Common Panty Problem for Apple Shape Body?
The common panty problem with an apple body shape is finding underwear that doesn't overspill in the tummy area, leaving an unbalanced figure. The solution is to find panties that flatten the tummy and elongate the look of your midsection.
What are the Best Panties for Apple Shape Body?
| | |
| --- | --- |
| Panty Styles | Description |
| Mid-rise or High-rise Boy shorts  | It hugs everything in and will stretch the body visually. Boyshorts distract from the appearance of roundness around the midsection. |
| High Waist Panties | High-waisted panties flatten the tummy area, giving a nice shape to the bottom. |
| Panties with a Wide Waistband | They sit flat on the tummy and avoid bulking up. |
| Thongs | V-shaped thongs will elongate the look of your midsection. |
Final Words
We hope this guide has shown you how to wear the best bras and panties for apple body shape. With our recommendations, you will feel more confident and be able to create a style that embraces you. Keep this guide for reference and follow us for more interesting and useful information.