Lingerie deserves the same proper organisation as your outfits. But most of us never arrange lingerie, which in turn consumes more time searching for the perfect lingerie while we head out. An organised lingerie collection will save your search time to pair with a perfect outfit. Read along to learn how to arrange undergarments in a compact space with the help of a lingerie capsule wardrobe.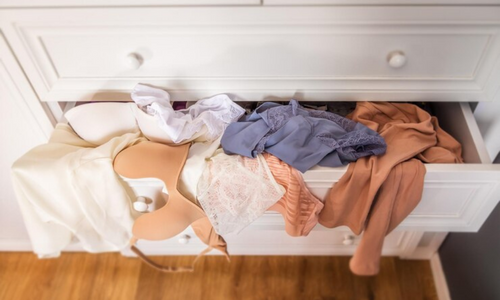 What is a lingerie capsule wardrobe?
An essential lingerie capsule wardrobe comprises a variety of undergarments that can be worn with a variety of outfits. The collection includes bras, panties, and several other undergarments. As a result, you will be able to use fewer and more versatile pieces, instead of many specialized items that can only be worn in specific circumstances.
Pre-requisites for creating lingerie capsule wardrobes
Before you create a lingerie capsule wardrobe, make sure you find out what type of lingerie you own and determine which undergarments are in good condition and which ones you wear frequently.
Identify your lingerie needs. Consider the different occasions and outfits you'll be wearing lingerie with, and make a list of the types you'll need. (e.g., everyday bras, push-up bras, cotton panties, etc.).
For example, if you have sheer outfits in your wardrobe, ensure you add some nude colours or neutral shades to your lingerie capsule. For snug-fitting dresses, seamless underwear would help. You can wear a low-cut outfit with a plunge, balconette, or push-up bra. Make sure that you have strapless or stick-on bras if you wear strapless, one-shoulder, or racerback outfits.
Quality should be one of your top priorities when selecting lingerie for your capsule collection. Choose comfortable, well-designed pieces.
Choose a few trendy pieces along with the basic lingerie essentials to add some variety to your wardrobe collection.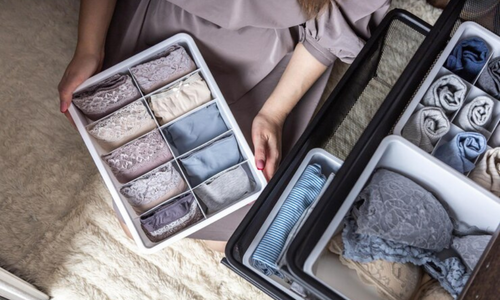 How do you create a lingerie capsule wardrobe?
Curating a capsule wardrobe of lingerie includes curating essential pieces that can be worn together or separately to create adorable looks. Here are some steps to be taken to create your own lingerie capsule wardrobe:
First of all, make sure you have boxes with several compartments. The capsule lingerie collection for your wardrobe should contain bras, panties, camisoles, baby dolls, and shapewear.
Either prefer separate boxes for bras, panties, and other undergarments or place all these together in one box with different-sized compartments.
Make sure to place all your bras horizontally. This will help you pick the bra by seeing it from the top. Keep padded and non-padded bras in separate compartments, and don't fold the padded ones. Place your everyday bra essentials in the front row and your bridal and lace bras in the back.
When it comes to panties, don't fold them; instead, roll them and place each panty in a small compartment.
Camisoles can also be rolled and placed, but make sure you have rectangular-shaped compartments in this category for easy access.
By following these steps, you can create a wardrobe that is functional, versatile, and sustainable.
Maintaining tips for Lingerie Capsule
Be mindful of size and fit. Make sure that all the pieces you chose fit you well, and be prepared to adjust your collection as your size and needs change.
Remove what you don't need. Once you have your new wardrobe, get rid of any lingerie pieces you don't need or wear anymore.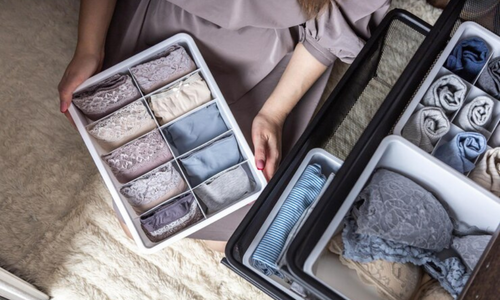 Benefits of creating a lingerie capsule
Considering the importance of a lingerie capsule, there are several benefits, which include:
Cost-effectiveness: Having a smaller collection of high-quality, versatile pieces can be more financially efficient than constantly buying new lingerie.
Easy to manage: A smaller collection is easier to keep track of and maintain, which can save time and energy.
Reducing clutter: By having a smaller number of pieces, you can reduce clutter in your drawers and closet, making it easier to find what you need and keeping your space organized.
Emphasis on quality: With a smaller collection, it's easier to invest in higher-quality pieces that will last longer and look better.
I hope this guide is helpful in creating an undergarment wardrobe that will be easy to access and maintain.