To make your entire pregnancy and breastfeeding journey happy
Shyaway answered all your questions.
From pregnancy to parenting your bra requirements will not be similar to your normal bras. You may give more importance to your maternity clothes than undergarments but while shopping for nursing bras you can make a lot of mistakes while choosing the right one.
Before we answer your questions, we want you to understand what is a nursing bra? , why are nursing bras crafted? Nursing is a supportive bra mainly crafted for breastfeeding women. It comes with flaps/panels on cups that can be easily opened for breastfeeding without the need of removing your entire bra.
Whether you are a new mom or mom-to-be, you might have so many questions related to nursing bras. This is why we have put together all questions here. Nursing bras FAQ will help you to get the perfect nursing bras and how you can benefit from them. Let's get started!
Nursing Bras FAQ
Scroll down to find all questions about nursing bras.
1. When Should You Start Wearing Nursing Bras?
This question comes to every woman's mind. You can wear a nursing bra as soon as the breasts start growing or changing, the best time to wear a nursing bra is in Your First Trimester.
2. What is the difference between a Nursing and Maternity Bra?
The nursing bra is designed to be worn once your little one arrives and also for breastfeeding functionality. Several women buy it to wear during their last trimester. The design is different from the maternity bra, a cup of a nursing bra has clasps or panels or a hook to open to make it easier while nursing.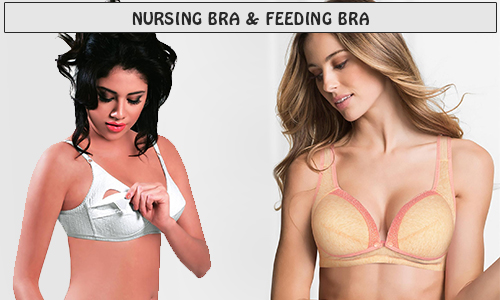 Maternity bras are mainly crafted to be worn when you are pregnant. It is tailored with stretchy fabric, has adjustable straps, and an additional hook-eyes. It is a supportive bra that helps accommodate when your breasts grow in size. Uncover more information by reading our latest blog on Maternity V/S Nursing bra. 
3. Why Should You Invest in Nursing Bras?
You must buy nursing for the following reasons:
Nursing Bras Make Nursing Easy
It features cups that clip down, or pull aside, can access the bra with one hand. This bra helps for discreet breastfeeding for your little one.
Super Comfortable
The material that is used in nursing bras is extremely comfortable and it won't irritate your skin. Cotton and bamboo are common materials used for crafting a nursing bra. It has wider straps to offer ample support, comfort and eliminates neck, back, and shoulder pain.
They Accommodate Your Body
What does a nursing bra do? During pregnancy, your breasts may change from one to four cup sizes. They can even grow more while nursing. Well-fitting nursing bras are made with the perfect blend of breathable fabrics with the right amount of stretch to adjust to your body.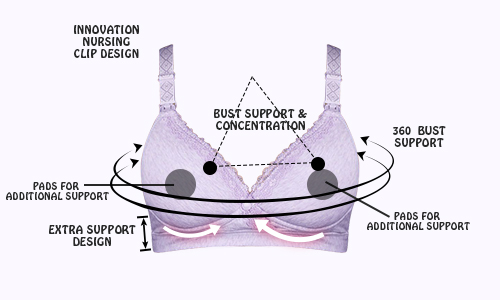 4. What Features Should I Look Before Purchasing a Nursing Bra?
Before shopping for a nursing bra you should look for the following features.
Flexible wire or wire-free bra
Supportive wide straps
Amazing fit and very supportive
Cotton lining
Great fabric in the back that offers extra support.
One-handed hassle-free nursing clips for a convenient opening during breastfeeding
Check for extended back adjusters that allow your changing body shape
Look for more than 3 hooks and eyes.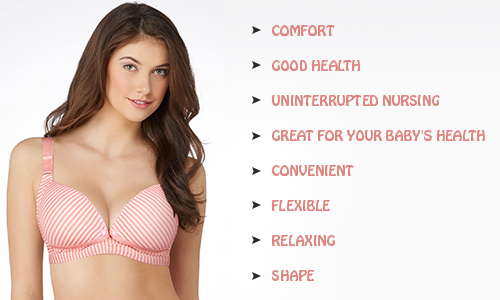 5. Should You Sleep with a Nursing Bra On?
It is a matter of your preference if you feel comfortable wearing a nursing bra then you can wear it while sleeping. Smaller busted women can avoid wearing bras and larger busted women can opt for a wire-free or sleep bra or a bra that fits you well. If you're worried about your breasts leaking overnight, you can opt for a comfy bra or breast pads.
6. Which Type of Nursing Bra Should You Purchase?
Throughout maternity, you can opt for a comfy wire-free bra, flexible wired bra, seamless bra, and supportive bra. During the nursing period, it will be good to wear a full drop cup nursing bra that allows you for discreet breastfeeding.
7. How Many Nursing Bras Do You Need?
You must have 3-4 nursing bras, one to wear, one to wash, and two to spare. You will be relaxed by knowing you have enough nursing bras in your wardrobe. Many new moms prefer to keep one sleep bra, supportive bras as a daytime bra, and nursing tanks.
8. What's the Best Bra to Wear While Pregnant?
The best nursing bras are
cotton nursing bra
Lightly padded wire-free nursing Bra
Pumping nursing bras
Nursing sleep bra
Nursing full cup bra
Cotton rich non-padded nursing bra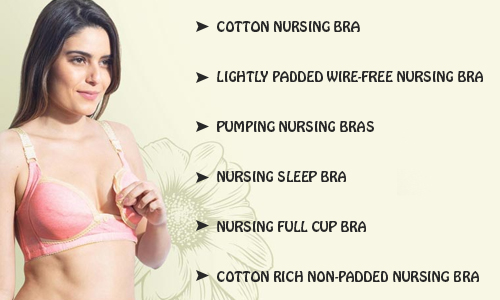 9. Will a Nursing Bra Prevent My Breasts from Changing Shape or Sagging?
A good supportive nursing bra can prevent sagging and even the shape of the bust after breastfeeding. During motherhood, your breasts may weigh more as you gain more weight. The good nursing bra offers support to the ligaments in the breasts.
10. How Do You Know What Size of a Nursing Bra to Buy?
Rule 1: Follow the good rule of thumb and add one cup and one back size onto your regular pre-pregnancy bra size. For example, if your regular bra size is 32C you can opt for 34D.
Rule 2: With your pregnancy bra size, you need to add 1 cup size and subtract 1 back size. For example, if you wear a 34D during pregnancy you should opt for 32DD for nursing.
11. When Is the Best Time to Shop for Nursing Bras?
Shop nursing bras when you are around eight-months pregnant, during this time you may gain most of the baby weight and undergo major body changes. Some women don't find much of a change in their cup size but some of them notice an increase of almost 4 cup sizes. When you're around eight months pregnant you can measure your new cup size and can get the perfect bras for your size.
12. How Do You Measure for a Good Fit?
Simple measurements for nursing bras are underbust and bust. These are used to calculate your cup and band size. To measure your underbust or band measurement, wrap the tape around under your bust. The measuring tape should be straight around the torso but not too tight. The measurement should be the nearest even number. For example, the measurement is 32.5 inches to 34 inches then your band size will be 34.
To measure the bust size, wrap the tape around the fullest part of your bust while still wearing your bra. You should take measurements before breastfeeding.
The cup size is calculated by subtracting the band size from your bust size. Each inch of difference is considered to be a letter. For example, if the bust size is 37 and the band size is 34 inches then the difference of three inches is cup C. The difference of four inches is a D cup.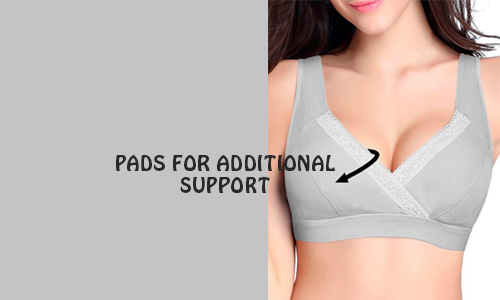 13. Should I Wear an Underwire or a Non-underwire Nursing Bra?
It is better if you do not choose underwire bras during breastfeeding. The wire-free nursing bra, supportive nursing bra, seamless maternity bra are the best options to wear during maternity.
14. Is Cotton Best for Nursing Bras?
Yes, cotton fabric is one of the best fabrics when it comes to nursing bras. Cotton nursing bras are comfortable, thin, breathable, and skin-friendly.
15. Can You Wear a Regular Bra While Nursing?
No. During pregnancy or nursing, your body may undergo a lot of changes including your breasts. You should not wear your regular bra, which won't offer much-needed comfort and ample support to your changing breasts.
We believe we have answered all of your nursing bra questions in this nursing bras FAQ if you have any more questions and doubts regarding nursing bras, kindly mention them in the comment box.
For a complete guide on the nursing bra, please visit Shyaway's Nursing Bra Guide