Every festival season, a battle begins among offline and online retailers to occupy a greater share of their customer's wallet. This festive season was no different. In 2019, major offline and online retailers offered amazing festive discounts and sales. From Bata's 50% off, Big Basket's 100% cashback, Amazon's Great Indian Sale to Shyaway's Buy 2 Get 3 Free,  both the customers and retailers had amazing benefits. 
We heard stories of shoppers flooding famous offline stores in major cities, uncontrollable movement of vehicles and traffic jams around popular shopping zones (during holiday and festive season), internet server issues due to an unpredictable number of online orders and other similar stories. It is evident that both online and offline stores had an equal amount of takers!
We are in the second month of the year and the next big festive sale is almost 6-7 months away. Not to forget Valentine's Day, Women's Day, Mother's Day and other special occasions. Stats show that the women's lingerie segment holds a women's lingerie throughout the year. Thanks to eCommerce!
Consumers look forward to great discounts and deals from both offline and online brands. When it comes to comparing offline and online shopping, everyone has an opinion! 
Let's Discuss Lingerie Shopping
How is online lingerie shopping different from offline lingerie shopping?
Is there a difference? 
We have known buyers who love to shop lingerie exclusively from online stores and few others visit specific offline stores/brands to buy their underwear. 
The experience of both online and offline stores might be more or less similar however, we see online lingerie shopping evolving in the recent past. 
What doesn't change is that both retailers (offline and online) are selling to the same consumers in different ways. 
Comparative Study on Lingerie Shopping at Online and Offline Stores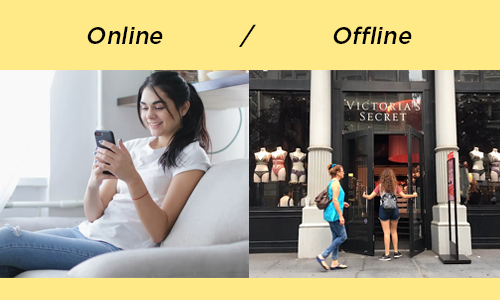 |  Criteria | Online Shopping |  Offline Shopping |
| --- | --- | --- |
| Product Experience | Customers get to read accurate descriptions of products, fabric types, sizes, and they also get the ability to zoom in and out to view products. | The bonus of shopping in a traditional brick and mortar store is being able to see and feel the product. |
Limitations: Online lingerie shoppers are limited to information which leads to the inability of evaluating the quality of product till it reaches them.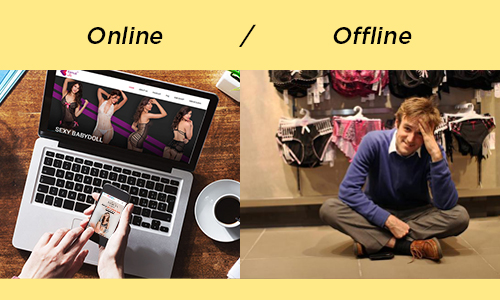 |  Criteria | Online Shopping |  Offline Shopping |
| --- | --- | --- |
| Convenience | Online shoppers get the biggest advantage when it comes to lingerie shopping. The majority of online buyers feel that online shopping saves time. | Customers need to plan and visit different stores situated at different locations until their expectations are met. |
Limitations: Online shoppers need to have a lot of patience and efforts to browse through different categories (without any assistance) and choose the best product.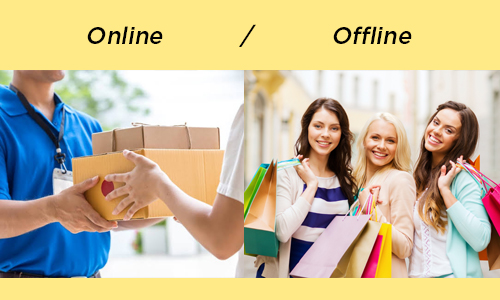 |  Criteria | Online Shopping |  Offline Shopping |
| --- | --- | --- |
| Delivery of Goods | Products will be shipped to buyers within 2 to 7 business days. | Buyers see, look, verify, and take away the goods on the same day. |
Limitations: Although it is common to worry about not receiving the product after purchasing them online, most of the reputable stores ensure there is no potential loss/damage while shipping lingerie.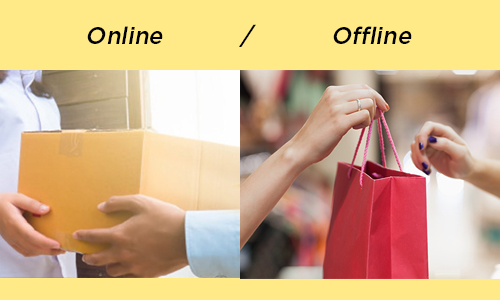 |  Criteria | Online Shopping |  Offline Shopping |
| --- | --- | --- |
| Return Policy | The return policy is simple. Buyers can easily return a product that doesn't meet their expectations. | Customers have to make efforts to reach the store along with the original receipt to return the goods. Most offline stores do not accept the exchange/return of lingerie. |
Limitations: Most of the offline stores do not encourage buyers to exchange/return lingerie. Even in exceptional cases, exchanging lingerie does not result in the buyer's satisfaction due to unavailability of varied sizes and styles in the offline market.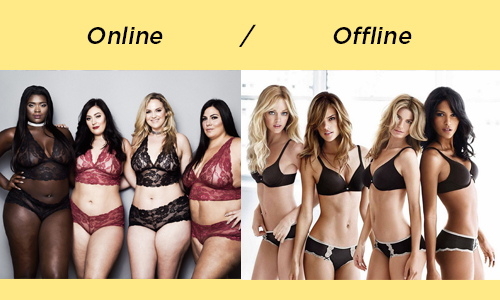 | Criteria  | Online Shopping |  Offline Shopping |
| --- | --- | --- |
| Lingerie Embarrassment | Absolutely nil. Customers can buy anything sexy and stylish. | Buyers need to get confidence and find a product that will suit their needs and fantasy expectations. |
Limitations: 4 out of 10 women feel uncomfortable buying fancy and sexy lingerie at offline stores.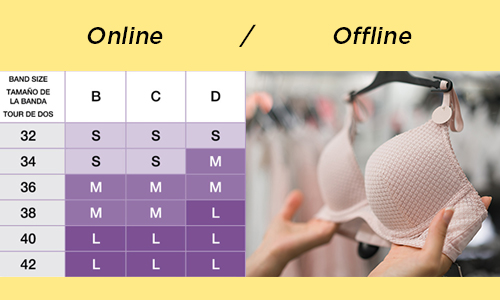 | Criteria  | Online Shopping |  Offline Shopping |
| --- | --- | --- |
| Lingerie Sizes | Customers get access to a wider market. Online stores offer a wide range of products at different sizes ranges. | In the offline market, only a few standard sizes are sold. |
Limitations: Due to non-availability of size ranges at offline stores,  8 out of 10 women wear the wrong bra size.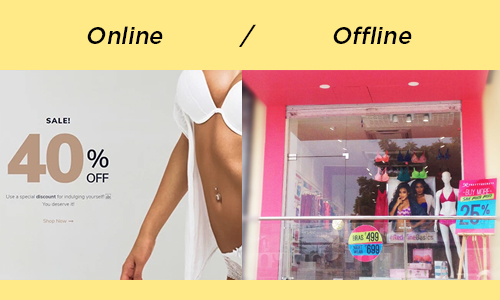 | Criteria  | Online Shopping |  Offline Shopping |
| --- | --- | --- |
| Offers, Seasonal Sale, Festive Discounts | Online stores provide seasonal discounts, offers, cashback, referral bonus, and other benefits. | Offline stores have a fixed offer even during all festive sale |
Limitations: Online stores provide an extra discount compared to offline stores.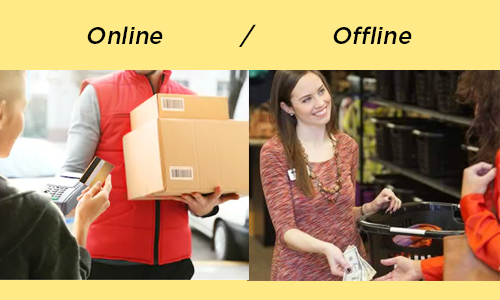 | Criteria  | Online Shopping |  Offline Shopping |
| --- | --- | --- |
| Payment Options | You can opt to pay through net banking, credit & debit cards, UPI, third-party payment apps as well as cash on delivery. | Most of the offline stores accept cash, card, and UPI payments only. |
Limitations: Digitalization demands different modes of payment and hence online is much suitable.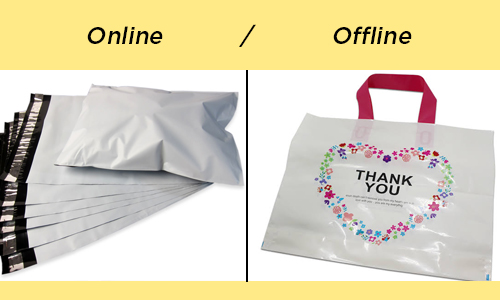 | Criteria  | Online Shopping |  Offline Shopping |
| --- | --- | --- |
| Discreet Packing | Online stores provide discreet packing. | Offline stores do not have special packaging for lingerie. |
Limitations: Offline stores do not provide special packaging. Comparatively, online stores offer extra convenience while buying lingerie.
The Reality of Lingerie Shopping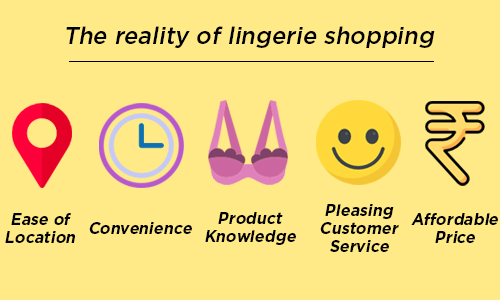 What Do Customers Need?
Ease of Location

Convenience

Product Knowledge

Pleasing customer service

Affordable Price
When It Comes to Lingerie Shopping Customers Always:
Need Accessible locations

Find a store to fit into their schedule and lifestyle

Want to complete a purchase quickly

Demand products in different colors, styles, and size, easily

Look for all types of lingerie at the same place

Want to shop with a brand that knows what they're selling

Look for a store that has an expert team to help them make a decision
Success Strategies for Online and Offline Lingerie Stores
To be successful in the lingerie market,
Online Stores
Should concentrate on effective product categorization, minimal checkout steps, and allow guest checkout. 

Should provide resource center, blogs, guides, videos to attract customers and establish you are an expert. 

Should provide live chat facilities, improve customer service and allow customers to communicate with the business in realtime to facilitate the purchase. 

Should have a professional website with a simple design, clean graphics, and easy navigation. 

Should be inviting because

48%

of shoppers assess the credibility of a website based on the home page design.

Should provide a price that matches the value they receive
Offline Stores
Should demonstrate knowledge

Sales staff should possess the knowledge to educate customers politely and help choose the best lingerie. 

Should look visually appealing with a unique display

Should provide more options, different sizes, and colors to meet the varied requirements of customers. 
Final Words
Shoppers are looking for a price range that matches the value. So, both online and offline stores should fix a price that reflects the value of their brand. However, if you are an expert in the lingerie industry, your price can be higher to reflect that. If you can address the above-mentioned categories, you can get shoppers to choose your brand.