These Celebrities have redefined lingerie
Ever since Caresse Crosby invented the first bra, businessmen and many designers recognized its colossal need and have utilized it to the fullest. Over the years the world has witnessed the lingerie industry bloom, evolve, and grow rapidly. While there are brands today that are truly money-minded, there have also been some truly passionate people that impacted the world of lingerie for women.
That been said, cinema is the most influential form of art in the world. One movie, one song, one dialogue, or one actor at a particular time has always turned things around and they become iconic. Hollywood has produced plenty of them.
Here are a few who broke rules and changed the outlook of lingerie forever.
 1. Marilyn Monroe
One can never skip her name when they talk of fashion. She was a legend like no other, she still is. Monroe's sense of taste, style, and wisdom is still very much alive in the world we live in. Her personal style was very similar to her style on the screen which was adapted and used by thousands of people; so much so that it became the popular culture in the '50s.
Her choice of undergarment was always a topic for discussion and admiration. She was simply fearless and sported the bullet bra without inhibitions. She also always was seen in balconette style bras or gowns. Needless to say that her most iconic flying skirt moment uncovered one more of her intimate wear secrets- the high waist brief.
She was an absolute sensation in those bullet bras; which actually make your breasts look pointy and protruded. And to be honest, nobody else can wear it like she did. Pointy or bullet bras were highly criticized and it was never well-received among the people. So, pointy bras are no more a thing! But balconette bras are steadily paving their way in the market.
Balconette bras are also called balcony bras; it is interesting how it is compared to something as big as a balcony. It got its name because the cups are not angled but completely horizontal.
2. Dita Von Teese
The Burlesque queen is the byword for a classy and elegance. She is known for her ability to look elegant and sexy at once. Dita also made strip-tease more about an expression of herself and her glamour than for what it is. Retro and vintage are two words that describe her style. Her love for lingerie was eminent in her style and in her work. She has a real passion for femininity which urged her to embark on her own line of lingerie.
Here's what she said in an interview when she was asked about her vintage taste:
 "The reason I started dressing in vintage in the first place was because I couldn't afford designer clothes so I started to find my own way to get like the look that I would see in fashion magazines and create that look for less."
The sensational dancer continues to influence many women to embrace themselves and advocates the use of vintage. When Dita Von Teese doesn't care for trends, nobody should!
3. Roy Raymond 
It was (if not is) every woman's dream to own a Victoria Secret piece. What's more surprising than a man opening the world's best lingerie line? He was motivated by the poor quality and boring lingerie back in 1981 when he shopped for his wife. He said that he was 'embarrassed' by the terrible collection.
He launched his own luxury clothing line eight years later and there was no looking back for him. He now owns the renouned Victoria's Secret. Their style is sui generis but he also uses contemporary styles, cuts, and fabrics. His lingerie has set sky-high standards. They make the most luxurious pieces with jewel embellishments and top-notch fit.
But the downside of the brand has been making the talk. Their models are all painfully skinny and many people have raised their voices against this stating that VS is setting a wrong standard and that it does not appreciate all body shapes and sizes.
Note: Well, he is not from movies but we have all the right reasons to call him a celebrity.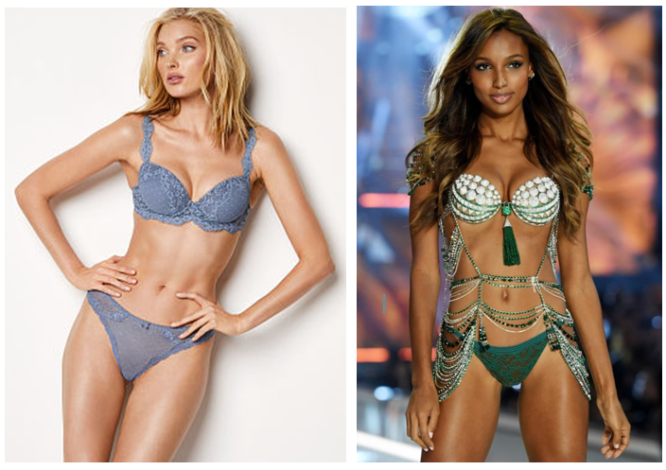 4. Ashley Graham
American model and body activist, Ashley Graham started her modeling career in 2001. She didn't have it all together at the start of her career. She was body-shamed by everyone in the industry because she was putting on weight. The modeling industry can be really nasty in reality; they welcome and encourage only certain body weight, height, color, etc. Ashley slayed every hurdle on her way and stayed determined to be at the top of her game. And now she is.
She is one of the first plus-size models. Ashley even opened her own lingerie line for plus sizes. But she hates to call it 'plus-size' and started a campaign called #IamSizeSexy; truly believing that curvy women are not fat, are not big but are actually sexy.
Her online store called ashleygrahamcollections.com is exclusively for curvaceous women and showcases plus-size models. They are all curvaceous, beautiful, and real. Her Instagram feed is empowering women of all sizes and shapes every day.
Today she is a body activist, raising her voice for women and their insecurities. Graham has changed the course for many women. She is breaking the rules and is in complete contradiction to Victoria's Secret norm. Times have changed and we are evolving.
"Your takeaway should be to love your body as it is and not be afraid to wear what you want to"