At Shyaway, we promote acceptance of all body types regardless of shape, size, gender, and skin tone. To further body positivity, we create lingerie styles and patterns to celebrate different body shapes and sizes. Our motivation revolves around the availability of products for everyone, as well as comfort and fit. We want our readers and customers to feel confident in their bodies. Indeed, our focus is now on creating lingerie for mental happiness and physical acceptance. 
Shyaway Focuses on Self-Love and Acceptance of Your Body
Is lingerie available for people of all sizes? Do they find the right fit? Are they happy shopping for lingerie online? We believe that body positivity is about each individual. Everyone deserves equality. That's why we create lingerie for all people. 
What is Body Positivity? 
You may think it's about taking care of your body, exercising, and eating well. Body positivity is not forcing yourself to change for others. It is to accept and enjoy the body you have. Real self-love is doing everything to ensure your body and mind are happy and healthy. Do not treat body positivity as an excuse for unhealthy living. 
Shyaway's Goal to Reduce Body Anxiety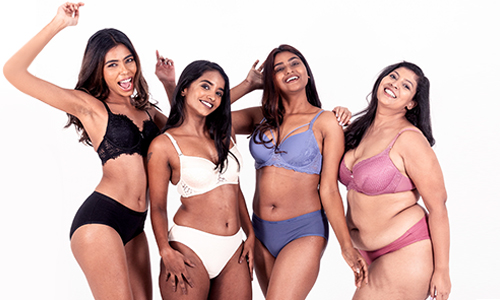 You don't have to worry about body changes. Our bra sizing starts at cup size A and goes up to DD. Our fitting guide and size charts help you reduce the confusion and find your perfect lingerie size. A hassle-free return policy ensures that you find the right fit for you. Ultimately, we show that everyone deserves good lingerie.
Our Body Positivity Campaign #IMEMYSELF
Real Women from the Real World
Our self-love campaign stars body-positive models from all walks of life. Our beautiful models embrace themselves in the hopes that others will be inspired to do the same.
We Talk Because We Make it
Our campaigns are the best example of authenticity. With years of experience in the lingerie industry, we create lingerie for every Indian woman. We try to be perfect and want to spread self-care and body positivity through the products we make. 
Advertise Products that Exist
We ensure we have the products that fit. Take a look at our wide range of collections. You'll find a product that fits your size. 
We Show Varieties
We truly believe that body positivity is not about including plus sizes. It is considering all ages, abilities, genders, shapes, and sizes. We don't want any women to feel left out. 
Our Customers Do the Talking
We don't simply post pictures. We let our customers experience the awesomeness of our products and share their reviews.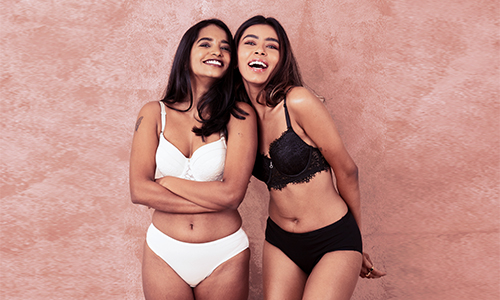 Key Takeaway: How To Feel Great in Lingerie?
Lingerie has evolved from an object of desire to a powerful tool of self-love. It is one piece of clothing that allows you to connect with your femininity. We want lingerie to bring body positivity, confidence, positive self-esteem, and self-love. 
Words from our Founder
"#IMeMyself is more than a hashtag for us; it's a movement that we believe in wholeheartedly. It was made by women, of women, and for women. This is our way of giving back to all the beautiful women out there who have constantly been judged and ridiculed for not conforming to society's unrealistic standards of beauty. We hope that through this campaign we can help every woman feel beautiful and confident in her own skin."
Final Words
We do not see body positivity as something light. As a lingerie brand, we want to do our part too. We help customers experience and reap the benefits of our products. Because lingerie is a powerful act of self-love. We encourage you to consider how lingerie can change your perception of your body. After all, beauty comes in all sizes. 
Happy New Year! 
Spread love. Share this with your loved ones.
Subscribe to our blog for more interesting reads.