Discover the Best Sports Bra for Optimal Support
A perfect sports bra is a gift
Hunting for a perfect running bra? A runner's wardrobe needs to stay up-to-date with best sports bras. For runners, we rounded up amazing sports bras which are essential year-round. They offer comfort with the right fit. Getting your 'dream come true sports bra for running is not only about comfort but also should provide high-level support without chafing.
Whether you go for a long run or jogging, embrace Shyaway's best sports bras for running. They are specially crafted for runners even for large breasts.
Features of Shyaway's Activewear Bras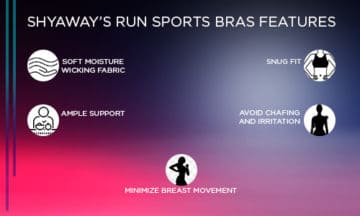 Our sports bras are made with super soft moisture-wicking fabric.
They ensure a snug fit with ample support.
They avoid uncomfortable chafing and irritation.
They won't gouge your skin.
They minimize breast movement.
Five Best Sports Bras for Running
Wondering, what type of bra is best for running?
Female runners! Lay your hands on these super comfy sports bras for long runs. They boost your confidence during exercise. Flaunt your fitness look with runner's sports bras. You will be impressed by Shyaway's new sports bras including style, fit, comfort, and breathability. Let's have a look.
Ultra Run Racerback Sports Bra

You just can't take your eyes off stunning and stylish racerback sports bras specially designed for high-intensity running or long runs. It is one of the best high-impact sports bras for runners. It provides a flattering look with high functionality, is made with multiple straps to minimize bounce, and offers a customized fit. It keeps you cool and dry throughout your running. Get the second-skin fit from ultra run racerback active bra!
Pullover Sports Bras for Runners

This ultimate bra style is ideal for jogging and running. The wide straps ensure to keep the breasts securely in place. It is designed with super-soft sweat-wicking fabric to avoid discomfort while running. The specialty of this bra is it offers two bras support and comfort in one piece. Grab this magic bra that promises full support and a stylish look.
Front Zip Run Bras   

Opt for a zip-up design racerback sports bra to run confidently. They provide premium support and built-in elastic keeps the bust securely in place after mile and mile. Trust us; you won't take off this front zip sports bra even after sweating a lot because that swiftly keeps your cool. It's time to pull off a perfect fitness look with Shyaway's front-zip up sports bra and pair with workout leggings.
Athlete Straps Sports Bra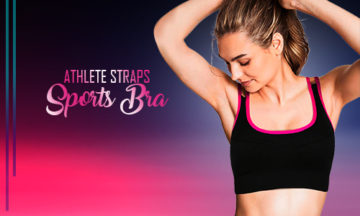 Want to run in style? Keep an eye out for sports bras that come in a strappy or criss-cross way at the back and ensure plenty of air flow. Shyaway's straps bras are designed to offer a great look and its encapsulated cups minimize your breast movements while running. Grab the strap sports bra to make it as your workout buddy!
Under Band Activewear Bras for Comfy Run

You will be obsessed with this bra that ensures a comfy run. It is designed with under bands, removable padding, and moisture-wicking fabric. This sports bra is constructed with an under band for supreme support and offers soft compression to reduce the bounce. It is lightweight and has an airy Y-back that keeps you cool for an hour and an hour running.
How to Find Your Perfect Sports Bra for Running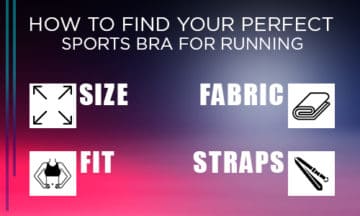 The perfect running bras offer a snug fit but should not be too tight making you feel suffocated.
Pick sports bras that have sweat-wicking fabric and the cup must be smooth to embrace the breasts snugly.
If your sports bra fabric has wrinkles while wearing that means the cup is too big for you. Choosing the right size in a runner's sports bra is essential.
Adjust the straps and check by raising your hands over your head. If the bands ride up that means it is a bigger size for you.
 Final Words
Runners' sports bras are loved by many women because they protect them from sagging, chafing, and pain, and improve your performance. We newly launched the best sports bras for running for 2020. We hope you don't struggle anymore to choose the perfect runner bras that provide a touch of style statement to the runner. Start running confidently without any discomfort.