Many shops do not allow you to try out panties because of hygiene reasons. Therefore, it is important to know your size before you go shopping. 
We all know how a wrong size panty can feel like. A day full of panty bulges & creases, visible lines, and panty digging into your skin can be really annoying. Wearing the wrong panty size can be the reason behind these problems. If you are wondering how do I know my panty size? It is complicated to find ladies innerwear size because there are various factors involved. This article will help you find out whether you are wearing the right panty size or not. We have also provided a panty size guide that has a list of different Indian panty sizes.  
8 Signs You Are Wearing the Wrong Size Panty
The wrong underwear might ruin your confidence completely. These are some strong signs that indicate you are wearing the wrong size panty.
1) You can find skin bulges around your hips or love handles as your underwear is too tight. If so, you must get underwear one size larger.
2) Your underwear does not fit you perfectly and creates a lot of crease lines.
3) If you find excess material bunching in the back, it might be a sign your underwear is too loose for you. 
4) Your underwear gets stuck between the butt cheeks causing a wedgie. This will lead to an uncomfortable and unflattering silhouette. This issue might also be a cause of stretched out elastics of the underwear. 
5) Your waistband keeps riding up as it is too loose. 
6) The underwear digs into your skin leaving marks. This means you are wearing smaller size underwear and must get a larger one soon. 
7) It does not make you feel comfortable. Your underwear must make you feel comfortable throughout the day, if not then it is also a sign that you are wearing the wrong size underwear. 
8) You are getting frequent yeast infections because the underwear you wear is too tight for you. 
How to Measure Panty Size?
How to know my panty size? You can measure your panty size in 4 simple steps.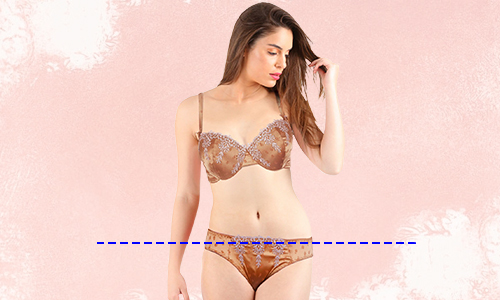 Step 1: Wrap the measuring tape around the fullest part of your hips. 
Step 2: Make sure the measuring tape remains level all the way around and fit must be snug. 
Step 3: Record the measurements in centimeters. 
Step 4: Refer to Shyaway's underwear size chart mentioned in order to find your panty size. 
Panty Size Calculator
XS
Panty Size Chart
| | |
| --- | --- |
| Size | Hip (in cm) |
| XS | 69-75 |
| S | 75-81 |
| M | 81-87 |
| L | 87-93 |
| XL | 93-99 |
| XXL | 99-105 |
| XXXL | 105-111 |
| XXXXL | 111-117 |
Note: If you find your size in between two different sizes, consider the larger one.