shyaway.com
Imagine the case when you gain weight to a little, without filling the bust, you make have to extend the length of your bra wings. An expensive bra can stop you from dropping it into trash bin. The easiest way to make them for further use is to accessories bra strap extender along with the bra. Take help of it and you can feel the comfort.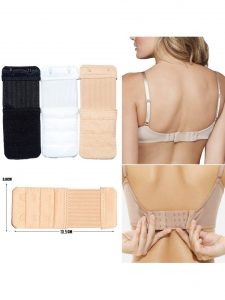 How to Use:
Bra strap extender is a band almost 10.5 cm long and 3.8 cm wide. The measurement is standard enough to use along with any bra bands. The band is elastic with hooks and eyes sewn on it. The band has 3 rows of eyes and the other side of the band has two hooks. Hook it onto the already existing bra strap and hook the existing (old) hooks onto the eyes. You can adjust the length according to your comfort. The second row of eye will be tighter than the last and the first will be tighter than the second and the last and so on…
Shyle Bra Strap Extenders come in 3 colors- White, Black and skin. As the colors go well with any colored bras, you can use them without doubt.