To start off, let's first get familiarised with the term 'silicone bras'. The alternate names are adhesive bras and stick-on. It seems more appropriate to say Adhesive bras or stick-on bras as these two describe the nature and the significance of the bra, unlike a silicone bra which talks about the material. Although it is true that all adhesive bras are made of primary silicone, sometimes even push-up bras use silicone padding, so the name can be generic and confusing.
Note: All silicone bras are invariably adhesive but not all adhesive bras are made of silicone.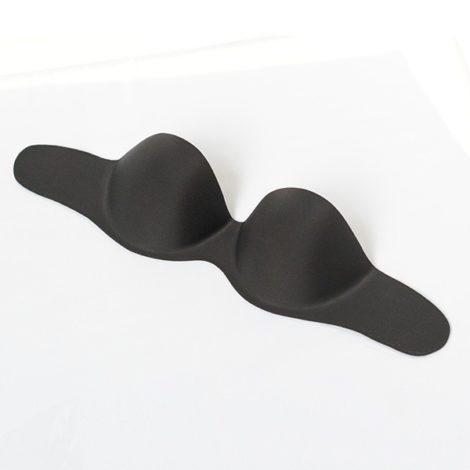 An adhesive bra is a bra that will stick on to your breasts and provides teat coverage, it is strapless and has no closures. Instead of which, they have adhesives which make them stick on the skin. The bra is not conventionally made for supporting the breasts, so do not expect that function in these bras. Adhesive bras cannot be everyday bras or in other words, they cannot be worn every day the entire day. It is, however, an amazing undergarment if you want to go backless or strapless.
As easy and sexy as it looks, the silicone bras come with their own limitations; but stay with us as we uncover every incredible detail about them.
The sizing and fitting of a silicone bra are quite flexible as it has to cover only the front parts of the breasts (slightly more than the nipples). It also follows a generic size chart, unlike a regular bra that has a band size and bust size. There will be no option of trying it on even in physical stores because they have adhesives and a particular piece cannot be used by more than one person.
If you are visiting a hot, sultry place and you know you will sweat, this bra may not be the best option, as sweat can affect the adhesives also the silicone cups can make you sweat more.
CAUTIONS TO MEMORIZE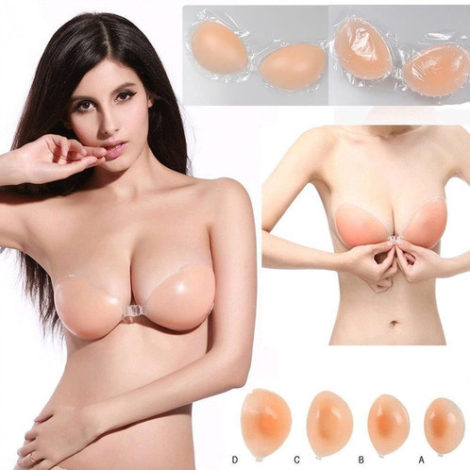 Smooth out the bra after applying it in the correct angle, always stand in front of a mirror, apply one cup at a time. Be careful while sticking it onto the breasts, take time to find the correct position and area to stick it on, as peeling it often can decrease the stickiness.
Make sure there are no air pockets; that every inch of the bra is sitting well on your breasts.
Keep your skin as dry as possible, do not apply oil, lotion or moisturizer. Wipe off any sweat or moisture if any.
Do not wear it if the skin is affected, wounded, broken or bruised.
Clean your skin before and after wearing the bra. After removing it, if there is any residue or stickiness on your skin use hot water to clean.
Do not wear it for more than six hours, as the material is not breathable.
HERE'S HOW TO MAINTAIN THEM
Wash them under running water by gently using your palms to scrub them, you could use a mild soap or solution too. Use warm or room temperature water to wash them, hot water will damage the silicone and wash out the adhesives. WASH AFTER EVERY USE.
Only air dry it in a dust-free environment. PLEASE DO NOT USE ANY KIND OF HEAT TO DRY IT.
Make sure you cover the bra while storing so that no dust particles or fibers stick on the adhesives.
Besides the health threats circulating this bra, it is a great bra to have in every wardrobe, as it comes in handy and is wearable under any outfit. These instructions, if followed properly would make the bra last up to 30 wears. Try our Side winged Adhesive bra that is also a push-up bra so now you can cast away your woes about the bra slipping off. The 100% silicone bra is also available with a clip-on each cup where it will form a gore and provides more grip.