Apart from the customary determined hunt for clothes, accessories, and so on, is there an endeavour to find the perfect bra? Still women wear bras which are miles away from giving comfort. A wrong bra can ruin all the precious moments of your entire lifetime. The repercussions, of course; constantly hurrying home and wanting to depart with it as soon as possible.
Firstly, let's clear out the myth that searching the right bra can be a tedious, distressing, substandard or an infinite expedition. Following the correct guideline can lead you to hit upon the flawless bra you've always anticipated.
So, let's explore the 7 stages of finding the right bra.
Operation "Right Bra Search" Begins…
1. Measure Yourself Accurately
To opt for the right bra, initially, it's very important that you measure yourself correctly. It's advisable to get measured before buying a new bra as time and again women undergo bodily changes. It's as simple as taking a measuring tape and getting to know your band and cup size. Two measurements are required, i.e. around your back and under your bust for band size, and around your back over the nipples for cup size. In case you fail to rely on your own measurement, a professional can help you out. Ultimately, you ought to shop with confidence.
2. Look Out For The Best Store
Now, it's the time to pursue the best store selling the best brands. To get what you desire, a little research is all it takes. Detaching yourself from the regular store may be painful, but it's all about your choice and comfort. Physically hopping store to store can be exhausting, though reliable, as you can get to try out the piece before buying. However, surfing through the online lingerie stores, which offer as many trendy styles and sizes at affordable rates, and choosing from the right category, may also be worth it. But remember that quality matters, rather than quantity.
You're done with your research, measured yourself, made up your mind for the preference of bra style and design, hence, the next step is acknowledging the minute technical details.
3. Sizing Technicality
Band – It's the underband that's accountable for maximum support of your bust, so you ought to check it out well. The back of your bra should be in line with the front, from the first to the last hook. The usual under band sizes range from 32 to 40+. A band size will always be an even number.  For example, if your underband measuring shows 43" you have to take the next value to 43" which is 44". If you're able to fit a finger and just stretch the fabric for about an inch in between the band and your back, you've got the right snug band size.
Cups – Firstly, you need to understand which type of bra cup will suit you and your outfit the most. Full or demi coverage, padded, unpadded, underwired, wirefree, seamed and seamless are the types of cups available. Examine the cup height and fill accordingly, so that your busts are free from rubbing, spillage and any discomfort. Cup sizes come in alphabetical order, like A,B,C,D, etc.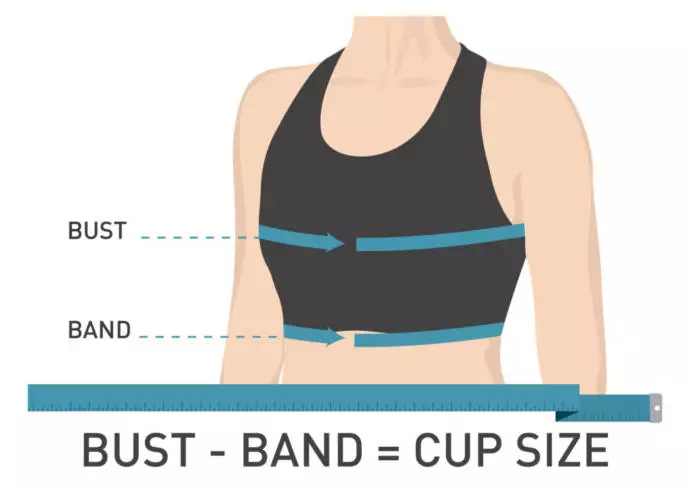 Band and Cup Size Equation – You have to do a little calculation here. The value of Cup Size A is 1, B is 2, C is 3, and D is 4.  If your breast measurement shows 48" deduct it with your underband size. For example if the breast size is 48"and band size is 44" the cup size is 4, after deduction.  It indicates that you need a D cup.   So, 44D is your the correct bra size.  If your cup size value is 5 or 6, you can take the cup size next to D and so on.
Sister Sizing – Sister Sizes are an assemblage of bra-sizes which are equal as regards to the cup volumes. To choose your pick between brands, it's essential to know your sister size. Sister sizing will be beneficial for those requiring larger bands with smaller cup sizes and vice versa.
Sister Sizing Calculation – Not So Complicated
If your band is too tight, go up a band size but a smaller cup size. Likewise, if your band is too loose, go down a band size but opt for a bigger cup size.
4. Centre Gore
The centre gore or the center front panel bridges the bra cups in the front. This panel's responsibility is to support and divide the busts. It's not necessary for every bra to be designed with a centre gore. If your breasts are not so close to each other, you can do without it. However, the height and width of the front panel may vary according to the bra type. Make sure that the panel sits firmly on your rib cage and not on your breast tissue, or else you have to opt for bigger cup size to prevent breast movement and for support.
5. Straps
One of the most common bra issues are of the straps either digging into the shoulders or falling off. A discussed above, it's the band which provides more support and not the straps. When testing a bra, if the straps tend to slip down while lifting your arms or bending your body, firstly try to minimize the strap length. If it's still falling down, you have to choose another bra type. Racerbacks, T-backs and strap clips are the solutions for those with narrow or sloping shoulders.
6. Underwire Fit
Another significant factor to consider is the underwire fitting. Bras with ill-fitting underwire can also cause health problems like stopping blood circulation, if it sits on the breast tissue. If the curve and length of the underwire does not match your shape and size, the comfort, support and look will surely go for a toss. You need to adjust the underwire curve such as it forms a firm border between your breast and chest. If the underwire cannot stay firmly within the breast crease line, go for another bra style.
If the underwire is too long, it'll poke your armpits or the sides. For this, a smaller cup size or bra with shorter underwire or narrower center gore will work. On the other hand, if the underwire is too short, it'll poke your breast tissue on all sides, so a bigger cup size or bra with wider underwire length and front panel is required.
7. Final Judgement
The last and final stage is to observe the overall manifestation of the bra before you confirm to buy it. Whether it gives a bra you'd eternally dreamed of.
Every single woman ought to have the finest lingerie. All the best for your fabulous bra shopping!