It might be okay to not wear a bra sometimes as we all love the freedom of unhooking the bra and experiencing pleasure. Bras have become such a vital part of our lives, that it makes us uncomfortable not wearing it, especially while we are out. But wearing the right bra has many advantages right from preventing boob spillage to preventing sagginess of breasts- we all need it every single day. There are many different types of bras available in the market starting from sports bras to nursing bras. This makes the whole situation confusing. One of the most common questions that arise is " Which type of bras are suitable for daily use? "We have listed the types of best bras for daily wear that every woman needs in 2020 for different occasions:
Which Type of Bras Are Best for Gym/Workouts:
What type of bra should I wear while working out?:- Breasts are mostly made of fat. Your breasts are connected to the body only by the skin and ligaments. It doesn't matter what your breast size is, your breasts tend to bounce and move back and forth while doing physical activities. This could not only make you feel uncomfortable but also working out continuously without wearing a bra can result in pain and discomfort. The skin around your breasts is stretchy so if you skip wearing a bra during every workout session repeatedly it may lead to long-term consequences like stretch marks and saggy breasts. So it is really important for a woman to wear a bra while working out.
There are a few things that you need to keep in mind while choosing a bra for the gym: Choose the bra of your size, make sure they are made of soft and breathable fabrics, and ensure that it has padding as it provides more support to your breasts while working out.
It was found in a study that it makes it harder for women to wear a regular bra while working out. You can carry on your workouts with everyday bras but that might not be as effective as wearing a sports bra.
There are so many types of sports bras available in the market that are trendy and can make your workout game even stronger. You can try racerback or criss-cross back bras. The back of the bras is designed in such a way that it pulls together in the middle of the back to form a Y or V shape. So, they basically help you go with the trend and also lift up your breasts, and padding is provided to give extra support.
Which Type of Bra Is Best for Churidar/Kurti?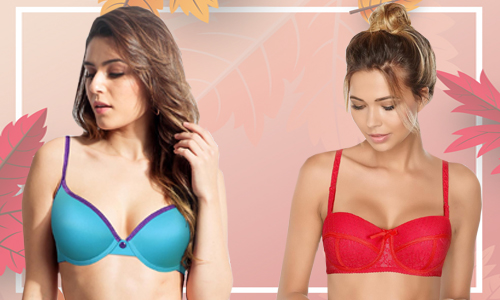 Which kind of bra is best to wear under a Kurti/churidar?:- Kurti is a mix of both fashion and tradition. There are many varieties of trendy Kurtis available in the market, they are perfect if you want to look elegant and fashionable at the same time. Many women choose them as office/workwear. But if you do not select the right bra to wear underneath, then it might lead to problems such as visible bra lines through the Kurti, saggy breasts, etc. So we have listed 3 different bras to try to avoid these situations.
1. Push-Up Bras
Push-up bras basically lift your breasts up and bring them together leaving naturally fuller-looking breasts. Wearing Kurtis enhances your curves so the push-bras could give you the extra lift to your breasts giving a perfect structure.
2. Balconette Bras
Balconette bras don't give full coverage to your breasts. Usually, the straps of the balconette bras are set far apart to lift up your breasts. They are perfect if you want a natural cleavage to flaunt your Kurtis.
3. Underwire Bras
Underwire bras are designed with rigid wires that basically fit around your breasts perfectly and give you natural round-looking breasts. They enhance your breasts by lifting them up and providing extra support. This is why they are perfect if you want to flaunt any Kurtis with style.
What Types of Bras Are Best for Saree?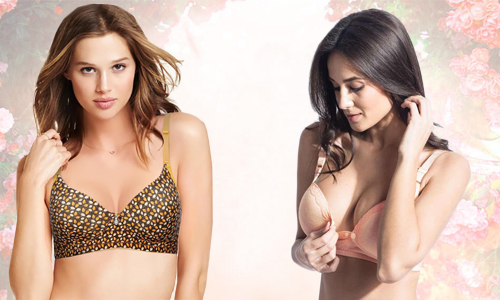 Which type of bra is best for daily use to wear under a saree? Sarees have the special power to make any woman look flawless naturally. The tradition that's been followed for many years is wearing a sare. Many women prefer to wear a saree in their everyday outfits. It's no doubt that it makes look gorgeous and also feel confident and comfy when worn in the right way. But what to wear underneath a saree? The types of bras that are recommended for Churidar/Kurti can also be used while wearing a saree, but other than those, we also have other options.
1. Padded Bras
Padded bra is provided with pad/cups underneath, so when it is worn it will make your breasts appear larger and fuller in size. So wearing a padded bra while wearing a saree allows you to flaunt the saree look perfectly.
2. Maternity and Nursing Bras
Nursing bras are specially designed with soft and skin-friendly fabric. They are made for mothers for quick breastfeeding and are mostly padded to provide extra support. They have hooks/clasps provided in the front that can be easily be unhooked for breastfeeding. So when you are wearing a saree this could provide you the comfort of easy breastfeeding.
Which Type of Bra Is Best for after Augmentation?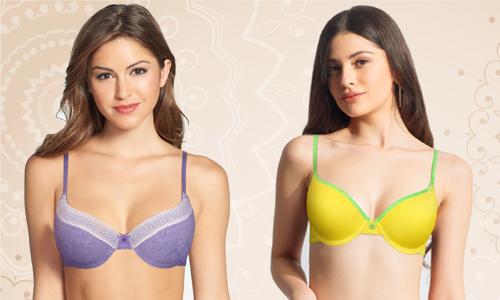 What kind of bra is best to wear after breast augmentation?  Breast augmentation can make a huge impact on bra shopping as you will need to find bras of different sizes and styles to flash the cleavage. After breast augmentation, your breasts tend to swell and can take time to heal completely. So during the healing process, it is necessary to wear the right bras.
Surgical bras are recommended as they would keep your breasts in place and help reduce swelling.
1. Wire-Free Bras
The wire-free bras can also be used after breast augmentation. The wires are not provided in these and so wearing it will be light on your breasts and make you feel comfortable.
2. Plunge Bras
Plunge bras are also a great option after breast augmentation as they come in different coverages for the user's choice. They are usually low at the center which also allows you to flaunt the curves.