What is a t shirt bra?
T shirt bra meaning is a seamless and smooth cup bra that can be worn even under body hugging clothes like a t shirt which are made of stretchy fabric without revealing any bra lines, seams and unevenness.
A regular bra gives support and comfort to your breasts.  But a t-shirt bra allows  you to be comfortable and have better shape without any seams. It is an all rounder bra that you can wear it with almost all type of clothes.
Tshirt bra is one of the basic bras and a must for every girl out there. It has seamless cups to provide a smooth appearance on any outfit.
How does a t shirt bra work?
It has molded or padded cups
Molded bra
Molded bra is made with molding and heating processes in which they get perfect shape sans seams. The moulded cups get the fabric layer pasted on them. A moulded t shirt bra can have padding and also made as push up bras.
Padded bra
In a padded t shirt bra the foam pads gets inserted between two layers of fabric in cut and sew method. The bra fabric can either be woven or knitted. Though both of them serve the same purpose most t-shirt bras have moulded cups only.
What are the types of T shirt bra?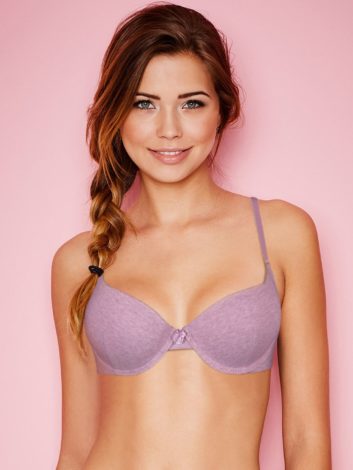 We can classify t –shirt bras into many types based on its making
A molded bra with padding is to volume up your cups
Moulded bra with push up pads gives good lift to your breasts
An underwired t shirt bra can contour, give round shape, and some lift.
Wire free t shirt bra gives you the carefree comfort and enhanced natural shape
Front open t-shirt bra adds a good amount of glamour to your regular t shirt bra. In general racer back t shirt bras come with front opening. These bras have plunge neckline to show off ample cleavage.
3 types of coverage in t shirt bras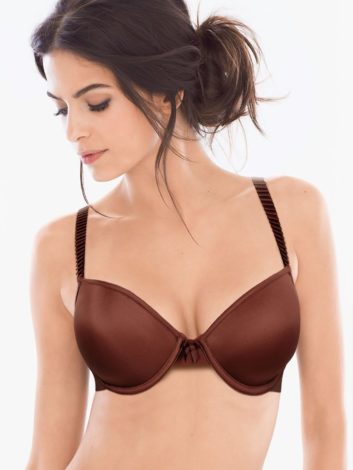 Demi coverage
Medium coverage
Full coverage
How to wear a t shirt bra?
A t shirt bra is like any other regular bra. It has shoulder straps for adjustment and comes with back closure. You can wear it like you would wear your normal bra. Position your breasts into the cups and clasp the bra at the back to the first hook at the edge of the band. Adjust the shoulder straps. Make sure that your bra lies flat at the centre of your chest. Check whether there is gap or spillage in the cups to ensure the right fit of your bra.
Benefits of wearing T-shirt bra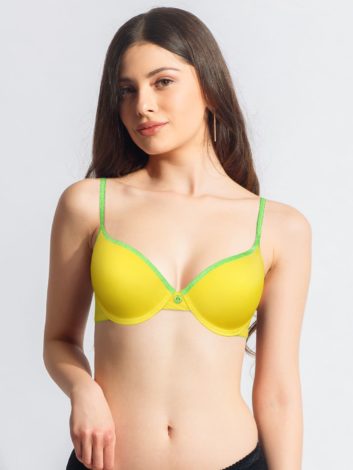 A t shirt bra is a lightweight and no bulk bra
Molded cups are soft and smooth on your skin
T shirt bra gives even and sleek appearance
Provides good shape for any type of breasts
Ensures good nipple coverage depend on the thickness of the foam or mould
It is very versatile. You can wear it with any type of clothes like tops, t shirts, shirts and Kurtis
What is the difference between t shirt bra and regular bra?
A t shirt bra has moulded cups. Regular bras don't have moulded cups.
It has seamless cups. Regular bra has vertical or horizontal seams in it or even centre dart on the cups.
Most of the moulded bras have underwires. Whereas most of the regular bras are wire free
You can wear it with all types of dresses. You can't wear regular bras with all your outfits as they have seams which will show through your clothes.
What is the difference between a t shirt bra and beginner bra?
Beginner bras has single layer fabric. It gives support and coverage to the growing breasts without restriction. T–shirt bras give a smooth look and good coverage. Beginner bras are suitable only for young girls in their teen years. A T-shirt bra is good to wear for girls of all ages.
Can teens wear t shirt bras?
Beginner bra is good as it is lightweight and offers some support while adding layer. Teens can also wear wire-free t shirt bras for better coverage and shape.
Who can wear t shirt bra?
Wear a t shirt bra if You want a plain and simple bra that doesn't have seams on the cups.  If you want to achieve a smooth form on any kind of apparel go for it. It is also good to wear with clingy shirts, tops, dresses, Kurtis.  T-shirt bra is a heavy duty functional bra which creates a appealing silhouette. It also makes your breast look at its best shape no matter what your breast shape may be.  If You want a bra that is not bulky but ensures nipple coverage this is the best pick.
Why T-shirt bra?.
T shirt bras are seamless.
They have molded cups and are sometimes made as padded bras(cut and sew)
You can wear any tight and stretchy t shirts or tops as it gives sleek appearance.
All women with different bust size and breast types can wear it.
They are available in all sizes and styles with different coverage options.
T shirt bras are good to wear on any occasion.
Women have more t-shirt bras in their closet than other type of bras.
"Wear a t-shirt bra everyday and keep the bad bra day away"