Pick your best Saree bra this Diwali
"A bra decides how your outfit looks on you"
For others, Diwali may be about sweets and firecrackers. But for girls, it is about dressing up well with which they fell in love with at first glance.  Nothing like wearing a traditional ehnic wear on Diwali.  No other apparels can beat the elegance of a saree.  But do you know how much ever your diwali saree is unique and grandeur, without a proper bra it will lose its charm. But don't worry, we are here to help you pick the right saree bra for your most cherished saree this Diwali. Let this festival season bring out your best look with the three unique saree bras that we have picked for you.
Susie Light Brown Seamless Plunge Saree Bra
"All you need is love plunge bra this Diwali"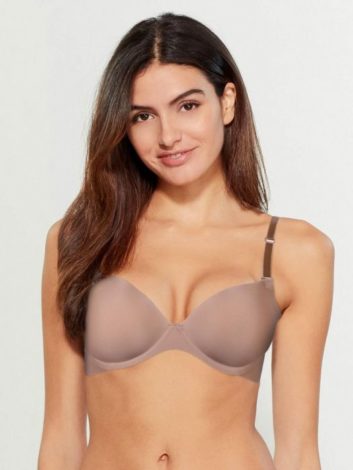 Flaunt your exuberant Diwali lehenga or saree in this light brown bra. It merges with your skin shade and offers the best support. The plunging neckline shows off your ample cleavage.
The molded plunge cups are good at revealing your beautiful cleavage.
Being true to the meaning of a plunge bra, it can make your curves appear larger.
The seamless, smooth cups give you a sleek silhouette. What's the use of a seamless plunge bra like this one if you don't wear it on a special occasion like Diwali?
The padded cups give the perfect lift and curvy form. The bra straps are wide apart. So you can wear this bra with your deep neckline blouses without the bra straps peeping out.
The main benefit of this plunge bra is that it flattens out any unwanted bulges at the sides. It gives you a sleek appearance from 360 degrees.
The exotic design of the cups provide you demi coverage.
Wear it with a square neck or sweetheart neck tops or blouses.
The plunge bra stays in its place in a secure manner while giving your breast the needed lift and shape. A plunge bra like this can make you look gorgeous inside out. The straps are detachable so you can replace them with transparent straps. Buy a plunge bra online this festive season and see how it changes your persona.  Check out our saree shapewear blog to know more about looking gorgeous while wearing saree.
Susie Maroon Mesh Bridal Saree Bra
"I think it is what is worn underneath that really inspires a woman to feel beautiful in her clothes"-Alice Temperly
Give a pleasant surprise to your curves with this wine shaded maroon bridal bra. To add fuel to the fire it is fully transparent. Blingy extravagant apparel deserves a sexy innerwear. This see-through bra not only supports your bust but also gives you a fantastic shape.
"Don't judge a book by its cover"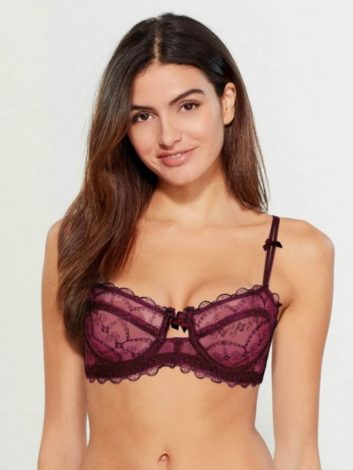 This bridal lace bra is not only a looker. Yes. The delicate lace and scallop neckline is an invitation to the drooling eyes. But this see-through bra is like any other flawless, function-oriented bra. Let me explain how.
The horizontal seams on the cups ensure that your breasts stay in best shape all day.
The underwires give the necessary lift. Not only that. It contours your breasts toward the center giving your bust a pronounced look.
The side boning provides proper support to your breasts.
Wear heavy, embellished and oh so lovely Diwali ethnic apparels. This bra won't let it flatten your appearance.
The best thing about this outstanding bridal bra is that it doesn't add bulk.
This is a go-to bra if you want to add that extra oomph factor to your outfit. Show off those beautiful twin straps with satin bow with your off-shoulder dresses. Get an impeccable seductive feel from the inside out with this bridal bra on this festival of lights.
The best thing about online lingerie shopping is that it is never too late to get your saree bra. Check out some Quick guide to some last minute lingerie shopping here to buy your saree bra online before this Diwali.
Susie Aqua Green Tribal Print Lace Neckline Push Up Saree Bra
"Never underestimate the power of a push up bra on a bad day"
You can't go wrong with a push up bra when it comes to festival outfits like a traditional saree. Be it an anarkali suit or a designer saree it is important to enhance your bust for the apparel to drape well. This saree bra will add every aspect of seduction to your apparel by enhancing your curves.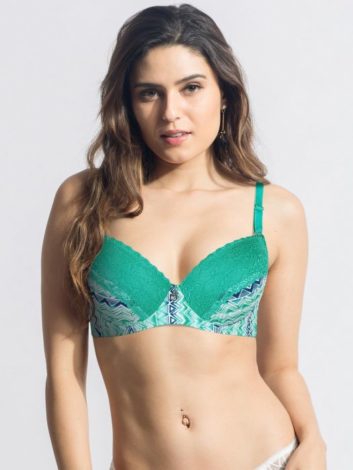 This super sexy saree push up bra has a level 1 padding to make your bosom look fuller and larger.
The lace-paneled cups are seamless to add to the visual treat and bring out the festival mood.
Adorn this flawless pushup bra to find out the right meaning of uber-sexy.
Add value to your chic and ethic saree by wearing it with this underwired pushup bra.
How does a push up bra work?
Push up bras have wedge-shaped padding in the cups. It lifts your breasts up and brings them closer. Push up bra creates an illusion of larger breasts and enhanced cleavage.
This push up bra is well-crafted to give your curves endless benefits. Don't worry about your appearance if you have saggy breasts. The underwires and side boning promise best support and lift. With the detachable option you can replace the straps with transparent ones. Your can also wear this saree bra with your off-shoulder party wear during this Diwali.
It's not too late to pick your bras as these can make you look fabulous on many festivals and occasions to come. Pick these saree bras on offers before the sizes are gone. You will never know how a plunge bra, push up bra and bridal lace bra can transform you into a diva this Diwali. Bring out the super hot sexy bomb in you this festive season to turn all the envy eyes on you!