Diwali is all about lightened-up streets, mouth-watering sweets, and impeccable fashion statements. From sarees to lehengas, gowns to maxis, this is the time of the year when clothing stores are ready to spoil you with options. While the choices are endless when it comes to your outfit, there's a secret garment apart from your regular diwali lingerie that will instantly boost your festive look no matter what.
What is a saree shapewear?
Saree shapewear is a shaping garment that evens out the bulges, contours, and smoothens your waist, tummy, butt, and thigh curves. Not, just this, here are 5 reasons how our saree shapewear can make a difference to your whole appeal.
1. Saree shapewear isn't just for sarees

Before you conclude that a saree shapewear isn't of any help as sarees aren't your cup of tea, remember that it can go underneath any outfit including lehenga skirts, gowns, maxis, bodycon dresses, etc. Yes, saree shaper isn't just a slimming petticoat for sarees but also acts as a compression wear for other skin-fitting dresses.
2. Fish-tail shapewear for lehengas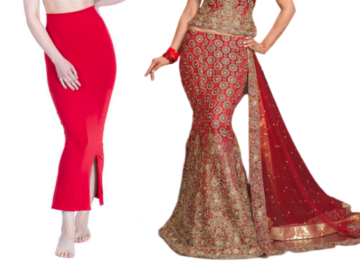 The pattern of our saree shapewear is such that it gives a fish-tail shaping to the wearer. Along with giving a proportional silhouette, this is a great asset when you opt for mermaid lehenga skirts.
3. Instant tummy tucker
The best part of a saree shaper is its wide waistband which tucks in the tummy helping you set back the flabby hip muscles. Moreover, the firm crafting holds everything from soft chiffons to heavy silk sarees at ease. Now, that's definitely something to look forward to while flaunting your festive look.
4. Groove at ease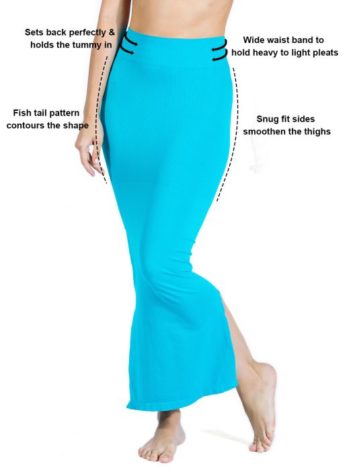 Heavy embellishments and accessories are totally undeniable when it comes to your Diwali clothing and constricting shapers are the last thing you'd want to witness, isn't it? For this very reason, our saree shapewear comes with side slits for easy movement beneath skirts, sarees, or any outfit for that matter.
5. Choice of colors
Still inclined towards your regular saree petticoats because of the wide color options? Our saree shapewear comes in 6 jewel tones and goes great beneath any shade.
How to wear a saree shaper?
Saree shapers are absolutely easy to wear because of the stretchable fabric they are made of. Slip into a saree shaper and pull it over until the waistband sits comfortably. Now, adjust the shapewear so that there aren't any bulges or fabric that has rolled up while wearing. Spend a minute or two to check if you are able to walk at ease and then you are good to go with any outfit of your choice over it.
How to buy a saree shapewear?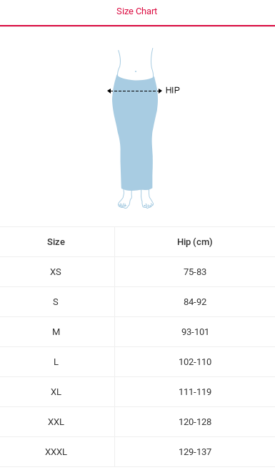 Most people are skeptical about how to choose the shapewear size and if wearing one size bigger can make them feel comfortable. The actual math is quite simple. All you have to do is pick a measuring tape, bring it around the fuller portion of your hips and note down the measurement. Now, check out our size chart and get to know the relevant size for your measurement. It's as simple as that. Always stick to your size and going one size up or down will only result in discomfort.
At Shyaway, we have sizes ranging from XS to XXXL. This is to prove the simple fact that saree shapewear isn't just for generous hip sizes but for every bodyline. What are waiting for? Go flaunt that million-dollar look this Diwali at just Rs.779/-.