Whether you're wearing it for your partner or underneath a hulking sweater and pants to the office, lingerie can make us feel empowered and sexy. But the act of lingerie shopping is seldom discussed. There's a certain level of self-consciousness and pressure women feel when making such an intimate purchase. The Cheat Sheet. And since most of us are wandering pointlessly to find something hot that doesn't look half bad in the dressing room, we're most likely making tons of lingerie mistakes in the process. Today, we're getting up close and personal with five lingerie mistakes you're possibly making and easy ways to fix them.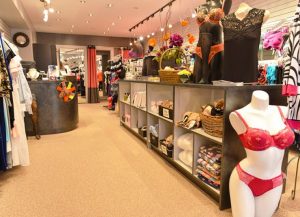 1. Arrive without a plan
Do you actually need two black ruffled slips in your drawer? Of course not. It's easy to get overwhelmed in a lingerie store or become completely enamored with an impractical set, but buying too much is actually a common mistake many women make. Luckily, this is easy to fix. Identify your needs before you shop. Just as you do at the grocery store, make a list of all the pieces you need to pick up — you'll end up saving hundreds on duplicate items. Also, it's imperative you have the basics before branching out to buy trendier pieces: An under wire bra, soft lace bra and panty set, soft pajamas, comfortable thong, robe, and sexy sleepwear like a chemise or teddy are key.
2. Not getting properly fitted
While you may adore the bralette you saw online, there's a possibility it may not balance your body — and that's OK. Lingerie is supposed to make women feel at their best, so it's significant to find a style that flatters your great shape. It is always recommended getting fit with a lingerie specialist and getting refit at different times of the year, as your body naturally fluctuates.
The process is going to take some trial and error, but we assure the results will be worth it. If you're still struggling to find a style that fits you well we recommend looking at multi-functional pieces, as they offer support but are still sexy.
3. Unaware of fabric
Your bra and underwear are basically second layers of skin, so the fabric you choose is arguably one of the most significant factors in lingerie shopping. Not paying heed to fabric content can result in an uncomfortable and itchy or bothersome outcome. With all the e-tailers that offer top tier lingerie brands, buying your unmentionables online is very easy. Even if it is your first time with a new brand, pop into an online lingerie store to view the vast collection of fabric yourself — it'll save you the hassle of shopping.
4. Not remembering to adjust straps
Since you'd adjust any bra you'd wear to work, it's important you do the same when you're in the boudoir. Otherwise, you won't be sure you're getting the best fit for your body. We recommend you adjust your bra straps to your preference and wear your bra on the loosest hook — you'll move the hook as the bra stretches. For extra measure recommend you put on each bra using the swoop and scoop method ie, hook your bra and pull the straps up, then bend forward and gently position your breast tissue in each cup. There shouldn't be any spilling over or gapping at the top or sides.
5. Tossing lingerie in the dryer
It doesn't matter if you dropped hundreds of dollars on a bra and panty set or bought your lingerie from your favorite online store, your pieces will have a longer shelf life if you give them some tender loving care. Think about it this way: Even some of your crabby T-shirts and sweatpants can get destroyed in the washer and dryer, so why would you throw your intimates in the laundry? To ensure your lingerie looks just as great during months later, we recommend picking up some lingerie detergent and hand-washing each piece. Don't have hours to dedicate to lathering up your drawers? If you must machine wash, choose the delicate cycle and wash items separately in a laundry bag with the backs hooked. Never put your lingerie in the drying machine. Trust us; you'll be happy to take the extra measure to care for your lingerie.