A long trip allows you to stay away from your normal routine, de-stress, and explore new things. Feeling comfortable in your clothing while travelling is crucial, especially when it comes to your lingerie. Many women make mistakes when purchasing travel lingerie, ultimately resulting in an ill-fitting and uncomfortable fit. What are the factors to consider when buying travel lingerie? Durability, comfort, moisture-wicking, and breathable fabric come on the list.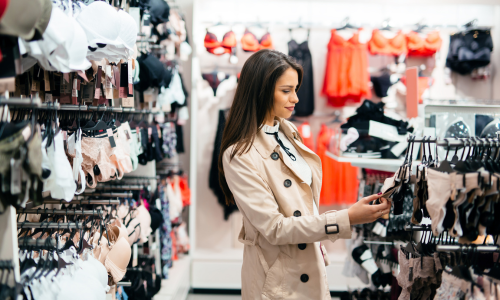 How to Choose Lingerie for Your Travels
Lingerie is an unavoidable attire for your travels. Here is a guide to choosing comfortable lingerie for your next trip.
1. Comfort 
Comfort is one of the primary factors to consider when buying travel lingerie. You must buy bras and panties that are not just stylish but also soft and comfortable. Your travel lingerie should always be suitable for all weather conditions. Wearing uncomfortable lingerie will not only cause discomfort but also hurt your overall health and well-being.
2. Breathable Fabric
When you are travelling, it is essential to have lingerie made with breathable fabrics to stay comfortable. It is a must-have for any trip! You can buy breathable fabrics such as cotton, linen, modal, polycotton, and bamboo. Before selecting lingerie for your trip, ensure that the elastic is strong enough to last throughout your journey.
If you plan a trip in the summer, you can try our selective range of Susie Dark Purple Solid Cotton Padded Everyday Bras. This cotton-soft, breathable bra keeps you cool all day and absorbs sweat easier.
3. Quick Drying
If you are looking to get lingerie for trekking, it's better to go for synthetic fabrics such as nylon and polyester instead of cotton. The cotton fabric takes a long time to dry when you do any physical activity. But synthetic blends will dry up in a few hours due to their quick-drying properties. So, you must pick quick-drying lingerie for travel needs.
4. Durability 
Long-lasting material is another vital aspect you must consider in travel lingerie. Always invest in good-quality lingerie that lasts longer. It will be difficult to manage wardrobe malfunctions when you are on a trip, so when you buy panties or bras, ensure they are durable and can withstand harsh conditions during your trip.
5. Lightweight 
Try to pick lingerie that doesn't weigh down your luggage. Lightweight lingerie is very gentle and soft on your skin. With the ability to wick moisture, these help control sweat. Moreover, the lightweight innerwear takes up less space in your travel bag.
You can use a travel bra bag to pack all your lingerie. This bag keeps your suitcase organised and sorts your lingerie by colour or style. Try the Shyle Pink Black Floral Print EVA Travel Bra Bag to safeguard the shape and design of your undergarments.
6. Versatility
You can pack travel-friendly lingerie that serves many purposes. Choose the styles and colours that work best for your travel clothing. For example, you can avoid bright colours and prints that don't match your clothing. Test your lingerie along with your travel outfits before your trip.
Nude is the most versatile colour, closer to every skin tone. Consider the Susie Fenugreek Skin Mesh Neckline Non-Padded Everyday Bra, which is versatile enough to match all your outfits. This skin mesh colour matches any attire during your trip.
We have a wide range of lingerie suitable for all your travel needs. Pick the lingerie that keeps you more comfortable and pair it with the right outfit on your trip. Now, you can pack your lingerie for travel and enjoy your trip.