Travelling refreshes our minds and souls and gives us a much-needed break in our lives. Though travelling is all about fun and adventure, packing our essentials can seem like a big headache. Packaging bras for a long trip is never an easy task. We wish to pack our bras without damaging their designs or features, but somehow we end up damaging them while travelling. Continue reading to know some tips for packing bras for a trip and how to pack underwire bras for travel.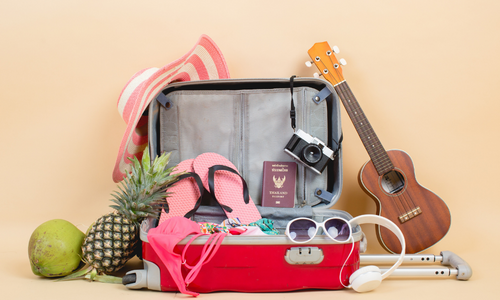 How to pack bras in a suitcase
Bras can take up a lot of space while packing. Here are some tips for packing bras for a trip.
Compared to a padded bra, non-padded bras are easy to pack. First and foremost, fasten the hooks so that the bra stays in place. Then fold the straps inward towards the cups and gently fold the cups together. Now place the folded bra inside a separate bag to avoid damage and to save some space.
Unlike non-padded bras, padded ones should be placed on top of every other product to avoid the damage of pads. It's a frequent misperception that folding cups while putting one into another won't harm the pads. This way of folding will lead to damage to the cups and an eventual decrease in the lifespan of your bra. The perfect way to fold a padded bra is to place one above the other without disturbing or twisting the cups, straps, and underwires. You can use a travel bra case to pack them. It will not only protect the bra's shapes and designs but will also keep your suitcase organised.
Importance of bra storage bags
Bra storage bags help keep bras organised and easy to find. You can separate your bras by colour or style, making it easy to grab the right one when you need it.
Bras that are stored improperly can become misshapen over time. Bra storage bags help prevent deformation by keeping bras in their proper shape.
Thus, bra storage bags are perfect for travelling. They take up very little space in your suitcase and keep your bras organised and protected during transit.
Tips for packing bras for a trip
We should be careful about the bras that we are packing. Like how we selectively pack our attire, we should also do the same with our bras. You cannot pack every bra that you own because it is going to take up a lot of space and also increase the weight of your luggage. For instance, pack both sports bras and regular bras if your travel itinerary involves both trekking and sightseeing. You can then use the appropriate bra for the appropriate activity.
Choose your bra colours according to your outfits. If you are packing a backless dress, then don't forget to pack a strapless bra. A nude bra is a must-pack bra as it goes well with almost every colour.
Avoid wearing uncomfortable bras on the journey so you can stay comfy.
Selecting the bra type is another important thing that we should keep in mind. For instance, to have a smooth, finished look while wearing a blazer, you should not forget to pack a seamless bra. Likewise, to wear under a white shirt, you should opt for a nude bra instead of a white bra.
These are the tips on packing bras for a long trip. Hope this article was interesting and informative.