Bras are a vital part of women's everyday wardrobes and take up a lot of space. In some instances, it may be challenging to tuck up bras based on padded cups, wires, and shapes without ruining them completely. No need to worry; there are a lot of ways to store your bras securely and fold them like new. Continue reading to learn about bra folding hacks.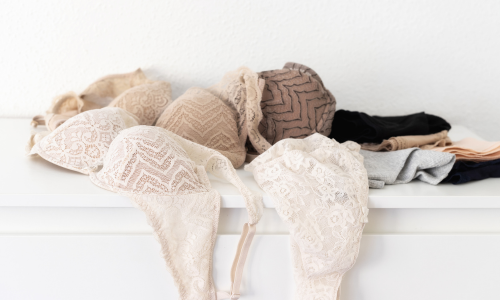 How to Organise Your Bras
An organised wardrobe is necessary to keep your daily lingerie essentials in place. After arranging your bras correctly, you can place them in the way you desire. The more convenient it is to locate your bras, the more you will use them. You can organise your bras based on colour, type, pair, and size.
Firstly, you must sort out each bra type separately for easy use. Once you have separated your bras by type, you can easily grab the right one you need. A few of the bras will be your favourites, so keep them aside. If you find any old or worn out bras, it's time to throw them out and make room for your loved ones. After sorting it all out, you can begin the folding process now.
Folding Methods for Bras
Before you start folding your bras, you must be careful about how to fold certain specific bra types. You can see various bras, but the folding procedure for all is not similar. To determine the best folding method, start with one question: what is the bra type? By sorting out categories, you can make the bra folding process simpler. Let's look at the simple bra folding hacks here.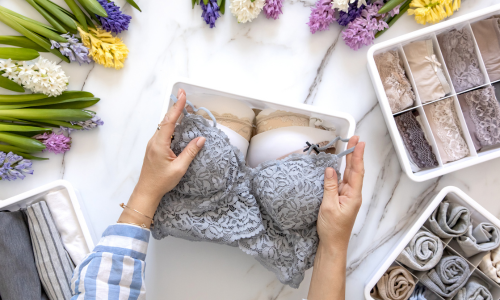 Moulded Bra 
Moulded bras provide a better shape for your breasts and improve coverage. So, folding them in half will make the bra lose its shape and turn the cup inverted. The best way to keep moulded bras is by tucking them one after another. Do not stack these bras because it causes the cups to wrap. Gently arrange your moulded cups and tuck the straps in. Later, lay the next one on top of the first and tuck them in from inside. You must be careful not to layer them directly on top of each moulded bra.
Pushup Bra
This bra is a blessing for women with small breast sizes. When folding the push-up bra, it is best to pin the hooks before storing them so the hooks won't damage the fabric. The next step is to lay it flat, which gives you an advantage in preventing lines from being formed as a result of folding. To prevent stretching, you need to tuck the push-up bra straps. Lastly, you can use soft stuffing material like tissue paper, socks, or more to maintain the shape.
Sports Bra
Sports bras are crafted for your daily workouts and other exercises to give you maximum support. It can withstand more folding compared to other bras. You can tuck your sports bra straps in, fold them into quarters, and place them vertically to maximise space.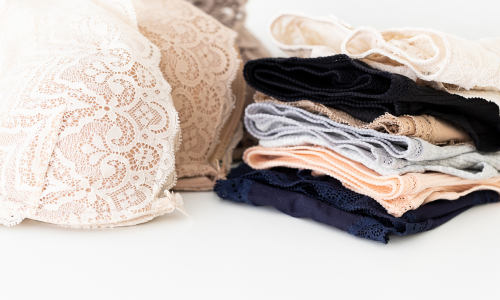 Lace Bra
The delicate silk and lace bras are more prone to damage and tearing. Hence, it is necessary to keep them safe. Before folding the non-padded lace bra, you need to close the straps from the back. Then fold the bra in half. If you tuck the straps into the fold, they don't get tangled easily.
Storing Your Bras
You should have a dedicated space to store your bras. There are several ways to store your bras in distinct places. Small drawers are ideal for bra storage. It is easy to hold loose, smaller garments and prevent compression. Moreover, you can secure your beloved bras on individual hangers in the closet.
A travel bra bag case is necessary to pack your bras without wasting time. These bags will allow you to arrange bras and separate them by colour or style. This bra storage bag is perfect for your travelling needs.
Easy Bra Folding Tips
For tucking the cups, pinch the bra in the middle, then twist and push one cup into the other.
Stack your bras if you do not like folding them.
Close the bra straps before folding your bra.
Keep the sports bra vertically upright in storage boxes.
Remove old and damages bras from your wardrobe.
Now that you know the hacks behind folding the bras. When it comes to bra folding hacks, keep it simple. The more time you invest in folding and storing bras, the longer they can stick around.