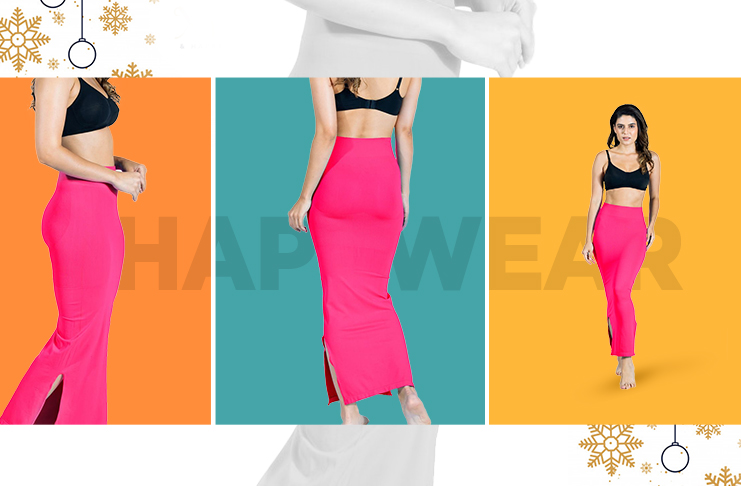 What is Saree shapewear? Saree shapewear is actually an undergarment that is specifically designed to be worn under long skirts or sarees in order to give the wearer the perfect shape and a seamless finish. Why should I buy saree shapewear? They are usually made of stretchable and skin-friendly material for the wearer to have a comfortable experience. There are several reasons why saree shapers can be perfect for festive looks like saree and lehenga but Can we wear shapewear under a saree only? No, saree shapers are not just for sarees. It can also be used in so many other ways. Our list contains the top 9 different ways to style your saree shapewear.
1) Saree Shapewear with Matching Top(V-Neck/ off Shoulder)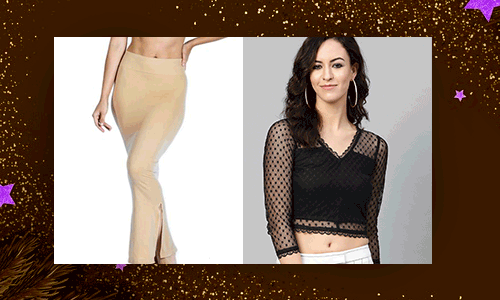 Whatever your shapewear color is, opt for a matching or contrasting color top. Tuck in your top firmly for a more flawless look. V neck top or an off-shoulder top would look great if paired with the shapewear. You can also for a contrast color neck piece and gladiator sandals for this look. Wavy hair and a pair of glasses can enhance your outfit. Now you are all set to rock any occasion!
2) Saree Shapewear with Black Mesh Top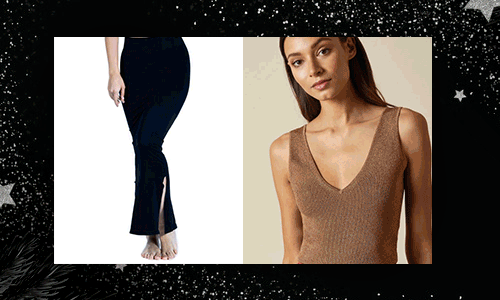 Mesh tops are in trend now. Why can't we try it out with shapewear? Sounds fun? Well, it really can be. If you are choosing a black shapewear, a black mesh top and a black innerwear would look great. A sleek high ponytail and black heels can greatly complement this look. A black clutch can go well with this look. If you do not want to go all black, replace your black clutch with a neon in order add some drama.
3) Saree Shapewear with Top and Denim Jacket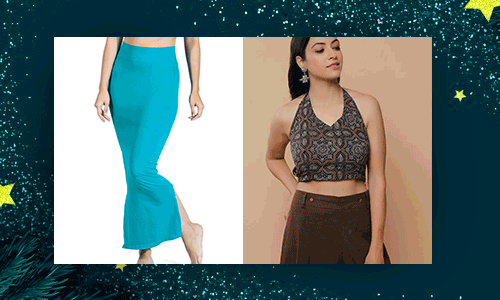 Denim jackets can make any outfit desirable. Here we are about to try it with blue shapewear. You can either go for a matching or contrasting t-shirt for this look. Wear your studded denim jacket as this can add more class to your outfit. Black wedge boots and a messy bun can complete this look. It is great for casual meetings and trips with friends and family.
4) Saree Shapewear with a Halter Top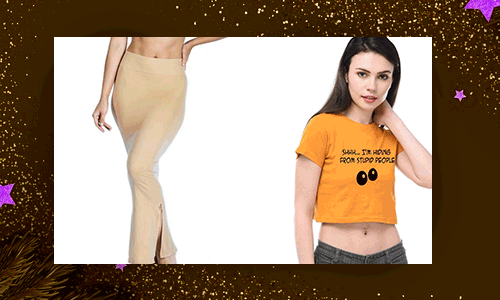 This style can look exceptional with black on black. Pick your black halter top and black shapewear and pair them together. You can also opt for a pretty silver statement necklace, silver stilettos, and silver handcuffs. This look can be great for a party or a night out. It lets you glow all night like a princess!
5) Crop Top with Saree Shapewear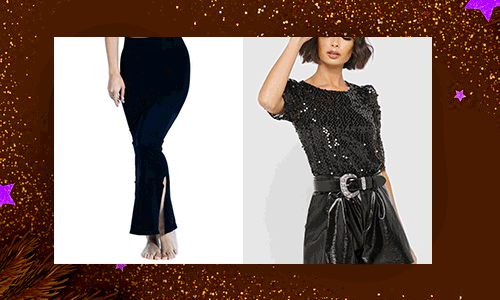 This look is a little bold one. Wearing a crop top with a women's saree shapewear may sound a little weird, but I bet you would love this look. You can also opt for black shoes and loose hair with braids in the front part, which can make your outfit look pretty and perfect.
6) Shapewear and Sequin Top and Black Belt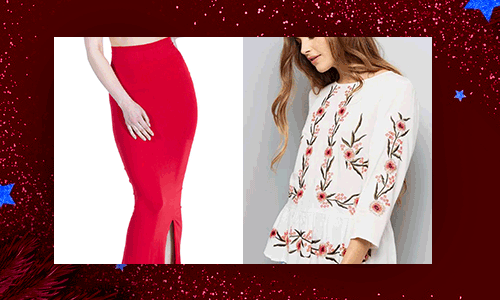 This look is perfect for date nights and night trips. Pairing your shapewear with sequin tops may seem like a strange combination but I bet it can grab everyone's attention in an instance. It is important to tuck-in your top and wear a belt. This is what is going to complete your look, hence opt for a black belt as it can go well with any color. This is a classy girl boss look, hence go for pump shoes that can complement your outfit.
7) Shapewear with Embroidered Top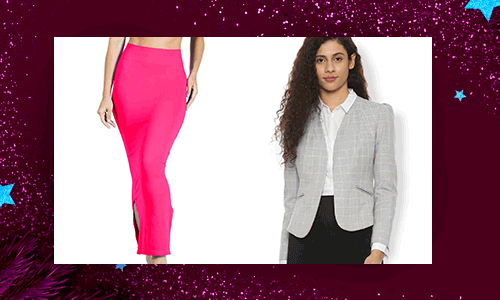 Tops with embroidery can greatly enhance your look. It is also a great option to pair with shapewear. It provides a rich and classy look when worn with plain and solid color bottoms. Pretty ballerinas, braided hair, and cute little earrings can fulfill this look. It can be great for road trips and casual meetings.
8) Saree Shapewear with Blazer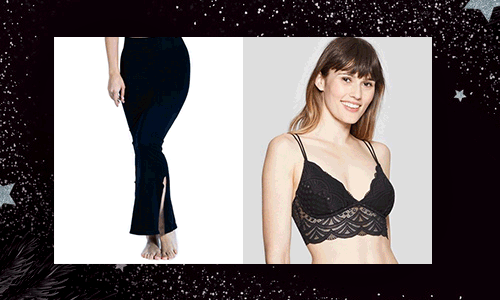 Blazer is one thing that you can wear, if you want the "GirlBoss" look. It can instantly make you feel like a lady. Your favorite tank top along with the shapewear and the blazer on the top would make it appear just right. You can wear peep toe heels and some confidence in order to complete your look. This outfit is perfect for official meetings and also as a daily office wear.
9) Shapewear with Bralettes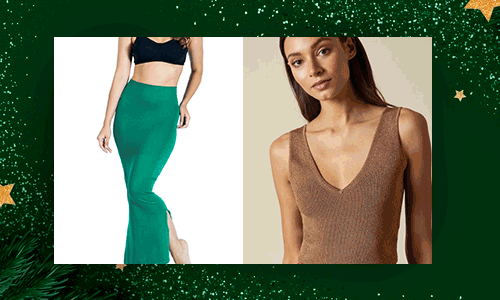 Bralettes are opted by everyone these days. In this style, we have incorporated the bralettes and the shapewear together. If you are going to spend some leisure time with your loved ones, this is the perfect outfit. It is comfortable and cozy, hence you can just have a peaceful vacant hour. For this look, there is no better option than messy bun and flip flops.
These are the 9 different ways you can flaunt your shapewear. Try them out and let us know the one you liked the most!