Hipster underwear is a well-liked style of underwear that is stylish and functional. It sits on the hips of the wearer, below the waistline, and incorporates design elements of diverse types of panties. This type of underwear can change its degree of coverage, making personal preference and selection an important part of the shopping experience.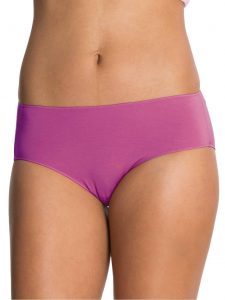 As its name suggests, hipster underwear sits on the hips of its wearer. This underwear almost functions as a combination of briefs, bikini and boyshorts underwear. Different forms of these types of underwear are combined to create the design of hipster panties. It's common to find hipster underwear advertised as having the "rise" of one type of underwear, with the fit of another and the leg opening style of yet another. This undergarment has a reputation for flattering the figure of its wearer.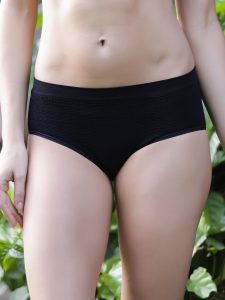 One benefit of wearing hipster underwear is that it can help minimize the visibility of panty lines. Standard-cut briefs can depict panty lines in many types of materials and outfits. Because of its low cut, this underwear can make panty lines less noticeable and can even seem as if they are part of an outfit design, depending on the outfit worn.
This type of underwear can be made from a assortment of materials. Cotton is the most common. Manufacturers can also use spandex, lace, satin and other materials in varying percentages to make hipster underwear.
Different brands of underwear differ in their coverage abilities. Jockey hipster panties give more hip hugging quality. When retailers or manufacturers advertise the coverage of underwear or panties, they usually are referring to the amount of a person's buttocks that the panties naturally cover. Full-coverage hipster panties, for example, can cover as much as a standard brief would. Other types might cover only half of that area or can even be similar to a G-string.

This type of underwear is accepted among teenage girls because of its sporty and trendy look. The panties, however, is also made for women and is popular with them, too.
fashionable panties. By shopping online, you get the comfort of your house; get rid of unnecessary hassles and embarrassment. Shop through wallets and online payment, make ease your shopping experience and love to wear the loveliest lingerie.