No matter how many fabrics you try, the grace of lace always reigns supreme. The sheerness and style of this beautiful fabric add a touch of elegance to your look. It gives a comfy and soothing feel to your skin, apart from its soft grandeur. There are a variety of lace panties in different fabrics available to elevate your style. A few of the lace panties include plus-size lace panties, lace boyshorts panties, sheer lace cheeky panties, low-rise lace bikini panties, and more. Continue reading to learn more about the different types of lace panties.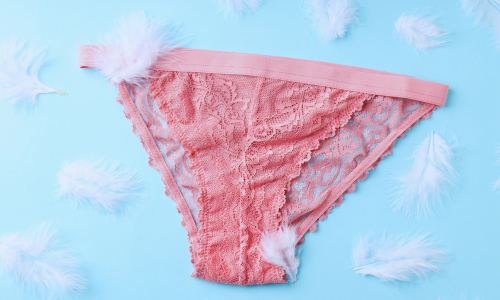 3 Must-Have Lace Panties for Your Lingerie Collection
A lace panty is a must-have item of lingerie for a woman's wardrobe. Why choose lace panties over others? If you want a glam sense of style, you can invest in a couple of lace panties. Lace fabric doesn't form any visible panty lines compared to other panties. From bikini panties to thongs, here is the list of lace panty types you must keep in your wardrobe.
1. Lace Bikini Panty 
No lingerie wardrobe is complete without a bikini. A lace bikini is one of the classic styles that perfectly fits you and provides better coverage. They are a well-loved style with patterned lace that comes in a bunch of colours. You can get bikini fancy panties set in cotton, polyamide, lace, and more. Medium-coverage panties, low-rise lace bikini panties, and low-waist maternity panties are different types of lace bikini panties.
The maternity panties are designed to provide optimum comfort for pregnant women. These panties give you the support you need during pregnancy and allow for better stretchability. Shyle's rose pink lace low-waisted maternity bikini panty from Shyaway never fails to grab your attention. These low-rise lace bikini panties provide you with medium coverage and ensure comfort.
2. Lace Hipster Panty
The first name that comes to mind when talking about the perfect lace panty pair is hipsters. It is highly comfortable, and versatile, and has the perfect silhouette for your curves. Vintage-inspired lace hipster panties are available in a variety of styles, designs, and patterns. Most of these panties offer full or medium coverage.
Shyle's Aquarius Blue full-coverage solid lace hipster panty is the perfect everyday style for women. This full-coverage panty provides extra comfort, comes with lacework on the sides, and has an outer elastic waistband. Shyle's coral lace-front plus-size hipster panty provides medium coverage and cottony comfort. A gorgeous patch of lace on the front adds a touch of glam to this panty. 
3. Lace Thong Panty
Are lace thong panties safe to wear? Well, a thong is the best underwear that provides zero coverage. Lace thongs are light, comfortable, and make you feel more beautiful. It is one of the most romantic lace panties because of its silky fabric and attractive design. You can pair lace thongs with a satin slip dress.
Shyle's ivory lace-front comfy cotton thong panty has a slim, elastic waistband and satin bow embellishment at the front waist. The cotton fabric and a patch of ivory-coloured lace make this lace thong panty unique from others.
These are the best pair of lace panties to keep in your lingerie wardrobe. Why wait? Pick the stylish panties you love from Shyaway that are designed with delicate lace. Don't be afraid to try out different lace panties until you find out what works best for you.