It is true that most women find themselves in a dilemma when it comes to finding the perfect lingerie for their outfits. Whether you are a woman who is looking for a perfect bra to cover your fuller bust or a bride who wants to look sexy in a bra on your honeymoon, we have got you covered with our list of bra designs. Basically, there are four different types of bra coverage and each type has its own features. 
Full coverage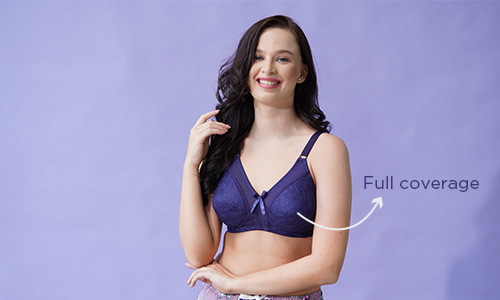 Full Coverage bras are basically designed for women who want to cover up their assets. Full coverage bras can be defined by the amount of cup coverage provided by the bra. Not only do these full coverage bras protect your bust from spillage but also provide you with the support and coverage you need. 
These full-coverage bras are ideal for women with fuller or larger breasts. Regardless of the shape of your bust, these full coverage bras can be worn by women with medium or smaller busts. As it is comfortable to wear it can be used on any occasion. Full coverage bras come in different sizes and styles like t-shirt, padded, minimizers, moulded, everyday bras, sleep bras, sports bras and so on.
3/4th Coverage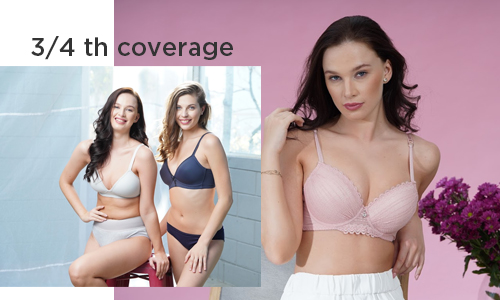 A 3/4th -coverage bra is the most ideal type for women. Unlike the other two coverages, 3/4th coverage bras support and lift your bust adequately. These medium coverage bras mostly come in seamed style to provide ample support to your bust.                                                                                                                                                                                                  
Irrespective of the outfit, medium coverage bras can be worn on any occasion. You can find medium coverage bras in styles like cotton bras, moulded bras, printed and lace bras. 
Demi Coverage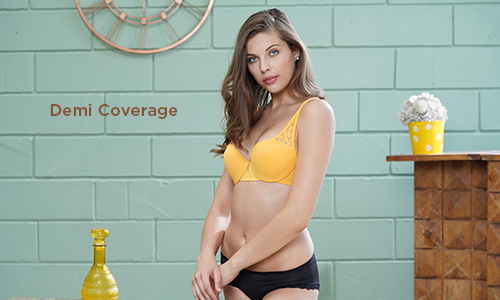 A demi coverage bra is the most loved product that is distinguished by its half coverage style. The term demi refers to half which means the cups have a low cut design that is used to cover your bust partially. These demi coverage bras come in different sizes and styles like balconette, push up, plunge and also t-shirt bra. 
The Demi coverage bra lies 2.5 inches above your nipple. This half coverage can be worn by any woman with any kind of breast shape, especially if you have a fuller bust at the bottom then this demi bra will fit you perfectly. You can pair your wide or square neckline tops, plunging and low neckline outfits with a demi coverage bra.
No Coverage Bra
Like the name, these bras come with no coverage. You can find these types of bras under styles like cage bras and mesh bras. They don't provide any coverage to your bust, but you can add this stylish bra to your wardrobe to provoke some sexiness in your outfit.
No matter how small or big your bust is, it is mandatory to wear a bra that suits your shape. Wearing an ill-fitted bra can create room for other health problems. Each bra serves differently and there are different types of bras with levels of bra coverage. Make use of our different types of bra coverage blog to find your perfect bra partner.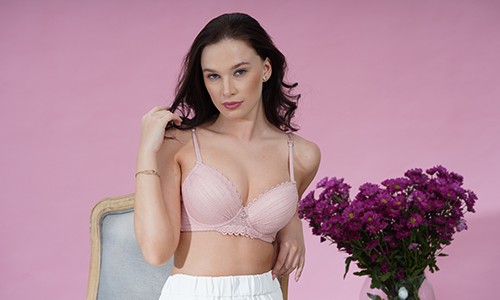 For Full Coverage Bra, Outfit Ideas Click Here
Click here for Demi Coverage Bra Benefits