On your wedding day, Choose the perfect lingerie, especially the right bra, for a bridal celebration of love, beauty, and enchantment. Explore our exotic bridal lingerie collection with various bra types for optimal support and to enhance your stunning silhouette under your gown.
Perfect Bra for Your Bridal Gowns
Strapless Wonders
A strapless bra is a versatile and supportive undergarment solution for brides seeking a seamless, elegant look. Its secure design allows for the confident wear of strapless or off-the-shoulder gowns without visible straps. Suitable for silicone grip bands. It offers enhanced stability and comfort. 
Plunge Bras
A plunge bra is an elegant choice for a plunging neckline in a bridal gown, creating a natural cleavage with a deep V-cut design. With adjustable straps and low center gore, it accentuates the low neck and confidently embraces the bridal beauty.
Backless Beauties
Backless bras are an elegant and practical solution for gowns with low or open-back designs. They provide support and lift while remaining invisible. Choose bras with adjustable straps for a backless silhouette, allowing you to confidently flaunt your back while enjoying the necessary comfort and support.
Convertible Marvels
Convertible bras are a bridal essential with adjustable straps in halter, crisscross, or one-shoulder styles. They provide excellent support and flexibility, making them suitable for various gown necklines and back designs. Customizing undergarments to match the gown ensures a seamless and confident bridal look.
Explore our collection of exotic lingerie and ideal bra types for your bridal gown, enhancing your beauty and comfort. Choose from strapless, plunge, backless, and convertible bras, offering support, elegance, and versatility. Discover the perfect fit for your special day, ensuring an unforgettable wedding day.
For a Strapless Dress (Petite Bust)
The bra underwire bra is comfy, and supportive, and offers plenty of padding to enhance your assets -— we totally love it. The cups are seamless but offer pretty lace detailing around the straps, making it a perfect choice for strapless gowns that don't have low necklines.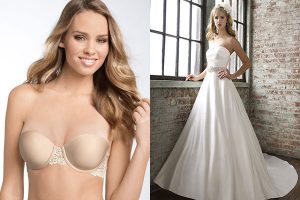 For a Strapless Dress (Large Bust)
For big-busted women, the convertible bra provides great coverage and support. Wear it the whole night without having to worry about it falling down or turning uncomfortable.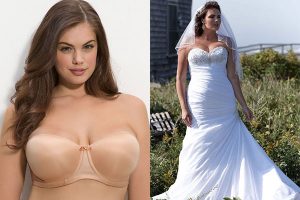 You might also want to think about wearing a bodysuit, bustier, or corset underneath your wedding dress, especially if you want to accentuate your waist. We suggest these three:
Shapewear for a Strapless Dress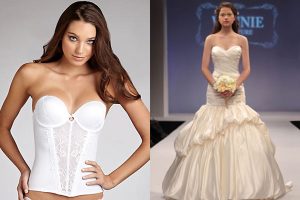 For a Plunging Neckline
The bra peeking out of the low-cut shirt is not a look you want to try with on your wedding day. Lucky for you, these low-cut bras are perfect for gowns with plunging or halter necklines, while still giving some lift and shape. For a plunging neck with a usual back and if your plunging neckline dress is also backless, you'll need the plunge strapless bra.

Shapewear for a Plunging Neckline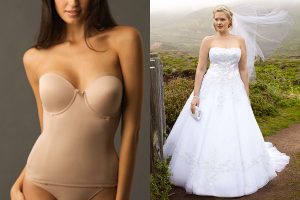 For a Backless Dress
A backless, strapless adhesive bra is a must. Because these bras are totally backless, they are not ideal for large-busted women, given their lack of support.