A sports bra is ideal for exercise and sweaty workouts. Unlike an everyday bra, a sports bra reduces breast movement and provides enough support. Working out without a sports bra causes sagging. But many women find it challenging to choose the best style that suits their breast type. So, here is the list of different types of sports bras curated for you. Read along to find the right sports bra for different breast types.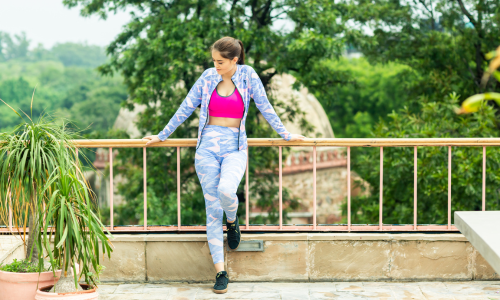 Sports bras for Different Breast Types
Breast Type 
Sports Bra 
Description 
Why use it?

Petite Breasts 

The comfy racerback in this bra gives good movement during physical activities.
It comes with removable padding and full-coverage cups.

Wear this bra to perfectly balance your breast size and shape.

Larger Breasts 

The wide elastic bra band adds more comfort.

It secures your large breast and prevents discomfort and movement.

Asymmetrical Breasts 

This sports bra comes with full-coverage cups and removable padding.

The full-coverage cups prevent spillage on larger breasts.

This flattering bra gives your breasts a full, rounded shape.

Slender Breasts 

This elasticized slip-on cami bra offers more flexibility during your workouts.

Perfect for slender breasts due to its full coverage, significant lift, and comfort.
It prevents slender breasts from further sagging and gives you a fuller look.

Athletic Breasts 

It comes with a racerback neckline for enhanced support.

The padding in this bra can give a perfect lift and fill the areas that are lacking tissue for a complete look.
Tips for Getting the Perfect-Fitted Sports Bra
Finding the right sports bra can be tricky if you don't have the correct measurements. In some cases, you may try different sizes and brands to get a perfect-fitting sports bra. Here are some tips for choosing a supportive sports bra.
Adjust the Straps: You must raise your hands above the head. If the band raises in the back, you must adjust the back closure and straps.
Check the Cups: Your breasts must fill the cups. If you see any gaps in the fabric, your cups are large. If the breasts spill out, it is a sign that the bra is too small.
Look at the Support: You can check the support of your bra by running, jumping, or doing any other exercise. Keep looking for a better-fitting bra if you experience breast pain or severe movement during workouts.
You don't have to feel anxious about sports bras for your breast type. A lot of sports bras are available for various breast types, such as slender breasts, athletic breasts, asymmetrical breasts, smaller breasts, and more. Try different types of sports bras and pick the one that makes you feel more confident.