There are times when the bra size you regularly opt for doesn't fit you. Ever wondered why you face this situation in spite of buying the bra size you've bought a million times before? Well, remember that several factors such as the bra fabric, manufacturing variations, presence of underwires, cup shapes, and padding levels might contribute to the way a bra fits you. This is where the concept of sister size comes into play. 
What Is Sister Sizing?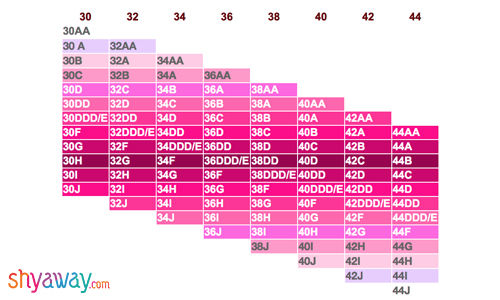 Sister sizes come to the rescue when a bra of your actual size doesn't fit the way it should. In simple words, sister sizes are nothing but equivalent bra sizes. The cup volume of your actual bra size and sister size bra remains the same. This is the reason fitting experts suggest you to go for sister sizes when the original bra size doesn't fit or is not available.
I Want to Know My Sister Size
Though there are four sister sizes for every bra size, you can ideally go for the nearest two while choosing sister size bras. 
Sister Size Up
For instance, your bra size is 34C, your sister size up will be 36B (One band size higher and one cup size smaller). 
Sister Size Down
Similarly, your cup size down for 34C will be 32D (One band size lower and one cup size bigger)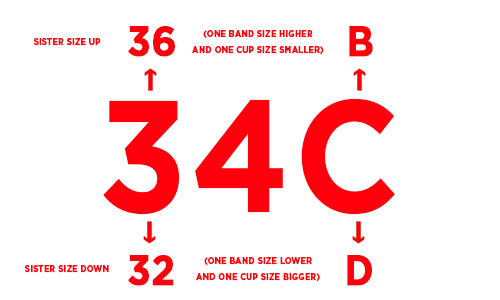 Opt for a sister size up when the band of your actual size bra is tight or too small. On the other hand, go for a sister size down when your cup is too small.
Shyaway Bra Sister Size Chart
Looking for your perfect bra size? Shyaway bra size calculator will help you to measure your bra size.
Bra Size
Sister Size Up
Sister Size Down
30
30A
32AA
28B
30B
32A
28C
30C
32B
28D
30D
32C
28DD
32
32A
34AA
30B
32B
34A
30C
32C
34B
30D
32D
34C
30DD
32DD
34D
30DDD
34
34A
36AA
32B
34B
36A
32C
34C
36B
32D
34D
36C
30DD
34DD
36D
32DDD
36
36A
38AA
34B
36B
38A
34C
36C
38B
34D
36D
38C
34DD
36DD
38D
34DDD
38
38A
40AA
36B
38B
40A
36C
38C
40B
36D
38D
40C
36DD
40
40A
42AA
38B
40B
42A
38C
40C
42B
38D
40D
42C
38DD
40DD
42D
38DDD
42
42A
44AA
40B
42B
44A
40C
42C
44B
40D
42D
44C
40DD
42DD
44D
40DDD
44
44A
8AA
42B
44B
48A
42C
44C
48B
42D
44D
48C
42DD
Should I Definitely Opt for Sister Size Bras?
Please remember that there are many reasons why a sizing bra doesn't fit you. Note which attributes of your bra needs to be corrected in order to achieve the right fit. This will help you get a bra that fits the way it should. 
It is also important to understand the physical changes in your body that may lead to a misfit. Puberty and pregnancy are stages when your regular bra would do no justice. So, trying sister sizes would be the ideal option here.
Moreover, an ill-fitting bra can cause a lot of discomforts, neck and shoulder pain, and posture problems. So, it is better that you go for sister sizes rather than sticking with the same uncomfortable bra. 
If you are still not satisfied with the sister sizing concept, we recommend you measure yourself again for the correct bra size to proceed with the shopping.