As festival season is upon us, we are eagerly anticipating the chance to express ourselves through unique and vibrant style. While eye-catching outfits and accessories often steal the spotlight, there's a trend that's been gaining momentum and adding a new dimension to festival fashion: festival-ready lingerie. This intimate yet powerful fashion statement has been making waves in recent years. In this blog, we'll delve into the latest festival-ready fashion lingerie trends, revealing how these daring and alluring pieces can elevate your festival look to a whole new level of chic and confidence.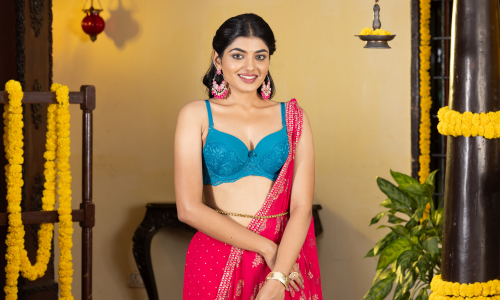 How to Choose Your Festive Lingerie
We understand that you want to look your best this festive season. Selecting the right lingerie that complements your outfit is crucial for a bold and beautiful look. And we are here to assist you in picking the perfect lingerie, right from bras to shapewear, for this time of celebration with your friends and family. So, if you have the question, "What is the latest fashion lingerie?" in mind, continue reading to know more!
Rock this Festive Season with Trendy Lingerie
1. Flawless Look with Seamless Bras
Seamless bras are the go-to choice for any outfit this season. They offer a smooth silhouette, and you don't have to worry about the bra seams being visible under your outfit. So, sport a beautiful, flawless look with the best seamless bras!
2. Look Dashing with Padded Wired Bras
Padded wired bras, an integral part of the latest intimate fashion, are the new sensation this season. They offer enhanced support while keeping you comfortable throughout the day. Many of the Shyaway padded wired bras come with fancy straps, and some have scalloped necklines that look trendy and elegant. Bras with pretty lace bottoms are also available for you to flaunt.
3. Printed Panties for Perfect Prettiness
Floral prints are an evergreen trend. Thong panties with tiny floral prints give you the perfect look when you pair them with leggings. These women's clothing intimates are gusset lined with cotton for the best hygiene and comfort. As you go from one place to another, distributing sweets and clicking pictures, feel confident and comfy in these panties all day long.
4. Stay Sensuous with Saree Shapewear
Saree shapewear hides your bulges and provides you with a sculpted silhouette. Enjoy the festive celebrations in style with the shapewear that adds to your oomph factor. Ensure you choose a stylish fancy bra to go with the shapewear. And be ready to receive loads of compliments on your sizzling looks in a saree!
5. Feel Lovely in Lingerie Sets
Matching lingerie sets are the latest rage. You don't have to worry about your bra and panty being in different colours or patterns. So, feel confident inside and out with the lingerie sets from Shyaway!
6. Stay Fit in Sports Bras
The festive season is accompanied by loads of sweets and high-calorie foods. And if you wish to spend all those extra calories at the gym, sports bras will be perfect for you to sweat in style. Therefore, do your push-ups in a sports bra and stay fit!
There is also an array of jackets, tank tops, and workout leggings at Shyaway. Take a glimpse at these trendy styles of clothing during your leisure time.
7. The Right Sleepwear for the Night
After a tiring day of festive bliss, all you want to do is hit the bed. A pyjama set made of soft fabric will make you feel comfy and cosy in bed. Short sets and capri sets from Shyaway are other options you can explore to snuggle in style at night.
The "Three Cs" to Consider During a Festive Lingerie Purchase
Remember the following three important factors while shopping for lingerie:
1. Comfort 
Even the best-looking outfit will not make you feel confident if you wear uncomfortable lingerie underneath. So, make comfy lingerie your priority. Ensure that your bra and panty size are correct before you purchase. If you wish to know your sizes, use our bra size calculator or panty size calculator. Shyaway has some plus-size intimates too.
2. Cost
Highly expensive lingerie is not necessary. Try purchasing lingerie that doesn't put a hole in your pocket. Shyaway lingerie is cost-effective and offers the best support.
3. Colour 
Never underestimate the power of colours. If you want to wear bright-coloured lingerie, just go for it! Or else, choose the ones with more subtle shades. A look at the best nude bras for your skin tone will help you choose the most suitable bras for yourself.
Celebrate with Cheer!
I hope you found this blog on festival-ready fashion lingerie trends interesting and helpful. Armed with the perfect lingerie and a flattering outfit, begin the festive celebrations in full swing with your loved ones. Enjoy the festivities by embracing elegance and confidence!