Ever felt that you never bought lingerie based on your bras and panties that fit your body shape and flatter your curves effortlessly. In this blog, we will discuss the best bras and panties for a rectangle body shape. Follow this space for other body shapes too!
Know Your Rectangle Body Shape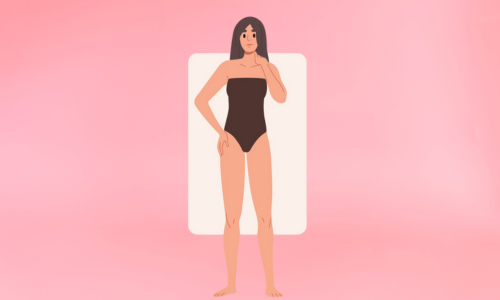 The rectangle shape is the most dominant shape, with almost equal bust, waist, and hip measurements. The absence of curves makes the body appear like a rectangle. People with rectangle body shapes are often tall and lean with flat bottoms. The breasts tend to be small or medium in size. The rectangle shape is also known as an athletic body shape, a banana body shape, or a straight body shape.
What are the Characteristics of a Rectangle Body Shape? 
Straight shoulder line and ribcage.
The bust and hips are almost the same width.
Little to no waist definition.
Very long legs.
No visible curves.
How Do You Know You Have a Rectangle Body Shape? 
You can find your body shape with a quick calculation. You'll need a measuring tape, a pen, and paper to measure your sizes.
Before you measure, ensure that you:
Stand on your feet.
Stand up straight.
Don't suck in your stomach.
How to Measure?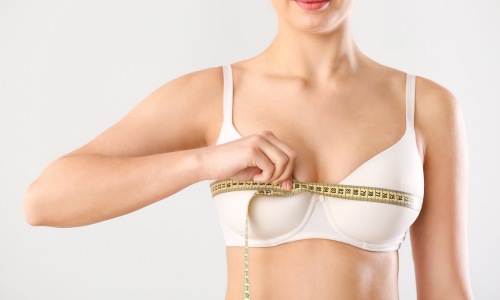 You must measure 4 points along your body and note down the measurements.
Shoulder (widest portion)
Bust (apex of the chest)
Waist (above the belly button)
Hips (widest portion)
How to Calculate? 
Now compare the measurements. If the measurement of your waist is less than an 8-inch difference from your hips and shoulders, then you have a rectangle shape. Or simply, if waist ÷ shoulder ≥ 0.75, you have a rectangle body.  In a rectangle shape, the waist is always less than 25% smaller than your shoulders or bust.
How to Buy Bras for a Rectangle Body Shape? 
You need to focus on creating a balanced silhouette. Try to break up the column-like appearance. If you are slender, you can create more curves and add volume to your upper body.
What are the Best Bra Styles for Rectangle Body Shape? 
Pushup bras and padded bras are the best styles for a rectangle body shape. Here's how to ace it in style.
| | | |
| --- | --- | --- |
| Feature | Bra Type | Description |
| Different Levels of Padding | Pushup | Invest in a good pushup bra to create cleavage and lift your chest. |
| Padded Cups | Padded | Wear padded bras to shape, support, and contour your bust. |
| Printed Bra | Pushup | Use prints, textures, and details strategically to visually emphasize your upper body. |
| Shaped (Moulded) Bra | Non-padded | Avoid shapeless bras and wear bras with side encircles, seams, or darts to get the desired curves. |
| Plunge (V-Neck) Bra | Non-padded | Plunge bras are excellent choices as they visually lengthen the shoulder and bust areas. |
| Bra with Neckline Embellishment | Padded | Embellishments around the neckline create additional volume and beautiful curves. |
| Halter Neck Bra | Pushup | You can accentuate a slender look with a halter neck bra. It adds a flattering curve to your body. |
| Longline Bra | Bralette | Wear a longline bra that extends one or two inches further down the waist to add an attractive shape to your bust and hips. |
| Bralette | Bralette | It is super flattering for a rectangle body shape with a smaller bust. You can easily embrace your figure in this unpadded style. |
| Stripped Bra | Padded | Bold and long strips will create the illusion of varying proportions. |
| Strappy Bra | Padded | A bra with curved detailing is the best option to enhance the rectangle silhouette. |
What is the Common Panty Problem for Rectangle Shape Body? 
The common problem with rectangle shapes is finding underwear that doesn't bunch up on the booty or roll down on the hips. The solution is to find a thick waistband that doesn't roll, medium coverage that shows off skin, and a high waist that defines the waist.
Best Panties for Rectangle Body Shape
| | |
| --- | --- |
| Panty Styles | Description |
| Thong Panty with Thick Waist Band | This is the perfect panty for a rectangular body shape. The thick waistband doesn't roll down your straight waist. |
| Bikini Briefs | Bikini-style panties are likely to work for rectangle body shapes. You can try bikini briefs with elastic fabric at the ends for ample support and coverage. |
| Cheeky Panty | Explore your playful side with cheeky underwear that shows off more of your booty than a full-coverage panty. |
| High-Waisted Panty | High-waisted panties are the best way to create a defined waist and elongate your legs. |
Final Words
Wearing the right style of bra for your body shape will often fix bra fitting issues. The primary focus of a rectangle body shape is to create more curves and a pleasing silhouette. I hope this guide helps you achieve your desired fit easily! Follow our blog for more such tips.