The monsoon is the best time of year that most people look forward to. Choosing the proper clothing and accessories can be a primary challenge during the monsoon season. One of the essential items to consider during this time is your bra. Why choose moisture-wicking bras for the monsoon? Sweat evaporates slowly in moisture-wicking bras and keeps you fresh all day. That's why you need to pick the right monsoon bras that keep you dry and comfortable during the monsoon.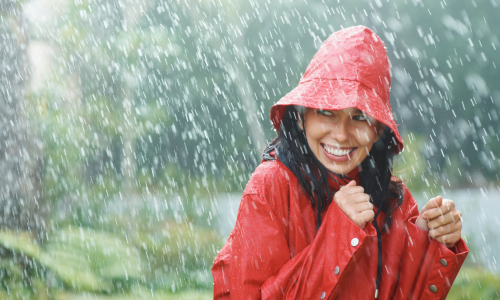 Monsoon-Friendly Bra Styles for 2023
It is time to update your lingerie wardrobe this monsoon. Make sure you have waterproof and sweat-resistant bras for the rainy season in 2023.
Go For Printed Style
These days, women are experimenting with different prints that look attractive when paired with light-coloured tops. You can add some sassy style to your everyday outfit with colourful printed bras. Select your preferred bra style, like padded, wired, non-padded, seamless, or push-up, in the most popular prints.
Our Taabu SurfBlue Snake Print Padded Wirefree T-Shirt Bra is the perfect solution to boost your mood on gloomy days. With its stunning design, you will feel confident and fashionable. The lightweight padding in this bra gives enough support that it is ideal for most of your outfits in the monsoon. Go on, play, and dance in the rain with this printed beauty.
Workout with a Sports Bra
Monsoons can be difficult for those who love to work out. Investing in moisture-wicking bras for the monsoon season is essential to preventing skin irritation and discomfort while exercising. For low-impact activities during the rainy season, consider using the Shyle Navy Blue and Pink Chaotic Stripe Racerback Sports Bra, which provides better support. This sports bra features a trendy racerback that allows for a wide range of movement and excellent breathability.
Pretty Cotton Bras
Cotton fabrics are best for all seasons, especially during the monsoon. Are you looking for a comfortable and stylish bra to wear during the rainy season? Consider the Taabu Ballet Pink Padded Wire-Free Striped Cotton Bra. It is a perfect choice for anyone looking for both comfort and fashion. The cotton fabric in this bra absorbs water and sweat, so you don't need to worry about rainy days. This cotton bra acts as the perfect absorbent to wear all day long.
Nudes for a Trendy Look
What happens if you wear a white bra when it rains? The white bras tend to turn sheer when they come in contact with water; they also become transparent when they are wet. Prefer pastel or nude colours to maintain your look without feeling exposed.
If you are looking for a bra to wear with your light and white outfits, you can consider the Susie Fenugreek Skin Floral Printed Non-Padded Bra. This seamed everyday bra suits well with your outfits during the monsoon.
Go strapless
Strapless bras are another comfortable option for the rainy season in 2023. If you are expecting an off-shoulder look, these bras are ideal for events and parties. Try the Laavian White Convertible Strapless Bra with finished silicon elastic to prevent spillage and ensure comfort throughout the day.
To prepare for the rainy season, it is important to choose the appropriate bra styles. Consider options such as printed bras, strapless bras, cotton bras, and sports bras to ensure you are equipped properly. Now, go ahead and upgrade your lingerie wardrobe with these stylish, quick-drying, and moisture-wicking bras for the monsoon. Choose your favourite bras based on colours and fabric for this monsoon fashion in 2023.