Are you planning to tie a knot this year? Planning for a perfect wedding can be quite stressful. From finding the perfect wedding outfit to finalizing the guest lists, there are so many things to do. All this process can be overwhelming, and during this process, many forget or neglect the fact about bridal lingerie. 
Bridal shopping is incomplete without sexy lingerie. Choosing a wedding bra mostly depends on the type of wedding dress you are gonna wear. Before selecting your bridal lingerie get a chance to discover the different types of bridal outfits. When it comes to Indian bridal outfits, a saree is the most common bridal outfit, but recently the traditional bridal outfits show drastic changes based on regions. 
How to Buy the Right Bridal Bra for Your Dress?
From Kashmir to Tamil Nadu, the wedding outfit varies. Lehengas, ghagras and salwar are mostly found in North India, whereas in the south, the saree is the most popular and common attire. So, with endless options choosing perfect bridal lingerie differs from one outfit to another.
Imperfect bridal lingerie can spoil the look of your wedding outfit and also ruins your mood. So, dear bride to be, bridal lingerie should be on your top priority list as your wedding dress. But how to choose a bridal bra for the dress? No worries, here is a personal guide to how to buy the right bridal bra for your dress.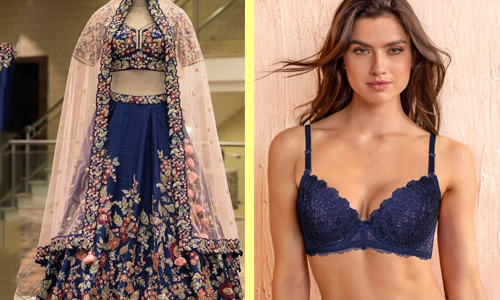 The beauty of lehengas are magical and an Indian wedding is incomplete without them. From classic embroidery lehenga to Indo western lehenga, there are numerous varieties, and among them finding one perfect lingerie to match every lehenga is a bit difficult task. So, based on the style of your lehenga you can find the one. Strapless, backless, multiway and plunge are the best partners for lehengas. On the other hand, nowadays most lehengas come with inbuilt pads, so there is no necessity for bras. 
Bra Suggestion: All types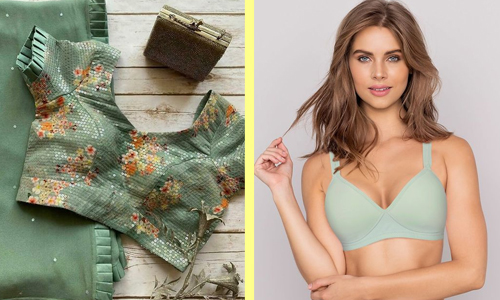 If you are planning to wear a saree then we suggest you opt for a padded bra, t-shirt bra and convertible bras. Padded bras are the most comfortable ones for a saree, as they give you a silhouette figure and also provide you with comfort all day. Be it chiffon, lace, cotton or silk blouse, padded and t-shirt bra can be your ideal lingerie partner for all day. If you are someone with a fuller bust then you can opt for unpadded bras. These padded and t-shirt bras come in different styles, colours and sizes hence you can match them accordingly to your saree. 
Bra Suggestion: Padded/Unpadded bras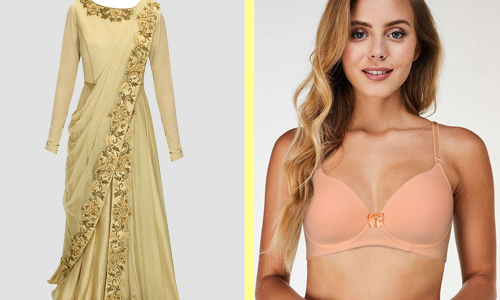 If you are choosing a gown with mesh and lace works, then you can opt for lace or mesh bras or bralettes. Based on the cut of your gown and your comfort you can choose your lingerie. But, before that make sure you need a bra for your wedding outfit, as most of the gowns are inbuilt with a corset and some wedding gowns even come with adjustable bra straps so you can adjust it as per your wish. 
Bra Suggestion: White/ nude lace bras
Even the most expensive Anarkali can make you feel out of place when it is not paired with the right lingerie. The Anarkali suits come in different styles like plunging neckline, high closure neckline and also backless suits. With these styles, you can opt for plunge bras, full coverage bras, backless bras and also multiway bras. Besides style, comfort is the key to the best fashion. In order to avoid wardrobe malfunctions, you can opt for bras with full coverage.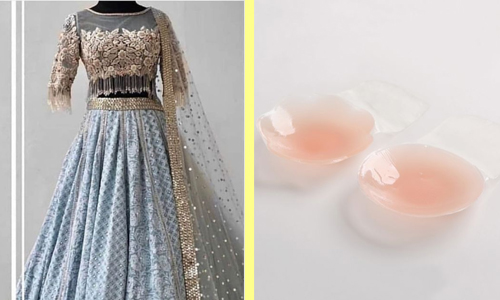 Bra Suggestion: Plunge or Full Coverage bras
If you are a trendy bride, who would love to take an unusual style for your wedding? Then you must opt for the indo-western outfit. The options are endless when it comes to fusion wear, from pairing up capes with lehenga to merging trendy bras with sarees. When it comes to fusion wear you can opt for any kind of bra. Create an ensemble look with Indo western outfit by breaking the traditional Indian wedding outfits.
Bra Suggestion: All Types
Dear brides, bridal lingerie does not start and end with just bras and panties. It has a lot more to offer. Finding the matching bra for bridal dresses depends on one's comfort and the style of a wedding outfit. Get into the Shyaway site to grab your wedding lingerie at an affordable price. 
Check out our simple guide to know more about bridal bras.
To know about the Ultimate Guide on how to Select Bridal Lingerie For Honeymoon & Wedding. Click here.