A perfect workout top provides better comfort and enhances your performance. Whether your workout involves running, walking, jogging, or gym sessions, having the right sportswear is essential. Wearing the right activewear can boost your motivation for a workout. What type of clothes are best for working out? Hoodies, jackets, gym leggings, sports bras, and tank tops are easy to wear during workouts. For a workout, you can consider moisture-wicking workout tops made from breathable materials like spandex or polyester.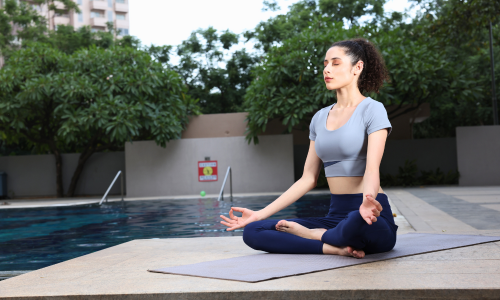 Best Tops for Different Types of Workouts
What makes a good workout top? T-shirts, tank tops, crop tops, and more are various types of workout tops that come in different styles and patterns. You can pair your workout tops with bottoms, pants, and leggings. Here, we provide you with a list of different workout tops for your various needs.
Tank Tops 
Tank tops are mostly made from lightweight fabrics such as cotton, spandex, or nylon to keep you cool during workouts. It has large armholes that provide necessary ventilation and maximum freedom of movement. Tank tops come in various colours, designs, and patterns to make you look stylish and trendy. They are considered one of the best workout tops for lifting weights and doing push-ups. You can pair them with high-waisted leggings or shorts for freedom in your workout.
T-Shirt 
A T-shirt is the best workout top for yoga, wicking away moisture to keep you dry and cool. Round or V-necklines with short sleeves are popular among women. Comfort, moisture-wicking, and durability are the main features of t-shirts for exercise. Let's look at the different types of t-shirts and their features.
Types of T-Shirts
Features 

Smooth & skin-friendly fabric
Relaxed fit for exercises
The best workout tops for cold weather or outdoor activities

Overlap mesh back for flexibility
Provide a balance between comfort and style.
Ideal for running or group fitness classes

Mesh back keyhole styling
Allows for a broader range of motion

Lightweight, Stretchable, and Breathable
Ideal activewear for yoga and jogging
Inverted Box Pleat Seam at the Centre Back

A high-low hem provides a cool and comfortable fit
The best workout tops for hot weather
Crop Top 
This crop top is ideal for travel, workouts, and other occasions. It improves your confidence and keeps you comfortable during intense workouts. These tops are much shorter compared to tank tops, providing effective muscle support. The trendy tie-knot at the front ensures a perfect fit and shape for you.
Padded Bra Top
The padded bra top is crafted with moisture-wicking fabric, making it ideal for walking, stretching, and yoga. It is one of the best workout tops for running, offering padded support and comfort. You can pair it with high-waist track pants and sports shoes. It gives appropriate support during high-intensity workouts. Also, you can use a front zip, racerback, and pullover sports bra for running.
Hooded Jacket 
The Shyaway hooded jacket provides the extra warmth and coverage you need. This is suitable for pre- and post-workouts and cold climates. The workout hoodies mostly come with full-length sleeves with thumb holes to prevent slippage. Available in various designs, including pullovers, zip-up jackets, fleece, and lightweight options.
Now, choose your favourite workout top based on your preferred style, climate, and comfort. Wearing suitable sportswear can enhance your overall exercise experience and boost your confidence. Optimise your performance during exercise by selecting the right workout tops.