You'll wish for rain with these rainy season sports bras.
You don't have to cancel your workout just because it's wet outside. Before you skip your workout to watch your favorite Netflix series, grab our best sports bra for this rainy season that is perfect for building up a sweat on rainy days. Soggy weather can stop your workout plans especially when you are involved in cardio activities outside the gym or yoga practices outdoors. So, next time the sky turns grey and the rain starts pouring down, grab your workout gear, and try amazing workouts from the comfort of home.
Rainy Season Sports Bras for Cheerful At-Home Workouts
Rainy Day Zumba Fitness
Zumba workout is a great rainy-day workout!
Why?
Well, classes are inside! Plus, you get to wear comfortable workout gear.
Zumba fitness can burn major calories in an hour. In addition to burning calories and getting your heart rate up, Zumba is great for strength training. You'll use your body weight to achieve crazy twists and feel sexy regardless of the weather/season.
What to Wear for Zumba Fitness?
Zumba Bra. Grab the best rainy season sports bras in bright fuchsias and lighter shades of pink.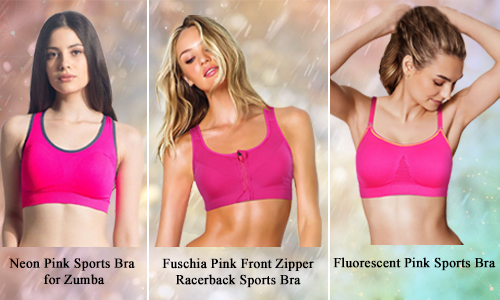 Shop This Look
Neon Pink Sports Bra for Zumba
Dance, Dance, Dance it Out
Do you want to get a major cardio workout right in your living room? To stay fresh during the rainy season, you can focus on dance fitness.  Tune into a dance fitness video on YouTube and get yourself moving. All shakes, jumps, twists, and turns burn energy like you wouldn't believe. Dancing involves a lot of energy and you can burn more than 300+ calories every half hour.
What to Wear for Dance Fitness?
Wear workout bras for dancing. Choose bright, sprightly blues. opt for lighter shades instead of usual dark navy blue.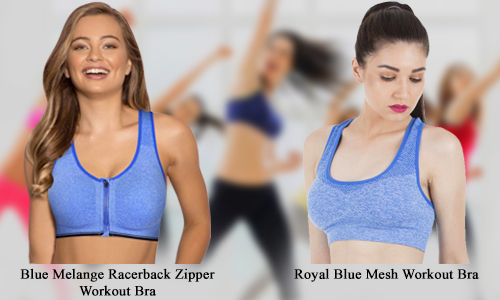 Shop This Look
Blue Mélange Racerback Zipper Workout Bra
Go Up & Down
Got stairs? Start climbing!
If you live in a tall building, you can aim at steady climbing. Catch your breath on the way back down.
What to Wear for At-home workouts?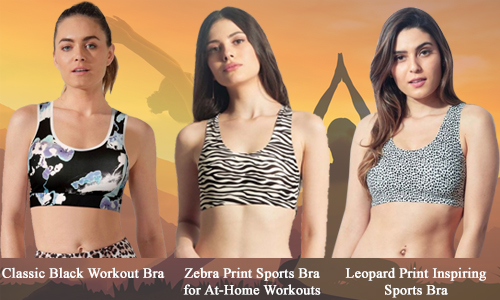 Gift yourself amazing black and white sports bra for at-home workouts during the rainy season.
Shop This Look
Zebra Print Sports Bra for At-Home Workouts
Skipping
Got a rope? Start skipping because they are a brilliant way to get your heart rate up and breaking a sweat on a rainy day. You can try interval skipping workout that's equivalent to double the time spent in the gym.
What to Wear for Skipping and Jumping?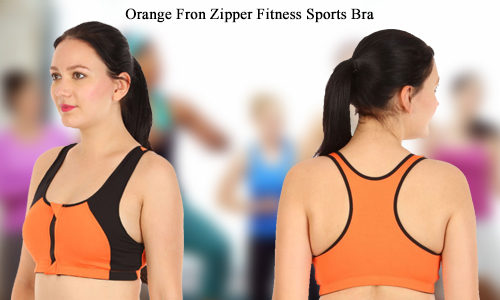 Browse through our designer sports bra Collections  for the rainy season and pick shades of orange that have turned hot picks for this monsoon.
Shop This Look
Orange Front Zipper Fitness Sports Bra
Yoga & Meditation
At home on a rainy day?
You can follow YouTube channels and start yoga and meditation. Yoga is a great way to stay on the fitness track when you can't make it to the gym.
What to Wear for Yoga and Meditation?
Grab a soft pink/grey yoga bra that can be a good mood changer.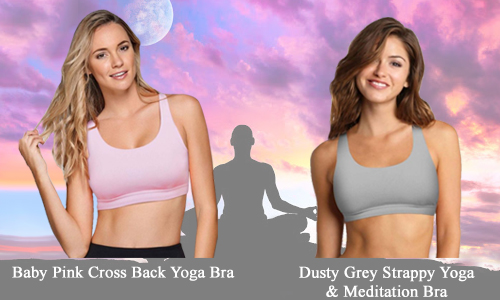 Shop This Look
Dusty Grey Strappy Yoga & Meditation Bra
Before we end this, if you like running in the rain, you should read this!
Running in the Rain?
Running and singing in the rain has so many benefits. Running in the rain triggers all muscles. The careful footing, conscious steps, slippery conditions force you to activate all your muscles to maintain balance. It's similar to running on an uneven surface. Unconsciously people run faster in the rain due to low body temperature (less energy drain) and to finish the run sooner. Running in rainy weather will improve your mental stability and helps release stress.
Sounds cool?
But if the conditions are cyclonic or infectious then indoors are a must.
What to Wear While Running in the Rain?
You are going to get wet, but that doesn't mean your workout has to be soggy, uncomfortable, and bone-chilling. You can opt for water-resistant, quick-drying workout wear to help your rainy-day running a pleasurable experience.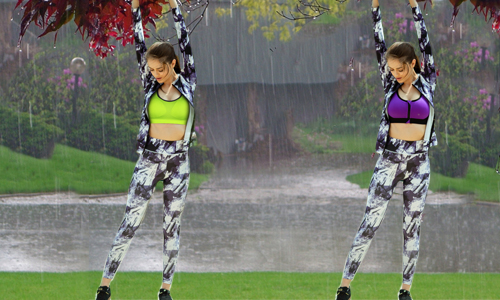 Shop This Look
Sports Bra for this Rainy Season
Practice Safety Tips While Running in the Rain
If you don't mind getting wet, exercising outdoors on a rainy day is perfectly fine if you do it safely.
Excess water can cause your workout gear to loosen up, increasing your risk of fungal infections. If you're exercising outside on a rainy day, make sure your workout wear is washed and dried completely.
Reduce your running time.
Buy the best sports bra fabric for the rainy season to prevent the fungus from growing on your clothes.
Choose lightweight fabrics like nylon, polyester, and spandex that offer superior moisture management.
Workout leggings must be lightweight and waterproof to work wonders.
Choose workout top and workout bottom that give you the best chance of staying dry.
Finally, stay indoors and follow at-home workouts to avoid the risks of infections. Don't forget to grab the best rainy season sports bras for your workout and fitness routine. Do you want expert advice on what to wear during outdoor workouts? Log your queries here or leave a comment below.