Nightwear plays an important role in every woman's life. The clothes are specifically designed to provide the relaxation and comfort one deserves, thanks to the comfort nightwear gives. Nightwear has many types, ranging from pyjama sets to sleep tees, but there is one thing we should know. The terms "sleepwear" and "loungewear" are different. Here is the difference between sleepwear and loungewear.
Loungewear or sleepwear: What's the difference?
As mentioned above, sleepwear and loungewear are two different types of clothing serving different purposes. But people are under the impression that these terms denote the same clothing type. Let's see where the differences lie.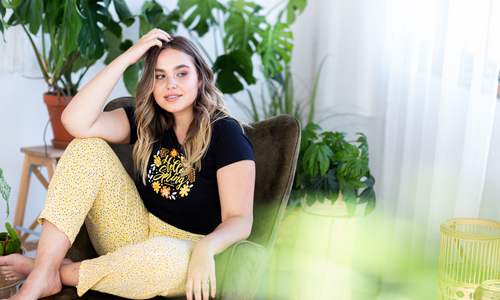 Difference between sleepwear and loungewear
Let's settle down on the sleepwear vs. loungewear confusion. Sleepwear refers to the clothes one wears specifically to sleep. They are manufactured from soft, breathable fabrics like cotton or silk and are designed to be loose-fitting and provide enough comfort for a good night's sleep. Some varieties of sleepwear include sleep tees. With different styles and designs being created, the ultimate goal of sleepwear is to make people experience the utmost comfort they deserve while sleeping.
Loungewear is something different. The clothing is manufactured to be worn in a relaxed and casual setting, such as at home or while traveling. These casual outfits are made from soft fabric that provides the required comfort and also makes them suitable for wearing outdoors. Some notable loungewear includes pyjama sets, tracksuits, onesies, and so on.
Major differences between sleepwear and loungewear
Here's a rundown on sleepwear vs. loungewear:
| | |
| --- | --- |
| Sleepwear | Loungewear |
| Worn specifically for sleeping. | Worn for relaxing & lounging. |
| Made of soft, comfortable fabrics like cotton and silk. | Made from a variety of fabrics, such as cotton, fleece, and silk. |
| Designed to mainly provide optimum comfort | Designed to provide a relaxed fit |
| Crafted with functional features like buttons to easily wear. | Crafted with functional features at times, but is mostly focused on style and comfort. |
| Worn mainly to sleep | Worn at home, for casual outings, or even travelling for short distances |
| Example: pyjamas, nightgowns, sleep tees | Example: sweatpants, hoodies, oversized t-shirts |
Styles in sleepwear
Now that we know the difference between sleepwear and loungewear, let's check out some styles in these types of sleepwear.
Sleep tees are sleepwear, typically a long t-shirt or a dress, made from soft, breathable fabric. These loose-fitting clothes provide the required comfort and breathability for a good night's sleep.
This sleepwear consists of a shirt or a t-shirt, and pants with the length of the wearer's preference. The bottom can also be shorts. These outfits provide the required comfort and warmth to carry out a good sleep. In some cases, people tend to wear pyjamas as loungewear too, given the design and pattern of the pyjamas.
Styles in loungewear
From chilling at home to a casual beach walk, here are some loungewear styles you can try out.
A hoodie is a type of sweatshirt with a hood attached to the outfit. Made of soft material like cotton, hoodies can be worn as casual wear or as a form of athletic wear. This loungewear has become a widely popular option for women.
Oversized t-shirts are loungewear that is larger than our regular fit. They are designed to provide a loose and relaxed fit and can be paired with leggings, jeans, or shorts.