The bra straps carry 10% of your breast weight and keep the bra in a fixed position. It's the elastic used in the strap that provides some support and comfort. Elastic in your bra is typically shiny on one side and plush on the other. Bras with a smaller upsize have a narrow elastic, and the larger cups have a wider one. The band and strap improve stability and create the right balance to shape and support it. We've already discussed the different types of bra straps, so in this blog, we will learn the purpose of elastic.
What is the Purpose of Elastic in Your Bra? 
Tightening
Gripping
Holding
Fitting
Shaping
Styling
Elastic is an essential component of a bra or panty that is a small, narrow loop used to provide support, hold the bra in the right position, create a finished edge, give an aesthetic effect, and add design elements. Elastics are commonly used in bra straps, bands, and wire channels.
Features of Elastic in Your Bra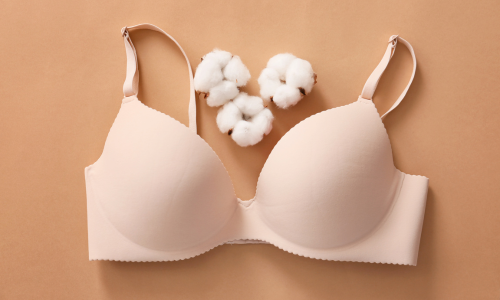 It has the quality of stretching and then returning to its original shape.
It is adaptable and gives a perfect fit.
The stretch capability and recoverability aid easy movement and make your bra sturdier so that it doesn't tear or break.
What are Elastics Made of? 
Elastics are often made of rubber, nylon, spandex, or cotton. The common materials used in lingerie are as follows:
Nylon Elastic – soft and commonly used in lingerie.
Cotton Elastic – A natural fibre that does not shrink.
Types of Elastic Used in Your Bra
| | | |
| --- | --- | --- |
| Type of Elastic | Image | Description |
| 1. Picot Elastic | Scalloped Picot Elastic in the Bra Strap | Picot elastic comes with one plain edge and one picot edge. It is a narrow elastic with a decorative scallop edge. |
| 2. Fold Over Elastic | Strong Fold-Over Elastic Strap | Strong elastic that has a ridge in the middle. It holds the breasts properly and still allows natural breast movement and breathability. |
| 3. Bra Strap Elastic | Shiny Bra Strap with High-Quality Elastic | It is a high-quality elastic with good recovery. Comes with soft plush on one side and a matte-like or shiny appearance on the other. |
| 4. Band Elastic | | It's used on the top and lower bands of the bra. The plush side of the elastic lies against the skin for comfort and ease. |
| 5. Gripper Elastic | Silicon Grip Elastic | It comes with a silicon strip along the centre of the elastic. The silicon gently grips the skin and stays put. |
| 6. Clear Elastic | | It is clear and concealable and has good stretch and recovery. It is comfortable against the skin and helps stabilise fabric with enough stretch. |
| 7. Wide Band Knit Elastic | | Commonly used in sportswear, this type of elastic maintains width when stretched. It's used as the bottom band of a sports bra and other compression garments. It has plush on both sides to offer incredible comfort. |
How to Increase the Longevity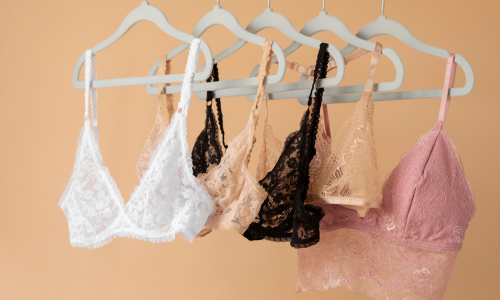 If you take proper care and follow the wash-care process, your bra will remain flexible and bounce back to its original shape.
Do not bleach your bra because the pH level of bleach is higher than 7, which reduces the stretchability of the elastic and fails to bounce back to its original shape once stretched out.
Keep your bra away from the dryer and direct sunlight. Always dry your bra in the shade and avoid using the dryer.
You must understand that the elastic in your bra plays a major role in determining the size, shape, and flexibility. If the elastic doesn't bounce back as it once did, you should throw away the bra and buy a new one.