Just when you thought there was nothing good about growing up, you are finally introduced to bras. The bra plays an important role in every teenage girl's life because it literally provides the best support and protection she needs. From the first bra fitting, which is usually uncomfortable, to wandering around the lingerie sections during the growing phase of a teen, there are different types of bras for teenagers available on the market that she can cling to, but with so many options to explore, you will be lost in the world of bras. Here are some things that one should keep in mind.
Do teenagers need a bra?
Your need to wear a bra is based on certain developments that take place in your body during puberty. Bras are meant to provide support, grip, and coverage for your tender breasts, which otherwise could sag. This list will talk about the physical signs that tell you it's time to shop for your first teen bra.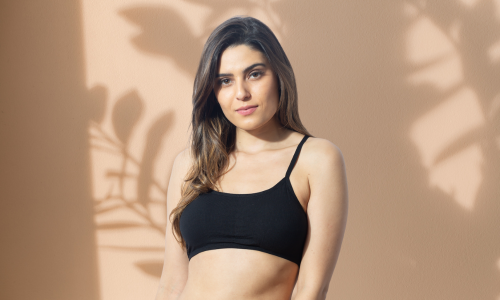 When the breast buds start poking out of your shirt,

When your regular jumping starts feeling awkward due to breast movement,

When you start feeling the need for support to hold your bust in place.
Well, there is no fixed age when you should start wearing a bra; it usually coincides with when your menstruation first begins. To be more specific, a girl of average build might feel the need for a bra around the age of 12–13, whereas plus-sized girls might need it a little earlier.
If it's not yet time for a bra, or if your teen is too embarrassed about her breast development, here is a list of teen bra types that they can rely on:
What type of bra should teenagers wear?
1. Beginner bra
To make your first bra fitting a comfortable experience, we would suggest you start with a beginner bra. The beginner's bra for teenagers acts as a bridge that helps you move towards the world of bras. While switching from a beginner bra to an actual bra, you'd experience better grip and structure.
2. Slip-on
Slip-on bras, otherwise known as crop top bras, are the best bras for teenagers and a comfortable option to help teens transition to bras. They function well for girls who are at an early stage of development. They offer minimal support but pretty good coverage for budding breasts. Also, these bras usually come in seamless and pad-less forms.
Choose bras that are made with breathable fabric, such as cotton.
3. Lightly padded T-Shirt bra
A lightly padded bra is the most natural-looking and comfortable bra. This bra does not make much change to the shape of a girl's breasts, but it conceals the nipples and smooths their silhouettes. It can make a girl feel less exposed when she's wearing a T-shirt, as they are specifically designed to enable a smooth finish beneath even the most form-fitting clothing. These bras come in different fabrics, some seamless, and some may even have underwires for additional support.
Sizing for t-shirt bras is traditional – using cup and band sizes.
4. Double-layered bra
A double-layered bra is also a great option and is a comfortable bra for a teenage girl. Especially if she's looking for a bra that feels like a second skin and has no padding or underwire. The layered fabric provides good coverage and hides the nipples, which react to temperature variations and can cause embarrassment.
5. Sports bra
A sports bra is a must-have in every girl's wardrobe. Any girl who takes part in a sports activity must invest in a sports bra. They offer comfort, minimise breast movement, and help protect the delicate breast tissue from damage during athletic activities. They are great not only because they offer good support but also because they often don't seem like a bra, especially when you choose a racerback style.
Not all sports bras are alike. One should try on a few styles to get the best fit.
6. Underwired bras
Underwired bras are preferred by late teens, especially if they have fuller busts. An underwire is a U-shaped metallic or plastic wire sewn beneath each cup. It lies under the crease of the breasts, which helps support the bust and fosters a comfortable yet natural lift. Always check if the wire rests right around the crease of the breasts, or the wires can dig into the breasts and cause discomfort.
An underwired bra is a good choice if a girl's breasts are C-cup or larger.
Young ladies! This list of bras provides you with comfortable and supportive options until you are ready to switch to other bra styles as your breasts develop and change.