What should I wear? How do I match? This or that? These are the common questions we ask ourselves when getting ready for the office in the morning. The struggle is real, and every working woman can relate to it. But do you know what an even bigger task is? Finding 'the perfect' bra and panty to complement your look. Let's admit it: first, you can't wear a seamed bra with your casual tee (those annoying visible bra lines). Secondly, wearing the same bra and panty every single day can get boring. To make things easier, it's best to add some variety to your lingerie essentials. Most importantly, you need to know which style of bra and panties work best with your outfit. To help you wear different outfits and lingerie from Monday to Sunday, here's a round-up you're going to love.
Working Women's Lingerie Essentials
In our "7 Days, 7 Outfits" blog, we showcase a new look for each day of the week. In this post, we'll focus on working women's lingerie essentials.
Monday: Formal Shirt and High-Waist Trousers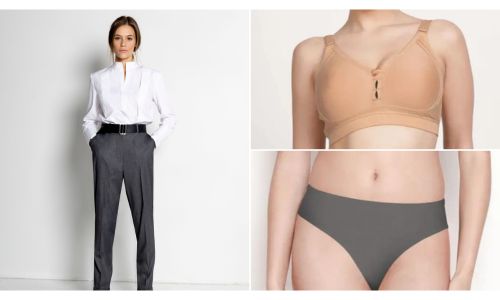 This formal outfit is specially crafted for the modern woman. Choosing the best innerwear elevates your style and transforms your simple formal look into one that makes you stand out from the crowd. When it comes to dressing professionally for the office, nude bras are a must-have in working women's lingerie essentials.
Outfit Suitable for Body Type: Hourglass
Bra Colour: Neutral or nude shade (light, medium, or deep nudes) based on skin tone
Other Bra Colour Choices – pastel pink or brown
Colours to Avoid – Red and black
Bra Styles – Moulded, seamless, full coverage, everyday bra
Panty Styles – High-waist panty
Tuesday: V-Neck Black Kurthi and Pant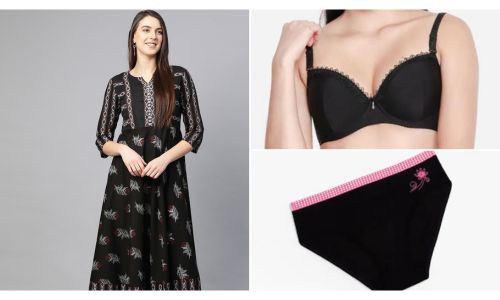 Matching your lingerie is harder than it sounds. It's not as simple as wearing the first bra you find. You need to consider the colour, style, design, and overall look. When it comes to black, make sure there are no odd pops of colour in the outfit.
Outfit Suitable for Body Type: Hourglass, triangle
Bra Colour: Black
Other Bra Colour Choices: Beige or Nude (less likely to show through the fabric)
Colours to Avoid: White [whites are visible underneath black]
Bra Styles: Plunge, pushup, padded bra
Panty Styles: High-waist panty
Wednesday: Kurtha Palazzo 
For a put-together, well-thought-out look, colour coordination is key. Matching your bra and panty to your outfit can enhance your overall appearance. Once you've chosen your outfit, select bras in colours that complement it beautifully. If your outfit features multiple colours, choose nude, black, or cream for a muted, low-key look.
Outfit Suitable for Body Type: Triangle
Bra Colours: Pink, white
Other Bra Colour Choices: Grey, peach, nude
Colours to Avoid: Blue, green, black
Bra Styles: Ruched cup, longline, balconette bra
Panty Styles: Bikini
Thursday: Saree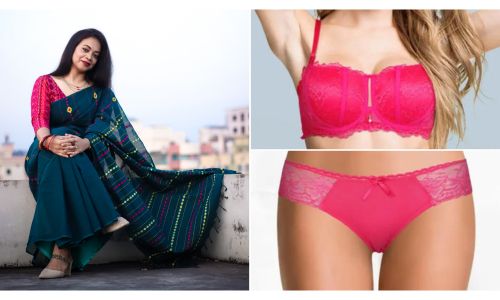 Bold, luxurious bridal bras are fantastic and they add flair to any traditional outfit. There is something so elegant about designer bras because they always have an elegant charm. Some occasions call for more unique, eye-catching innerwear, while other times, you can stick with simple padded bras without delicate detailing. The choice is yours, so choose wisely.
Outfit Suitable for Body Type: rectangle, inverted triangle, and all shapes
Bra Colour: Magenta
Other Bra Colour Choices: purple, pink
Colours to Avoid: red, black
Bra Styles: bridal, fancy, lace, balconette bra
Panty Styles: Bikini
Shapewear: Saree shapewear
Friday: Sheath Dress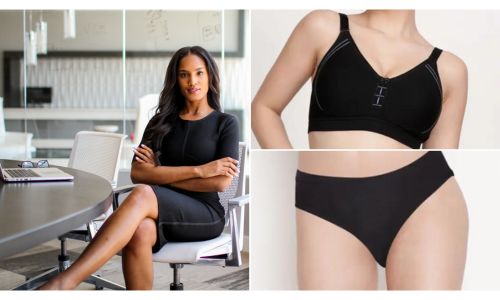 This casual outfit can be transformed with the right bra. There are plenty of styles that can help you dress up this basic outfit for a stunning look. While finding the exact matching colour can be difficult, a nice nude or white bra can add some spice to it. Wear gathered cup bras to showcase your attention to detail.
Outfit Suitable for Body Type:  Hourglass, rectangle
Bra Colours: Black
Other Bra Colour Choices: Brown
Colours to Avoid: Dark blue, green
Bra Styles: Seamless, moulded, everyday bra
Panty Styles: Thong
Saturday: Jumpsuit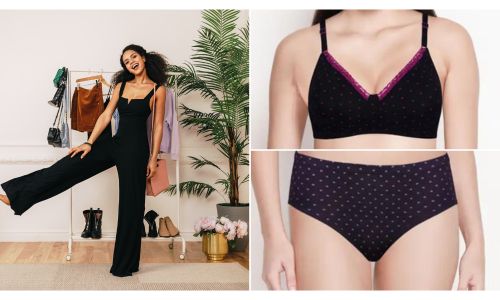 Whether it's a day out with friends or a lunch date, nothing defines effortless style like a solid jumpsuit. The choice of a bra depends on the occasion and your personal style. For a clean look, opt for an everyday bra. By defining your style, you'll have an easier time finding bras that match.
Outfit Suitable for Body Type: Hourglass, apple body shape
Bra Colours: grey, black
Other Bra Colour Choices: Nude
Colours to Avoid: Bright colours
Bra Styles: Everyday Bra
Panty Styles: Bikini
Sunday: Beach Dress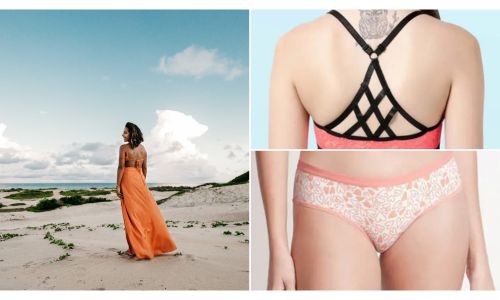 This beach dress provides an opportunity to showcase the power of fancy back bras. Wear something appropriate and look elegant and chic in your beach dress. You can opt for contrasting colours to make a statement.
Outfit Suitable for Body Types:  Hourglass, apple, triangle
Bra Colours: Any colour
Colours to Avoid: None
Bra Styles: Front open, back design, lace details, racerback
Panty Styles: Hipster
Final Words
Once you're dressed, take a moment to evaluate how your outfit looks. Ask yourself if it feels appropriate for the place and occasion, and consider what you could do to enhance it. Do not forget to choose bras and panties based on your body type and breast shape. Experiment with different styles until you find the ones that transform your look.
Now that you have seen how easy it is to put together formal and casual looks, update your wardrobe with bras and panties from Shyaway. If you still need professional styling tips for working women's lingerie essentials, we're here to guide you so you can step up your style with the right lingerie.