Winter is right here, and this season is associated with long nights, thick clothes, and sizzling hot snacks in the evenings. Nothing can be more satisfying on a winter night than cuddling up with a book in bed or watching your favourite movie while relaxing on a couch. Winters are not just about cold nights and long, hot showers; the season means so much more… As far as dressing up suitably for winter is concerned, winter night suits for women play a prominent role in this season.
During the winter, everybody loves to feel the warmth and cosiness under their costumes, especially at night. Choosing the perfect winter night suit is still a nightmare for every woman. To make you feel comfy and warm during the night, here are the top 5 winter night suits for women, which come in different styles and fabrics. You can purchase these winter night suits online from Shyaway.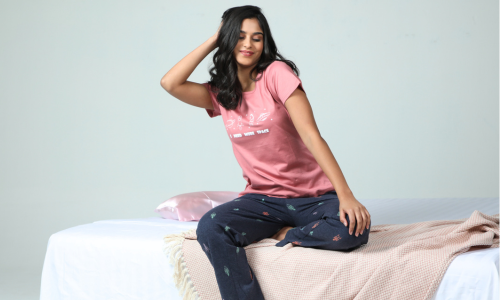 Women's Winter Sleepwear
1. Capri Sets
If you are a great fan of short sets, then you can opt for capri sets. Capri sets can be worn as both loungewear and nightwear. They are available in funky prints and beautiful patterns at Shyaway. These are also some of the cutest night suits for winter. Shyaway has many nightwear sets online. You get to choose the capri sets in sleeveless, full-sleeved, and half-sleeved styles.
2. Pyjama Sets
Pyjamas are the most comfortable type of nightwear and are loved by women around the world. It helps put your body in a calm state with the help of its relaxed silhouette. The ultra-smooth texture of pyjama sets provides you with both warmth and comfort during the winter season.
How to Choose a Pyjama Set Online?
Look for breathable fabrics.

Pick pleasant colours and prints over darker tones.

Avoid embellishments and heavy embroidery.

Choose PJs that are easy to wash.

Use the size chart.
Shyaway has a variety of thick winter pyjamas that come in different styles, patterns, and materials. Check them out now!
1. Trendy Pyjama Set
We love this PJ set for the new-age vibe it oozes. With a cosy tee and a contrasting pair of jammies, this loungewear serves as the perfect piece of soft winter nightwear for women.
2. Pretty Pyjama Set
Trust us, you are going to love the prints on this PJ set. Our pista green 'piggy why' nightwear is the perfect choice of nightwear for the child in you. You can even use these pyjama sets as women's winter loungewear.
3. Nightgowns
Women's winter nightgowns are the most popular and comfortable clothes for the season. You can also pair one of these winter night suits with leggings to make it more stylish and cosy. Nightgowns are custom-made for comfort. They are now available in different colours and fabrics. A nightgown gives you a unique look with its loose and oversized design, which is a perfect choice for bedtime.
4. Lounge Pants
These are lightweight, loose pants that sometimes come with adjustable drawstrings. In recent times, there has been a growing trend of wearing lounge pants for casual outings, as they offer a level of comfort comparable to that of jeans. This winter nightwear for women is the perfect wardrobe essential for relaxing or exercising at home!
Here are some Shyaway lounge pants. Check them out!
While at it, do keep checking our website for women's winter night suit sales!
5. Sleep Tees
You can always skip the same old nightwear for stylish sleep Tees! Whether you are petite or plus size, sleep shirts will make you feel confident, and they're an absolute mood changer. These stylish winter night suits for women are not only comfy but also fashionable and chic. Explore the styles and gift yourself something that will make you happy.
Importance of Wearing the Right Winter Nightsuit
Winter clothes are available in huge collections as they are used to protect you against the cold. At the same time, it's really essential to pick the right winter night suits for women so that you can have a relaxed and healthy sleep. Adding a pair of bed socks during your bedtime will also help keep you warm and cosy.
There are several reasons why sleeping in cotton nightwear is good for you in all seasons. However, if you want more warmth in winter, you can choose materials like wool or fleece for your night suits.
We highly recommend that you spend an extra minute choosing the right nightwear. This will ensure you have cosy, relaxed, and uninterrupted sleep or lounge time. After all, sleep is the best meditation ever!