Tired of wearing the same old nightwear to bed every night? It's time for you to upgrade your sleepwear wardrobe with something that is both stylish and comfortable! You don't have to sacrifice your sense of style just because you're off to dreamland. Check out our selection of unique, comfy sleep tees that can make you feel instantly fashionable. Whether striving for a cosy loungewear look or aiming for something more chic, there's an ideal option for every woman.
What is a Sleep Tee?
Sleep tees are absorbent and easy to wash, so you can snooze in style and comfort without any fuss. This innovative piece of nightwear takes inspiration from the classic t-shirt and 16th-century chemise to create a one-of-a-kind sleep garment. With its loose, unrestrictive fit and cotton construction, the sleep tee is both absorbent and easy to care for. Available in a range of colours and lengths, it's the perfect addition to any wardrobe!
5 Reasons That Will Make Sleep Tees Popular This Summer
1. Comfort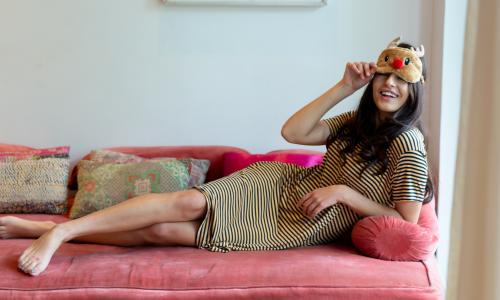 Comfort is the primary factor when it comes to nightwear. Because your body must maintain thermal comfort during sleep. A sleep tee, a single-piece garment, is extremely safe, breathable, and provides ease of movement. Your sleep mode activates as soon as you wear a sleep tee at night.
2. Easy to Wear
You can slip into this piece of nightwear easily. Don't worry about zippers, hook-and-eye closures, or buttons. This easy pullover style nightwear is for those who love simplicity and easy access. Fall in love with the relaxed ease this sleep tee brings to your wardrobe.
3. Stylish
You don't have to sacrifice style when it comes to night clothes. Sleep t-shirts are not only great for sleeping but also chic for lounging. You can relax and feel comfortable at home while you still look pretty.
4. Body Positivity
Invest in suitable nightwear to feel special and comfortable and to celebrate your body. Whether you are petite or plus size, sleep shirts will make you feel confident, and they're an absolute mood changer. Explore the styles and gift yourself something that will make you happy.
5. Cost-Effective
Shyaway's Sleep tees are made from high-quality cotton that is lightweight, soft, and durable. The cost-per-wear comes to somewhere less than ₹ 1.75, and it will last for more than 365+ wears. If you take care of it properly and follow the washing instructions, the price is really affordable. It is worth paying for the health benefits you get from sleeping in cotton nightwear.
After a long day of hard work, change into your favourite sleepwear to get a hug of comfort. In a time period where women celebrate fashion and trends, this nightwear has become a favourite loungewear and a go-to option. Refresh your wardrobe with various nightgowns and chemises this summer.