Ahead of International Women's Day, we at Shyaway have extended our support to all women in India via thoughtful campaigns. Our campaign, #wonderfullyher, is created along the lines of the International Women's Day theme, #EmbraceEquity, which means creating an inclusive world. We embrace equity by emphasising the importance of self-love through lingerie. As an extension of our #IMeMyself campaign for self-love and body positivity, #Wonderfullyher celebrates women of every age and teaches them to prioritise themselves first. The motive of this campaign is to "invest in yourself to look good, feel good, and wear good." We encourage all customers to invest in good lingerie for mental happiness and self-acceptance. We strongly believe that embracing equity starts with accepting yourself from the inside out, and well-made lingerie can make it even more special.
9 Compelling Reasons to Invest in Good Lingerie
1. Timeless Fashion
Trends are a part of the lingerie industry, but classics will always be around. A beautiful satin lingerie set is not going out of fashion anytime soon. The demand for a classic black bra will never fade, no matter what. It's also fun to introduce a lot of colours to your lingerie wardrobe because it creates something that will feel contemporary for several years.
2. Confidence Booster
Even though no one else can see it, you'll be surprised to know how it boosts your confidence. You don't have to feel insecure or nervous about what lies ahead. A good bra and panty will instantly put you together and give you self-assurance. It will translate your mood and give you the confidence to carry yourself.
3. Feel Powerful
Whether you are at home, in the office, or on vacation, wearing comfortable lingerie will give you power and motivation for the rest of the day. You'll gain power, beauty, and charm from your inner confidence. In fact, wearing lingerie is like wearing nothing. It is the perfect version to display your perfect body.
4. Celebrate your Body
Do not be afraid to celebrate your shape. The best way to embrace your body is to wear some nice lingerie. Wear your favourite piece of lingerie, stand in front of the mirror, and compliment yourself. Isn't there a better way to show yourself some true love? Invest in good lingerie, and you will feel incredible in just a few moments. Take the time to care for yourself because you deserve it.
5. Make Your Clothes Look Better
Wearing undergarments that support your body shape will make the whole outfit more flattering on you. Quality lingerie will fit better, and it will make your clothes look better. It is not just there to support your assets, but it also enhances how you look outside. Choosing the right bra will help avoid visible lines on the outside of the clothes.
6. Mood Changer
Buying the right lingerie will bring you a lot of positive changes. For instance, sleeping in cotton has a lot of health benefits. Soft panties and bras will give you the best comfort throughout the day. After a tough day at work, you can come home and do what you love while relaxing in soft pyjamas. Is there a better mood changer?
7. Good Posture 
A well-fitted bra will keep your breasts in place and support sagging breasts. It will also improve your posture. Instead of walking around in an ill-fitting bra, opt for something that supports and lifts them naturally. You may also try the saree shapewear that realigns your posture so you look more confident in a traditional outfit.
8. It Will Help You Out of Your Comfort Zone
Wearing something nice will push your boundaries. You can experiment with your body and opt for styles you haven't tried earlier. By trying new lingerie, you can push yourself past your self-imposed limitations.
9. Lingerie is an Exciting Thing to Shop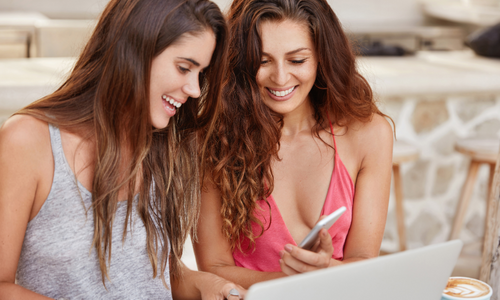 It is the most pretty and feminine thing you can shop for. There are so many colours, designs, and types you can choose from. It comes in different colours, prints, fabrics, and styles, and it is nowhere lesser than trend-based clothing. Invest in good lingerie, and you'll never regret it.
Have you discovered the delights of good lingerie? Invest in good lingerie and understand the difference it makes both physically and mentally.
Happy Women's Day to all the women out there!
Celebrate yourself and prioritise yourself!
Let's Embrace Equity!