A beginner's bra provides gentle support and coverage for developing breasts. It also helps build confidence in young girls during their growth. Fashion experts come up with different styles for teens to make their first bra more relaxed and comfortable.
Choose a bra that is soft and breathable. Most bras are made from fabrics like cotton, microfiber, or blends of synthetic materials that provide a gentle touch on the skin. One of the key features that make bras comfortable is their softness. The softness of a bra is essential for several reasons. First, it enhances overall comfort, allowing one to feel at ease. Check out some of the beginner bras for back-to-school teenage girls.
Which is the Right Age to Wear a Bra?
There is no specific age to start wearing a bra. Between the ages of 8 and 14, girls may begin wearing a beginner's bra, but it's crucial to keep in mind that everyone develops differently. Some girls may start to feel the need for a bra when they notice changes in their breast size or shape or when they begin to feel discomfort during physical activities.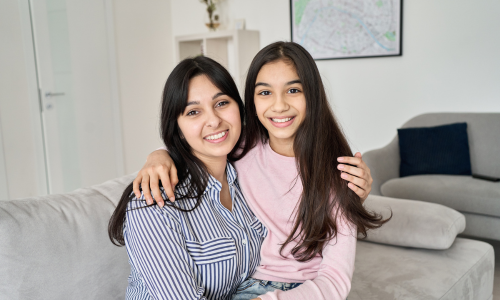 First Bra Experience
The first bra experience can be exciting but also a little overwhelming for many girls. It is normal to feel uncomfortable in a new bra, but when it continues for more than a week, you have to take a call and adjust the band size or cup size. Bras are supposed to be comfortable.
Raise questions or seek guidance from trusted adults or professionals to ensure a positive and supportive experience.
Beginner Bras for Back-to-School Teenage Girls
Slip-on Bras
They are purely made for beginners to provide the utmost comfort. The hassle-free slip-on bras are easy to wear and remove, just like a t-shirt. So slip-ons are a great choice, to begin with. They are your go-to bras for daily wear.
Slip-on bras generally offer light to medium support, which is suitable for beginners who may not require heavy support. They provide gentle shaping and coverage.
Tube Bra
These are designed to provide coverage and support without the need for shoulder straps. They usually have an elastic band at the top and bottom to help keep the bra in place. Consider tube bras if you want to wear any off-shoulder tops, halter tops, or sleeveless outfits. Elevate your wardrobe collection for a trendy look.
Sports Bra
Sports bras prioritise comfort and freedom of movement. They typically have a more compressive fit compared to regular bras, offering better support and reducing discomfort. A supportive bra can also help reduce breast movement during physical activities and prevent potential long-term sagging.
Underwired Bra
As the ageing process and body development have nothing to do with bust size, there is a possibility for a fuller bust in the late teens. In such cases, prefer an underwired bra that provides good support, comfort, and extra shaping. It's generally recommended for girls who require additional support.
Advantages of Beginners Bra
Prepares you for a standard bra

Prevents ligament tears

Keep away from posture problems.

Prevents breast sagging.

Conceals nipples

Enhances the secure and comfortable appearance
List to Consider When It Comes to the First Bra
Support: As girls go through puberty, their breasts begin to develop. Wearing a well-fitting bra can provide support and help ease any discomfort or strain that may occur due to breast growth.
Comfort: Wearing a bra that fits properly and is made of comfortable materials can enhance overall comfort throughout the day. It can prevent irritation, chafing, and discomfort caused by friction between clothing and sensitive breast tissue.
Confidence: Wearing a bra can help teens feel more confident and secure in their appearance. A properly fitting bra can provide a flattering shape and improve posture, which can contribute to a positive body image and self-esteem.
Modesty and Privacy: For many girls, wearing a bra can provide a sense of modesty and privacy, especially as their bodies change and they become more aware of societal norms and expectations.
Clothing Options: Wearing a bra allows for a wider range of clothing options. Certain outfits may require additional support or coverage, and a bra can help provide that.
Choose Your Perfect Fit: Measuring the size six months in advance is important. When it comes to teens, a lot of physical development occurs frequently, so it is better to measure the correct size and then proceed with the purchase.
Bottom Line
Dear young ladies! Welcome to the world of femininity. Choose a bra that perfectly fits you and promotes comfort. Love your body and enjoy every piece of clothing. I hope this blog is useful to find out beginner bras for back-to-school teenage girls.
Note for all the beautiful mommies: It's her first, so make sure to give her your best!