Every breast shape and size is different and beautiful in its own way. There is no need to feel awkward or weird if you have larger breasts. What matters is feeling good in your own skin. The good news is that the lingerie industry has also begun to provide a wide range of lingerie collections that suit every bust type, including fuller busts. With this guide to bras for heavy breasts, purchasing bras for a fuller bust is no longer a struggle.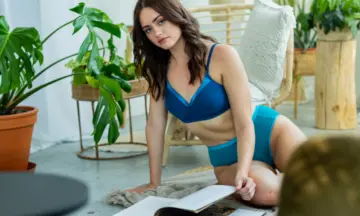 7 Best Bras For Heavy Breasts
Are you in search of the finest bras for a larger bust? Whether you're seeking elevated support, uplifting lift, unparalleled comfort, or a seamless silhouette, these seven bras cater perfectly to your needs. If you're looking for a bra suitable for a fuller bust size in India, your quest concludes here. Allow me to introduce you to the prime selection of bras designed for women with more ample busts – styles that seamlessly blend comfort and elegance for any and every occasion.
Full-Coverage Bra
A full-coverage bra is an excellent match for a fuller bust, providing comprehensive coverage and reliable support. This choice allows you to showcase your natural contours with absolute confidence. If your bust is generously proportioned, this bra is an essential addition to your lingerie collection. Its commitment to averting spillage, counteracting sagging, and crafting a seamless appearance ensures both comfort and allure, making you feel sensually empowered.
Push up Bra
Don't let the opportunity slip away to enhance your cleavage. The push-up bra is expertly designed to elevate your breasts, delivering an appealing contour, uplifting effect, and alluring cleavage. Pair this captivating push-up bra with your party attire for an irresistible ensemble.
Minimizer Bra 
Occasionally, you might wish to achieve the appearance of a smaller bust to suit a particular outfit. Avoid the mistake of opting for a smaller bra, as it can adversely impact your overall appearance. Bearing this in mind, the minimizer bra was conceived. Its purpose is to distribute breast tissue across the bust area, artfully conjuring the illusion of a more modest bust size. A minimizer bra caters to those who desire a reduction in their bust size while ensuring comfort and style.
Balconette bra
The Balconette bra stands as the ideal choice for those with a fuller bust. It ensures ample coverage, uplifting support, and a captivating cleavage, making it a must-have addition to your lingerie collection.
T-shirt Bra
When it comes to comfort and support for a larger bust, a T-shirt bra reigns supreme. It offers unparalleled support while ensuring a seamless appearance. Concerned about visible bra lines under delicate fabrics? The T-shirt bra comes to the rescue, fashioning a streamlined silhouette that remains hidden beneath your outfit. It's the perfect choice for combining ease, support, and a polished look.
Underwire Bra
In search of a bra that delivers exceptional support and an impeccable shape? Look no further than the underwire bra. A high-quality underwire bra ensures comfort without any poking, while providing steadfast support. These bras are designed to enhance your beauty and elevate your confidence, irrespective of your outfit choice. They're the perfect solution for achieving a stunning look that boosts your self-assuredness.
Demi-cup bra
Though it covers only half your bust, a demi-cup bra provides substantial lift and support to your bosom. With its underwire construction, slip into a demi-cup bra to accentuate your curves beautifully beneath low-neck tops, blouses, or dresses.
Explore an extensive collection of bras designed for women with larger busts, perfectly suited for every occasion. Find your perfect fit and shop now!