It is not an exaggeration to say that we all live in pyjamas. Whether it's going out or just meeting up with friends for dinner, it's easy to show up in pyjamas. There's nothing like sliding into a comfortable pyjama, whether you've just gotten back from work or you're looking for casual attire. Besides the practical reasons, the health benefits you'll get from sleep dress options in vibrant colours.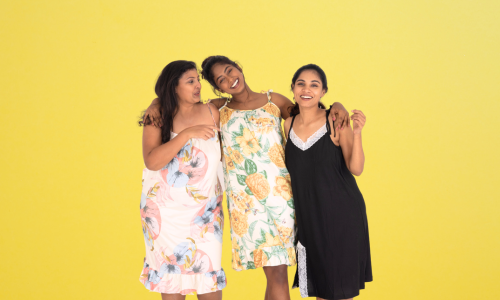 Stylish Sleepwear and Comfy Loungewear
1. Printed Knee-Length Chemise
Flaunt this iconic printed chemise by Susie. It takes inspiration from regular nighties into the present day with modern designs. The beautiful abstract lace-work chemise offers superior design and ensures great comfort with every use. The cool prints and stylish hues make it perfect for outdoor as well as indoor wear. The fabric is definitely a comfy retreat for all seasons. So, why not add this to your nightwear wardrobe now?
2. Delicate Lace Chemise
The lace chemise by Shyle is best worn while lounging around the house. This chemise is one of the best choices for those who like delicate details and a loose fit. It is machine washable, travel-friendly, and suitable for all weather. If you're looking for stylish sleepwear, we'd recommend you try this. The viscose fabric is soft to wear, and it is a pocket-friendly choice. Wear this chemise if you want to maintain your body's heat and thermal comfort at night.
3. Modal Chemise
The Shyle modal long chemise earns a perfect score for comfort and style. Slip into this, and you will instantly feel super stylish. The adjustable spaghetti straps are cute and trendy, making it a perfect option to wear at home or for some quick errands. The modal fabric is suitable for both daytime and nighttime wear. You don't have to worry about the quality of the material over time because it is easy to maintain and machine-washable.
4. Sleep Tee
This classic-looking sleep tee is simple yet attractive and will stand up to everything from morning walks to binge-watching. With a combination of style and comfort, the cotton sleep tee offers premium comfort all day long. We have a huge collection of sleep tees in stylish designs and fun colour options. They are perfectly cosy for chilly mornings and nights and come at a budget-friendly price.
5. Ribbed Chemise
Stay warm all day long, inside and out, in this amazing ribbed chemise. The cosy design, cute flower embellishment at the centre, lace patterns along the neckline, and spaghetti tie-up straps make this a stylish option for those who want a bit more sophistication. You can wear this chemise for far more than just lounging. The concealed elastic at the back gives a better fit.
6. Printed tie-up Chemise
Prints can sometimes feel like a risk, but florals are timeless. This floral-printed tie-up chemise is made from 90 percent polyester and 10 percent spandex. It features a ruffled bottom, smooth silk texture, and knot-type spaghetti straps. The knee-length chemise offers a classic style that you can dress up all day. This chemise effortlessly combines lightweight and breathability while still maintaining your style.
7. Babydoll
Who says nightwear can't be sexy? This piece is sure to give you a much-needed pop of colour. We love the way this feminine babydoll looks with its impressive satin bow tailored with pretty lace. The lightweight fabric and crisscross satin ribbon, detailed with bow embellishments, make it an unmistakable addition to your sleepwear wardrobe. The stretchy fabric gives it a sleek finish, and the above-knee length makes it the perfect option for a romantic night.
It's time to make your bedtime routine more enjoyable and fashionable than ever before. From silky babydolls to cosy sleep tees and even trendy pyjamas and shorts sets, we have an exciting range of sleepwear in all sizes and colours. There's something for every personality and preference. So, get ready to rock your zzz's with the fun-filled and stylish sleepwear you've ever dreamed of.
Are you a pyjama lover? This one is especially for you. Why should you wear pyjamas to bed?