Did you know hook and eye has a long history? It came into existence as crochet and the loop in the 14th century. Later came the doublet and breeches in the 16th century, the Delong hump in the 18th century, and the hook and eye in the 19th century. Thanks to E.C. Beecher for the first patented version, which is still in use today. The type of hook-and-eye closure you see in bras is an innovation by M.E. Company in 1902. Does it sound interesting? We thought it was important for you to know the different styles of bra closures because they are an important part of your bra.
What is Hook and Eye?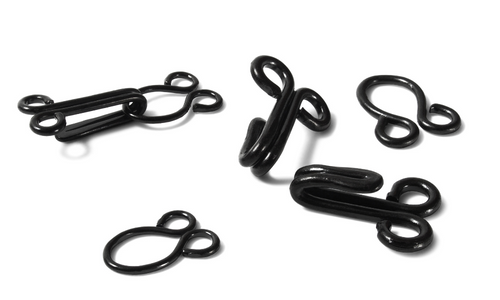 It is a simple method to fasten garments and underwear. It has a metal wire that's bent into the shape of a hook and an eyelet where the hook fits.
What Are the Common Uses of Hooks and Eyes?
They have been in use since the Victorian era to style garments and hold them in place. Designers had to rely on hook-and-eye closures before the invention of stretchy fabrics and elastics. They are commonly used in corsets, bustiers, blouses, skirts, dresses, bras, pants, and so on. They conceal the clothing and give it a clean finish with extra durability.
What is the Role of Hooks and Eyes Closure in a Bra?
It is a simple style of closure that helps fasten your bra securely. A hook-and-eye closure is essential to support your bra. You may find bras with different numbers of hooks and eyes set. For example,
This wire-free everyday bra has a 2-set closure.
Whereas, this ruched cup nursing bra has 4 set closures for additional support.
When you buy a bra, it is important to fasten it on the loose setting. This will let you use the tightest setting as the bra ages. Read which hook should your bra be on for better clarity on bra fittings.
Advantages of Hook and Eye Closure
They do not snap open under pressure.
Unfasten only when jostled in different directions.
Small and very discreet.
Heat-sealed closure for a neat look.
Soft fabric and smooth padding at the back of the closure.
The Other Kinds of Bra Closures You Must Know
Swimsuit Clasps
Front-open bras may come with this type of clasp in the front between the bra cups. The Swimsuit clasp looks like an H shape. You need to slide the two parts of the clasp together to secure it. You might hear a snap or click.
Slip-on Style
Bralettes, trainer bras, and sports bras rely on the elastic band for support. They come with lightweight, high-stretch fabric that holds the bra in place.
Snap Buttons
You may find snap buttons on nursing bras. The snap buttons are either made of plastic or metal and fastened by pressing the button cap on the socket.
Zipper
It comes with two strips of teeth on the edges and a sliding piece. The teeth interlock when moved in one direction and open when moved in the opposite direction. Bras have a zipper closure in the front for easy access.
Hook and loop (Velcro)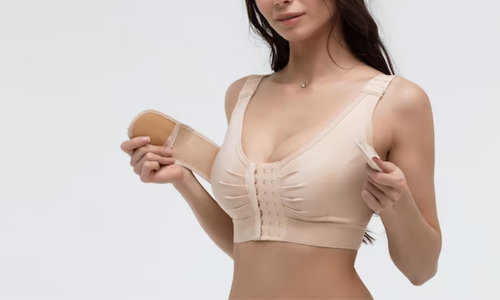 This kind of closure is adjusted by pressing two parts together. The softer part works as the look, and the harder one is the hook.
Not all bras come with hook-and-eye closure. You may find other styles of closure depending on the style and feature of the bra. Look for the ones that make you comfortable. And don't forget to try new styles because you won't know until you try them.
Did you find this useful? Share it with your friends.
Would you like to know the benefits of boning in a bra?