Have you picked your outfit for Onam this year? Whether you are planning to wear the traditional saree or flaunt your style in a pretty lehenga, you must have the appropriate lingerie that goes with the outfit. Lingerie that matches your outfit is crucial because it can make or break your overall look. Before you zero in on the type of bra or panty you will be wearing with your outfit for the festival, take a few minutes to read this blog. Here, we reveal the Onam lingerie trends so that you can dress up in style and comfort without having to worry about lingerie malfunctions.
Let's begin with the Onam lingerie tips right away!
Is Mundu Your favourite?
Mundu is the go-to choice for most of the women during Onam. If you choose to wear the set mundu this Onam, it's the perfect choice! You can select a suitable bra that goes with the colour of the blouse you pair with the mundu. The common blouse colours and their matching bras are provided in the sections below. You can wear one of these blouses and pair it with a matching bra for your Onam saree too!
For every outfit you pick for the festival, there will be some matching lingerie available. Here are some Onam lingerie styles you can flaunt and feel comfy and classy at the same time!
Drape a Saree this Onam
You might have seen your mother (or other women at home) wearing "Kasavu" sarees during Onam. A white Kasavu saree with a gold or silver border makes you look elegant and feminine. A gold-coloured blouse will complete the look if you plan to wear a saree with a gold border. But what lingerie can you wear with your blouse?
Seamless bras go well with a fitted blouse, and you need not worry about visible bra seams anymore when you wear such a bra. If you plan to wear a red, maroon, or green blouse with your saree, a nude bra will be a perfect choice.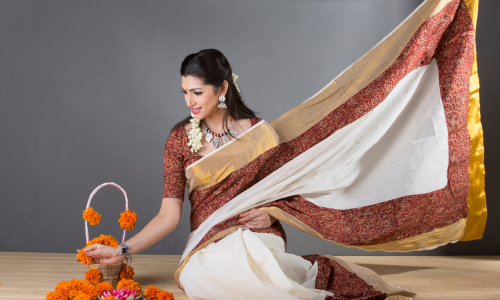 If you opt for a boatneck blouse, go for a balconette bra. This type of bra has wide-set straps that go well with boatneck blouses. Check out this Susie Padded Wired Balconette Bra from Shyaway.
While at it, you can also try some of Shyaway's saree shapewear. They give you a sculpted look without compromising on comfort.
Wear a Lehenga in Style
Do you wish to wear something different from the traditional Onam saree? A lehenga is one of the evergreen Onam lingerie trends. If you want a fuller-breast look and want to highlight your cleavage, wear a push-up bra with your lehenga top (or blouse). This Susie LUSH Ivory Push-Up Bra from Shyaway contours your curves and offers a stylish and elegant look!
If you're worried about your belly fat showing through your lehenga, try our Susie StormFront Grey Tummy Tucker Panty.
Such a panty is one of the "must-haves" in your Onam lingerie essentials.
Look Chic in a Salwar Kameez
Dressing up in a salwar kameez or churidar always offers an ethnic and gorgeous appearance. There's a wide range of patterns in salwar suits, like straight cut, anarkali, and palazzo. You can pair your outfit with an appropriate style of bra. For instance, if your salwar suit has a deep neckline, go for a plunge bra.
Try Shyaway's Taabu Dusky Orchid Bottom Lace Plunge Bra!
You can opt for regular briefs to go with your salwar kameez. Also, check out the panties that should be worn under different bottoms.
Get Ready for the Onam Vibes!!!
We hope our Onam lingerie tips prove useful to you. Whether you are enjoying the traditional "Sadhya" feast with your family or clicking lots of photos with your friends, ensure you are dressed up for the occasion with the best outfit and matching Onam lingerie.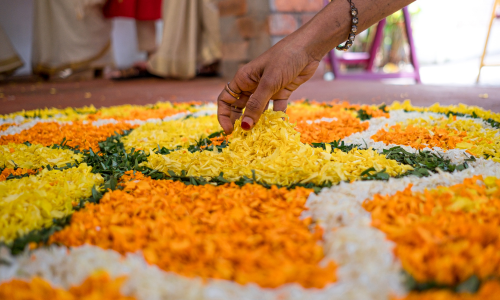 And add some dazzling ornaments to complete your look. Apart from the traditions you follow, make sure to have lots of fun with your kith and kin!