As women, we like to wear different types of outfits. We are on cloud nine when someone compliments us on our looks. Very often, such fleeting comments make our day! Aside from our outfits, our choice of panties or underwear plays a prominent role in making us look and feel good. They help us feel comfortable and offer a nice silhouette while protecting our skin from chafing, irritation and helping to maintain our personal hygiene. This blog aims to explore the best underwear for leggings and other bottoms.
Going commando might work for some women. However, panties act as a protective layer between our bodies and our outfits. Lots of women consider them cosy and comfy. Wearing panties prevents any vaginal discharge from coming into contact with your clothing.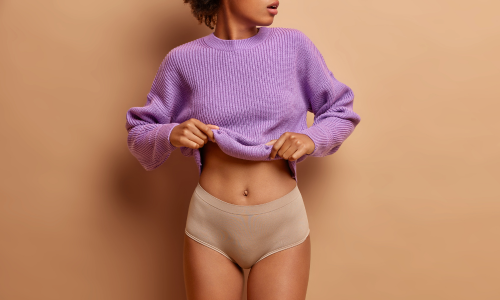 What Is the Need for Different Types of Panties?
How many types of panties do you own? If your answer is "just one," you may have to revamp your lingerie wardrobe. Depending on your outfit, you must have an appropriate style of panty that fit you snugly. There must not be any visible panty lines (VPL), and for this purpose, you can wear NO-VPL panties.
Now, let's check out the panty styles for different bottoms.
1. Best Underwear for Leggings
Do you wish to wear colourful leggings to go out but are afraid of a visible panty line? Thongs will be perfect for your leggings! For bodycon dresses, high-cut thongs will be great. NO-VPL panties are also suitable for body-hugging bottoms like leggings.
Check out this Shyle thong panty from Shyaway.
2. Enjoy Wearing Your Jeans and Jeggings 
Thongs and bikini panties are ideal for jeggings and jeans, especially low-rise jeans. Since low-rise jeans offer less waist coverage, you'll need panties that remain invisible under them. Bikini panties are also a good choice for skinny jeans.
Here is a Taabu bikini panty from Shyaway.
3. Wear Your Skirts with Gusto
Do you have a lovely skirt that has been hiding in your closet for years? No problem! Wear boy shorts under the skirt and flaunt your figure without any hesitation. Boy shorts make you feel less exposed, offer protection, and boost your confidence.
Here's a Susie boy shorts from Shyaway.
4. Formal Pants for a Professional Look
Ace all those serious board meetings in cool pantsuits. Boy shorts and seamless briefs are the best bet for your formal bottoms. They help avoid bulky seams and provide a smoother silhouette, allowing you to deliver that crucial presentation at your office with confidence!
And don't forget to wear those high-waisted underwear with high-waisted pants!
5. Don't Slight the White Bottoms
People assume that matching white pants or skirts with white panties is a wise decision. But nothing can be further from the truth. Wearing white underwear beneath white bottoms will only highlight the underwear. To fix this, choose grey hipsters or nude thongs instead. They give a flawless look, ensuring that your panties remain invisible.
6. Wear Sheer Outfits with Grace
Do you hesitate to wear that gorgeous sheer dress you bought on sale? Fret not! We have the perfect panty style to go with your dress. Wear a seamless regular brief. Believe us, it works! Shyaway's panties are made of skin-friendly fabric so that you can glide gracefully through the day.
7. Look Like a Goddess in Traditional Wear
Indian women like to get decked out in sarees, lehengas, and salwar suits, especially during festivals and functions. If you wear the wrong type of panty, it may ruin your overall look. So, choose regular briefs to pair with your traditional wear. You can also consider using   seamless shapewear to help contour your figure.
While revamping your lingerie wardrobe, you can add lace panties to your collection. Take a glimpse at the best lace panties to add to your lingerie wardrobe.
Panty Styles for Workout Leggings/Workout Pants
Do you know why underwear can be compared to life?
Because change is good for both!
Wearing a panty all day long and using the same for your workouts can result in infections. Therefore, change your panties when you hit the gym. Wear briefs or seamless boyshorts with workout leggings or pants. Ensure that your workout panties are made of a fabric that wicks away sweat. Moisture-wicking panties for workout leggings keep you dry for long durations. These should be part of your intimate hygiene routine.
We hope you've gained knowledge about the panty styles for different bottoms. When you wear a panty that fits you perfectly and matches the right style, you'll feel a remarkable difference.
Now, wear the outfit of your choice and pair it with one of our recommended panty styles. It's time to unleash the diva within you!!!